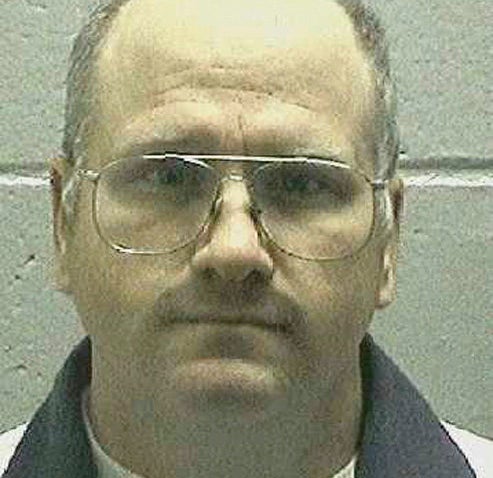 ATLANTA (Reuters) - The state of Georgia on Wednesday executed a former sailor convicted of killing a crewmate and dismembering the body and burying it with the help of another sailor.
Travis Hittson, 45, was pronounced dead by lethal injection at 8:14 p.m. at a state prison in Jackson, according to the state Attorney General's Office. It was the second execution this week in the United States and the seventh of the year.
Hittson received the death penalty for the April 1992 murder of 20-year-old Conway Utterbeck during a weekend leave from the USS Forrestal aircraft carrier.
Hittson shot Utterbeck following a night of drinking while on a trip to central Georgia to visit the parents of a third sailor on the ship, Edward Vollmer, according to court records.
"I had no emotion or nothing on my face, I know I didn't," Hittson later told police in his confession to the killing, court records showed.
He shot Utterbeck in the forehead and then went out to eat at a nearby Waffle House. Afterward, Hittson and Vollmer dismembered his body, using a kitchen steak knife and a hacksaw, according to court records.
They buried Utterbeck's torso in a shallow grave in the woods. The men put his severed hands, head and feet in the trunk of Vollmer's car and returned to the ship based in Pensacola, Florida, on Monday morning, court records showed.
After getting off work that day, they discarded his remaining body parts in the Florida Panhandle, records said.
The Georgia Department of Corrections said Hittson accepted a final prayer and recorded a final statement, which the agency did not release.
The Georgia Supreme Court and the U.S. Supreme Court on Wednesday both denied Hittson's requests to stay the execution.
His lawyers also unsuccessfully appealed to the Georgia State Board of Pardons and Paroles to commute his sentence to life without parole, a sentence not available during his 1993 trial. The state board denied his request on Tuesday.
Vollmer told Hittson that Utterbeck was plotting to kill the two of them, according to court records. But there was no evidence that Utterbeck intended to harm them. Hittson later described Vollmer as "very paranoid."
Vollmer made a plea deal with prosecutors and was sentenced to life in prison, with eligibility for parole. He was denied parole last year. The state panel on Wednesday pushed his next review to 2024.
PHOTO GALLERY
Famous Death Row Last Meals
REAL LIFE. REAL NEWS. REAL VOICES.
Help us tell more of the stories that matter from voices that too often remain unheard.