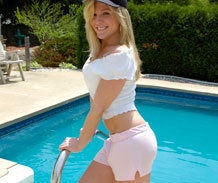 Cheatin' Yankees slugger Alex Rodriguez had a two-night stand with an ex-Centerfolds stripper while in town to play the Red Sox [team stats] in 2004, and Candice Houlihan says A-Rod's wife "did the right thing" by filing for divorce yesterday.
"A leopard doesn't change his spots," Houlihan, now a Reading hairdresser, told the Track. "Good for her, I think she's doing the smart thing. And she'll probably get tons of cash."
Cynthia Rodriguez threw her $275 million man a vicious curve yesterday, saying her five-year marriage to the Yankees third baseman "is irretrievably broken because of the husband's extra-marital affairs and other marital misconduct."
Popular in the Community