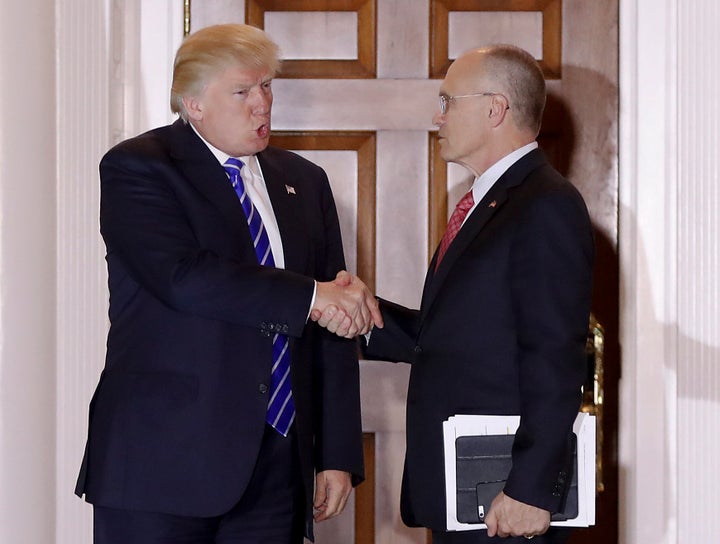 The ex-wife of President-elect Donald Trump's pick for labor secretary once appeared on "The Oprah Winfrey Show" to talk about her experience as a survivor of domestic violence, Politico reported Tuesday.
Andy Puzder's ex-wife, Lisa Fierstein, apparently went on the show in disguise to speak anonymously about the alleged abuse. Fierstein, known then as Lisa Henning, had previously accused Puzder of physically assaulting her, as the St. Louis press had reported in the late 1980s.
"Fierstein appeared on 'Oprah' in a wig and glasses, and was identified only by the made-up name of Ann," Politico's Marianne LeVine wrote.
The abuse allegations resurfaced in December when Trump announced he intended to make Puzder, a fast-food executive, part of his new Cabinet. Puzder denied the allegations and provided a recent email written by his ex-wife in which she noted that she had retracted the claims years ago. Fierstein suggested she had cooked up the allegations to help her own cause in divorce proceedings. 
A 1998 court petition published by Politico stated that Puzder had "assaulted and battered [her] by striking her violently about the face, chest, back, shoulders, and neck, without provocation or cause." The document described "bruises and contusions to the chest, back, shoulders and neck" and "two ruptured discs and two bulging discs." It also said that "all of the muscles, bones, ligaments and soft tissue of [Fierstein's] face, chest, back, shoulders, and neck were violently wrenched, strained, swollen, contused and otherwise injured."
Puzder was slated to appear at a Senate confirmation hearing next week, but on Tuesday Republicans pushed the hearing into February.
In a statement, the Trump transition team stressed that Fierstein renounced the earlier abuse allegations. "This is nothing more than a desperate attempt to smear the good name of an individual who has shown nothing but dedication to creating jobs, growing the economy and championing women in his businesses and investments," the statement said.
Puzder is the chief executive of CKE Restaurants, which includes the Hardee's and Carl's Jr. burger chains. He's a controversial pick for labor secretary, coming directly from an industry famous for its low wages. As The Huffington Post has reported, Puzder's company and its franchisees have been cited numerous times for violating wage and safety laws that he would be enforcing.
As the head of CKE, Puzder spearheaded the infamous Hardee's and Carl's Jr. ad campaigns in which scantily clad models ate cheeseburgers in a highly sexualized manner ― ads that women's groups have called demeaning. Puzder has defended the ads and even noted how fond he is of them, saying, "I like beautiful women eating burgers in bikinis."
Considering CKE's labor record, Puzder's marketing strategy and the abuse allegations, Senate Democrats will have plenty of grist for the confirmation hearing, if and when it happens.
This post has been updated with a statement from the Trump transition team.
Calling all HuffPost superfans!
Sign up for membership to become a founding member and help shape HuffPost's next chapter