Tennis star Garbiñe Muguruza is engaged to a fan she met in 2021.
The Spanish-Venezuelan athlete, who won the 2016 French Open and the 2017 Wimbledon Championship, wasn't looking for love when she took a stroll in August 2021. But then model Arthur Borges wished her luck before asking for a selfie.
"My hotel was close to Central Park and I was bored, so I thought I should go for a walk," she told Spanish outlet Hola last week, as translated by its U.S. site. "I go out and I run into him on the street. Suddenly, he turns and says, 'Good luck at the US Open.' I was left thinking, 'Wow, he's so handsome.'"
The two kept running into each other and eventually started taking their walks together. Their fling blossomed into a relationship that led Borges, who was working for Tom Ford when they met, to get down on one knee while they vacationed in Marbella, Spain.
"It felt weird," Muguruza told Hola. "I was thinking something else and then when he proposed I started crying. I didn't know how to react. I said yes in the midst of tears, it was very romantic."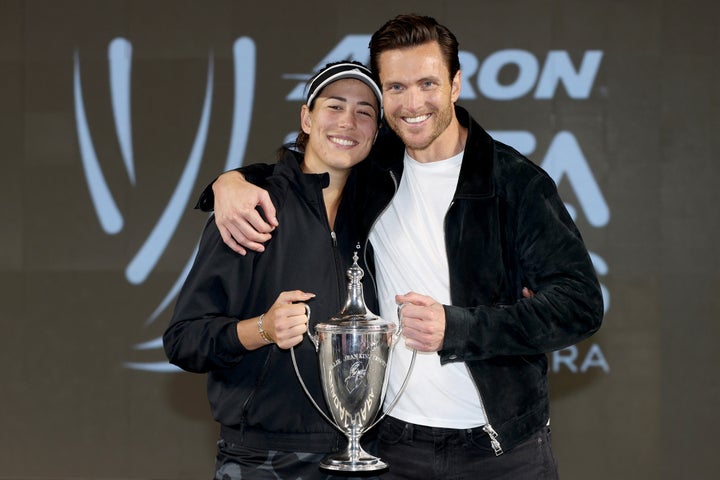 Muguruza won the Tour Finals in 2021 and reportedly still made the Top 10 last year. While she played her last professional match at the Lyon Open in January 2023 and is currently ranked 132nd in singles, the decorated player has since taken a hiatus.
Muguruza told Hola the wedding will be held near a beach in Spain next year. Fortunately for her, Borges loves the country just as much as she does — he was born in Spain before moving to Finland at an early age. Muguruza, who moved to Spain at age 6, can relate.
"He's a mix, like me," she told the outlet. "I'm half-Venezuelan and half-Spanish, so we understand each other. We share that feeling of being citizens of the world."
Popular in the Community