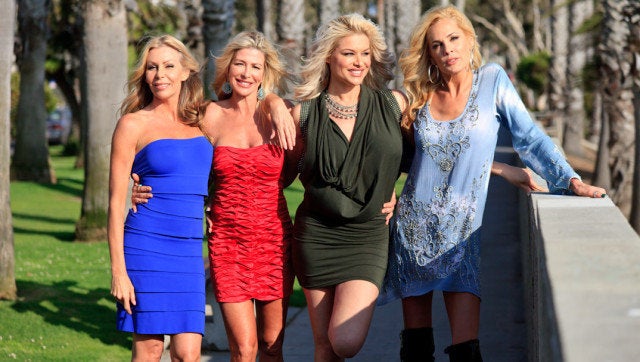 As an ardent fan of fine programming such as "Rock of Love," "Rock of Love Bus" and "Married to Rock," I was more than a little excited about watching the first episode of the latest addition to the rock slut canon, "Ex-Wives of Rock."
The show, as its name suggests, follows the lives of four former rock spouses: Athena Lee (ex of Scorpions drummer James Kottak, sister of Motley Crue drummer Tommy Lee); Sharise Neil (ex of Motley Crue singer Vince Neil); Bobbie Brown (ex of Warrant singer Jani Lane) and "Blue" (ex of Warrant bassist Jerry Dixon).
Lost yet? Don't worry. Narrator Shannon Tweed walks viewers through a handy chart in the first episode, as well as plenty of nostalgic photos of the ladies in their smokin' hot '80s prime. (Watch out for some amazing '80s wedding photos with some of the biggest hair you'll ever see.)
Back in the '80s, these four women were the shiz. They were blonde rock video goddesses who had their pick of the hair metal litter on the Sunset Strip. Now in their 40s, they have to deal with real-world stuff like raising kids, paying bills and, most notably, losing their looks.
It's the latter that the ladies seem to grapple with the most. After growing accustomed to coasting on their hotness, they seem lost in a world where they're no longer traffic-stoppers. Not for lack of trying. They've all had plenty of work done, and they're not afraid to stuff their painstakingly toned bods into tiny outfits designed for women half their age.
Athena is the most lovable of the lot, with her boisterous laugh, endearing cluelessness and Kramer-esque entrances (she tends to stumble into rooms rather gracelessly). She has three teenage kids, including daughter Tobi, who at one point confesses she often feels more like the mother than the kid.
Blue is shaping up to be the least relatable, with her constant boasting about her hot body (she's a pole dancing instructor), her huge new Hollywood Hills house and her new rich husband, Tripp. It's unclear what Tripp does for a living, but whatever it is, it's lucrative enough to supply Blue with more than one personal assistant to help her with arduous tasks like organizing her massive shoe collection.
Bobbie, the video vixen from Warrant's "Cherry Pie" video, is living a much more modest lifestyle. She has a rather sad one-bedroom apartment, and is gearing up to move in with her boyfriend, Damon, who's currently in rehab. Sharise describes Damon as "the asshole" who makes Bobbie cry. In spite of all of this, Bobbie's mom assures her during a rather creepy phone call that, "I would still do you." Um, what?
Finally, we have Sharise, who appears to be the most self-sufficient. She runs her own clothing line along with her ex-boyfriend Kirk, who is also the father of her 8-year-old son, Colt. She's dating a guy named Brandon, who may or may not be a douchebag. Bobbie has her doubts about this Brandon fella, who slept with one of her gal pals before hooking up with Sharise. Yes, the LA former hair-metal-groupie scene is a very small world.
The one thing "Ex-Wives of Rock" is missing is a goofy hair metal god. "Rock of Love" had bandana casanova Bret Michaels, and "Married to Rock" had the likes of Duff McKagan of Guns 'n Roses. We can only hope that Athena's reality TV-friendly brother Tommy stops by for an episode or two (and brings his friends!).
"Ex-Wives of Rock" premieres on Slice in Canada on Friday, August 31st at 10 p.m. ET/PT.
REAL LIFE. REAL NEWS. REAL VOICES.
Help us tell more of the stories that matter from voices that too often remain unheard.