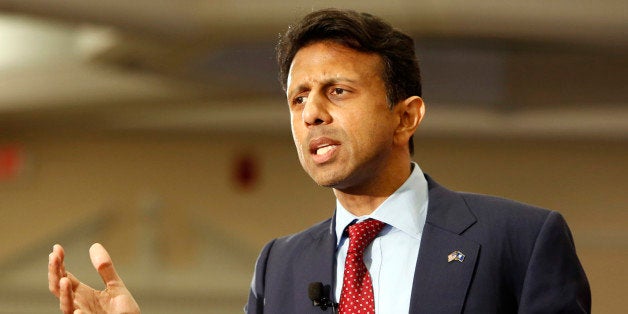 This is part of an ongoing series by Credible about how the 2016 presidential candidates would affect student loans and the financing of education for students and borrowers. 
"If you cut that boy open from stem to stern," a Louisiana lobbyist once said of Bobby Jindal, "won't nothing bleed out but ambition."
For Jindal, the Ivy League-educated Rhodes scholar and Republican governor of Louisiana, that ambition will likely fuel a 2016 run for his party's nomination for president of the United States. While other party hopefuls have already put their hat in the ring, Jindal has said he will hold off on making his decision until the Louisiana legislative session closes in June. But while he hasn't been road-tripping back and forth from Iowa to New Hampshire, Jindal has been busy laying the groundwork for his campaign through his think tank America Next -- which he says will inform the policies on which he would run. In the world of higher-education affordability and student loans, we can predict what some of those policies might be based on his record in Louisiana.
During his tenure as governor, Jindal has made significant cuts to higher-education funding. In 2015, at a time when most states were finally starting to reinvest in higher education after recovery from the recession, Jindal cut one third of spending on higher education in his state, to the tune of $300 million. Like fellow Republican governor and presidential hopeful Scott Walker, Jindal found himself with a budget gap that had to be covered and chose to cut back on higher education -- an institution that traditionally supports the Democratic Party. On the flip side, he has been a staunch defender of the for-profit college industry and opposed President Obama's bill to hold them to accountability standards.
Governor Jindal did throw the traditional universities a bone during his first term, however, by passing legislation that made it easier for them to raise tuitions. In-state tuition has increased by 90 percent since the bill was passed, essentially passing the government's responsibility to fund higher education on to the state's students. So to say Jindal is anti-university isn't entirely true. (He even served as the president of the University of Louisiana system in 1999.)
But that doesn't quite give the full picture either. The truth is that Bobby Jindal expanded the very popular TOPS program that provides grants for Louisiana college students, and opposed a recent legislative push to keep TOPS grants from increasing to cover increases in tuition. So Jindal seems content to make deep cuts in government funding for colleges while continuing to encourage them to raise their tuitions, all the while maintaining a popular grant program that helps but does not cover the difference for students. With no talk of refinancing or loan forgiveness, a Jindal presidency may feature increasing tuitions, less government funding, and even more debt burdens for students and reliance on private lenders for loans.
To learn more about what private-sector options are available to help graduates with student debt save, visit Credible.
Calling all HuffPost superfans!
Sign up for membership to become a founding member and help shape HuffPost's next chapter