A predominant and unsophisticated view commingles all Middle Eastern countries into one category. Some people, particularly in the West, argue that Saudi Arabia and Iran are alike in all respects. Nevertheless, such an argument is fueled by misinformation and not substantiated by historical evidence.
To begin with, despite its national wealth and resources, the Islamic Republic has largely failed to win regional power after almost four decades. Almost every country in the region views Tehran as a threat and enemy. Even the couple of allies that Tehran has kept have been dragged into civil wars and can be characterized as failed states. Tehran is hemorrhaging and bleeding billions of dollars in Syria, Iraq and Yemen trying to maintain its allies, while there seem to be no foreseeable solution to these conflicts. The ruling clerics of Iran have deployed hard power, utilized military adventurism, proxies and militias to be the ultimate power in the region, but it has failed.
On the other hand, Saudi Arabia's leadership has managed to tip the balance of power in its favor, gain the alliance of the majority of governments in the region, and emerge from a weak state to a regional power in a short period of time since its foundation. Riyadh is currently viewed as an indisputable regional power, and has successfully relied on soft power.
Regarding Saudi Arabia or Iran's competence, this issue can also measured by examining the public regional view of these two nations. Poll after poll reveals that the Iranian regime is loathed not only by the overwhelming majority of the people, but also governments in the region –except for those who are on the payroll of the regime. In fact, since the establishment of the Shiite mullahs in 1979, the favorability of the regime has deteriorated significantly. For example, according to the latest poll by Pew Research Center, currently 92 percent of the population in Jordan has a negative view of the Iranian regime. The same poll shows that 78 percent of the public has a favorable view of Saudi Arabia.
In addition, while Saudi Arabia has succeeded in gaining the support and alliance of powerful international state actors, Iran's leadership has significantly failed to do so. This partly due to the notion that anti-Americanism, anti-Semitism and anti-Western sentiments are core pillars of the Iran's revolutionary principles and foreign policy. Unlike Iranian leaders, Saudi Arabian leaders do not incite violence against the West. For nearly four decades, Iranian leaders have promoted chants such as "Death to America", "Death to the UK", and "Death to Israel". In almost every speech, Iran's Supreme Leader, Ali Khamenei bashes the US, Western lifestyle, inciting hatred towards American and European people.
On the global stage, the majority of Americans and Europeans, and even Asians and Russians view the Islamic republic as an enemy and a threat to global peace and security. The Iranian regime is isolated and alienated. According to a Gallup poll, nearly 80 percent across 39 countries have negative view of the Iranian regime.
When it comes to promoting peace and security, Iran's clerical establishment is listed as a top state sponsor of terrorism. Tehran single handedly funds, trains, and arms roughly fifty percent of terrorist designated groups across the world through the Islamic Revolutionary Guard Corps, and Qods Force (IRGC-QF). Some of these groups include Al Qaeda, Hezbollah, and the conglomerate of Iraqi Shiite militias known as the PMF. According to court and intelligence reports, the Islamic Republic facilitated and paved the way for numerous terrorist acts including 9/11, the 1983 Beirut barracks bombing of the U.S. Marine barracks, and the 1996 Khobar Towers bombing, to name a few.
The majority of countries in the region open their doors for Saudi Arabia while they are isolating the Islamic Republic and fear it attempts to overthrow their governments. One example includes the 2003 Riyadh compound bombings, which according to Seth G. Jones and Peter Bergen, were planned by al Qaeda operatives in Iran, and Iran was complicit.
In addition, Saudi Arabia has been investing billions of dollars, cooperating with the UN and world powers (including United States, Britain, France, Italy, Canada, Australia
and other allies, as well as over 30 other Muslim countries including Jordan, Bahrain, the UAE and Egypt, to combat extremist ideologies and terrorism. Saudi's most innovative programs are anchored in multi-dimensional factors consisting of soft power, digital, ideological, military facets, as well as fighting domestic and regional corruption.
Iran does not fund or cooperate with other nations in counterterrorism programs.
When it comes to soft power, Riyadh scores a victory as well. Regarding humanitarian aid in the region, Saudi Arabia is the largest state donor of aid to ordinary people. Saudi Arabia contributed over a billion dollars to Yemeni and Iraqi people, regardless of their religion, race or ethnicity. Saudi Arabia is the first country in the region to have launched an international effort to promote interfaith dialogue known as the King Abdullah bin Abdulaziz International Centre for Interreligious and Intercultural Dialogue. These are only few examples of Saudi Arabia's efforts. The Islamic Republic, on the other hand, is viewed as responsible for the bloodshed, deaths, and torture in several states including Syria, Iraq, and Yemen. After almost four decades since Iran's mullahs came to power, Tehran has failed to win the hearts of people in the region and promote its radical Shia ideology among ordinary people.
In a nutshell, realistically speaking, when analyzing the larger picture of the Middle East geopolitical chessboard, Saudi Arabia leadership has managed to tip the balance of power in its favor, align many allies on its side, and score a victory by winning the hearts of the majority of the people in the region and beyond, as polls have shown. Riyadh is viewed by majority of states as an ally and undisputed regional power. But, despite all its resources and wealth, Iran has failed to do so. Tehran has spent billions of dollars in Syria, Iraq and Yemen, yet it is left isolated, and it is regarded as an underlying reason for the conflicts, terrorism and the major threat to regional stability and peace.
----------------------------------------------------------------------------------------------------
You can order Dr. Rafizadeh's books on Here. You can contact Dr. Majid Rafizadeh at Dr.Rafizadeh@Post.Harvard.Edu or follow him at @Dr_Rafizadeh.You can sign up for Dr. Rafizadeh's newsletter for the latest news and analyses on Here.
Harvard-educated, Dr. Majid Rafizadeh is a world-renowned business strategist and advisor, a leading Iranian-American political scientist, president of the International American Council on the Middle East, and best-selling author. He serves on the advisory board of Harvard International Review.
Dr. Rafizadeh is frequently invited to brief governmental and non-governmental organizations as well as speak, as a featured speaker, at security, business, diplomatic, and social events. He has been recipient of several fellowships and scholarships including from Oxford University, Annenberg, University of California Santa Barbara, Fulbright program, to name a few.
He is regularly quoted and invited to speak on national and international outlets including CNN, BBC World TV and Radio, ABC, Aljazeera English, Fox News, CTV, RT, CCTV America, Skynews, CTV, and France 24 International, to name a few. . He analyses have appeared on academic and non-academic publications including New York Times International, Los Angeles Times, CNN, Fareed Zakaria GPS, The Atlantic, Foreign Policy, The Nation, The National. Aljazeera, The Daily Beast, The Nation, Jerusalem Post, The Economic Times, USA Today Yale Journal of International Affairs, Georgetown Journal of International Affairs, and Harvard International Review. He is a board member of several significant and influential international and governmental institutions, and he is native speaker of several of languages including Persian and Arabic. He also speaks Dari, and can converse in French, Hebrew. More at Harvard. And You can learn more about Dr. Rafizadeh on here. A version of this post was originally published on the Arab News.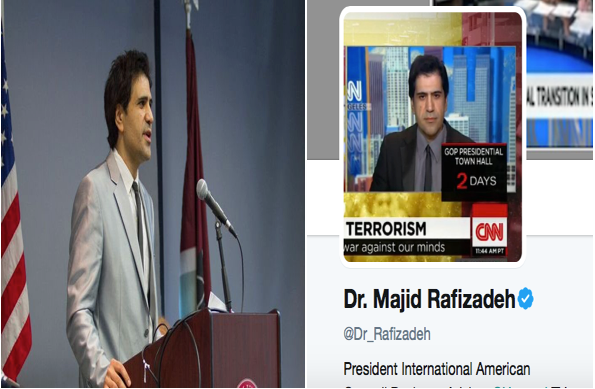 REAL LIFE. REAL NEWS. REAL VOICES.
Help us tell more of the stories that matter from voices that too often remain unheard.
This post was published on the now-closed HuffPost Contributor platform. Contributors control their own work and posted freely to our site. If you need to flag this entry as abusive,
send us an email
.