Early on in his experience as a non-profit planner, Rodney Moore found that people tended to underestimate him. Most thought he was too well-mannered or unproven to be taken seriously. People questioned whether he understood what it took to be fully committed to a single cause.
But Moore took himself and his charity "Fight to Learn" seriously, even if nobody else did.
12 years later, Moore sticks to his original goal of preparing Philadelphia youth for future success in life. Touching the lives of kids is an emotion Moore rides all day, every day.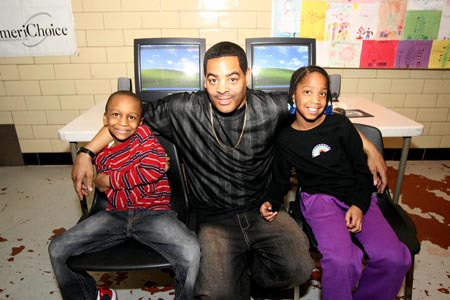 'Fight to Learn' Non-profit
"It don't matter who you are, there are ups and downs and broken promises," said Moore, who retired in 1997 after 50 professional bouts (38-10-2). "But you need a plan. At 12 years old, Fight to Learn is closer to that goal. We can feel the difference in momentum between 12 and 10, 10 and 8 years. People, they want to help you, but only after you've done X, Y, Z and it's already established."
Fight to Learn is a non-profit after school program providing "a positive learning environment for at-risk boys and girls 5 through 12 years of age." Surviving as a non-profit has been its own special fight.
"With the economy, a lot of them have shut down, big and small," said Moore, 50. "Hard times closed a lot of doors for a lot of worthwhile causes."
Rodney Moore has never let obstacles have the final word.
Born in 1965 in Wilmington, North Carolina, his family later moved to Philadelphia, Pennsylvania, where he attended Reynolds Elementary School, Vaux Jr. High School and graduated from Germantown High School. After high school, he attended the I.S.T. Academy (Institute of Security and Technology), with plans of becoming a police officer. However, after graduating, he decided he wanted to become a boxer. Something inexplicable drew him like a magnet.
"No one in my family was ever a fighter," said Moore. "I remember being around the gym and the recreation departments growing up. A lot of guys were going to the boxing gym. Before I boxed, I thought it was the craziest thing I'd ever seen. In the 1980s, Sugar Ray Leonard, Roberto Duran, Marvin Hagler. I used to think it was crazy two guys in the ring beating each other. I had no idea one day it would be me."
Moore worked as a security officer at Community College of Pennsylvania and as a contempary disc jockey for five years in several Philadelphia night clubs, before "Rockin" Rodney Moore, the boxer, emerged in 1983.
"I was in way over my head early on," said Moore. "You test your fighter and see what he has. They want to see if you can stand with a higher level guy, go the distance, and not get stopped. My first fight was with a guy (Tyrone Trice) who went on to become one of the top 135 pounders in the world.
"I did 10 rounds with Brian Baronet, going from a six-rounder into fighting a top five guy. We went the distance. And then jumping in with Terrence Ali, who had about 50 fights at that moment. My nose got swollen. Swollen to the point I had trouble breathing. My corner said that was enough."
After fighting his rhythm, Moore went five and half years without a loss, a popular fighter on USA Network's Tuesday Night Fights. In 1993, all 1,300 tickets of his fight against Livingstone Bramble were sold in advance, the first time in 23 years of staging fights at the North Broad Street arena that no seats would be available on the day of the event. To help meet demand, the Blue Horizon sold $10 tickets for a closed-circuit telecast of the card shown in ballroom. (Moore took a 10-round unanimous decision.)
"At the start, I didn't have experience to know what to do," said Moore. "It's inexperience. You are fighting, I'm fighting. But I wasn't experienced enough to have a plan, I'd box a little bit, slug a little bit, just fighting. I didn't know what I was doing. But then my trainer figured we had to groom Rodney right. Once they put me in there with the right fights, guys on my level, fights that could go either way, I brought guts, chin, and desire."
Moore won the Pennsylvania state super lightweight and lightweight titles and eventually earned three world title bids (against Charles Murray for the vacant IBF super lightweight title; Frankie Randall for WBA super lightweight title, and verse Felix Trinidad for the IBF welterweight title.) He lost all three encounters.
After retirement, Moore, rested and a little restless, decided to apply his competitive spirit to charity.
"I try to bring the same determination, focus, and concentration," said Moore. "It all comes hand and hand. Number one in boxing was the discipline. Be patient. I do not believe in leaving a stone unturned. I am committed to this charity for children and helping underprivileged children. Committed to letting the people know what we have. There are many who know, millions who don't. It took me ten years to get a title shot. I stuck around ten years and finally got my first crack. It's the same fight, without the punches. I am putting that same amount of time in this. Nobody is going to tell me that I can't help children."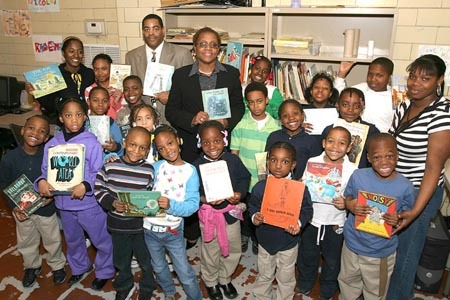 Though Fight to Learn's original location had a boxing gym in the basement, boxing is not included in the current program. The program's core tenets are academics, discipline and physical fitness.
"Mental power is so important," said Moore. "You have to be strong-minded. No one has it easy. Kids need to be prepared for ups and downs in life. Things don't go their way, the train derails and sometimes they don't continue, and they don't go any further. When your plan takes a curve or a turn, you need to know how to reset it back on track. It's easy to give up when you are losing, it's hard not to give up when things aren't going well. Everything in life is a fight."
Some of Fight To Learn's expectations include improvement of school grades by at least two letter grades with the assistance of an academic coordinator; health education awareness and nutrition and weight management; realistic preparation of at-risk youth for productive adult roles and responsibilities.
"Remember those times you wanted to give up, or gave up on something, but you continued on? Those times only you know? Fight to Learn is about everything that goes with that fight. It's the mind strength that comes with everything you do."
In a sport with a reputation for brutality and corruption, Moore's combination of care and grace still surprises those who are expecting to encounter someone much different. Even when he wore boxing gloves, he never swung angry fists.
"If you are an angry fighter, it takes something away from you," said Moore. "It doesn't matter if you have a mean, angry face or a smiley face. What difference is it going to make? The fight is not going to be any different. If you come in angry, you take away from your game plan.
"I can say that I was never angry at anyone who I stepped in the ring with," said Moore. "It's our livelihood, never nothing personal, just business. You have the ability to turn it on during competition. You can be the nicest guy the day before the fight. That night, two people know how to turn it on like jets, two angry dogs. You see a pit-bull, then you see a gentle person after like it never happened."
Boxing's Butterflies, Hard Path
Boxers share the same eating, sleeping, and living habits. They also share the same anxiousness.
"It doesn't matter how you feel," said Moore. "You feel just like I feel. You have butterflies in the stomach. That's whether you've had 10 fights or 100 fights. All fighters have that jitteriness. That's automatic. You may not see the butterflies, but they are there. They have to go out the window after the first round, after the competition begins and you feel the power."
Moore and his wife, Rovena, have been married for 20 years; they have two children, a 16-year-old daughter and a 14-year-old son, who boxes for conditioning. Moore has no aspirations to steer his boy into the boxing community.
"I don't want to see him be a fighter," said Moore. "A lot of ex-fighters want that, but I don't. I can speak, talk well, react, and I have all my faculties, and I feel articulate. I have been fortunate because I have been through so many wars. I would hate to see my son in that position. He could do so many other things than get beat in the head. I hope he doesn't chose it. If he does, I can only support him.
"Right now, he is satisfied with putting on the pads and learning how to box. He has never showed more or said, 'I want to do it.' I hope he never does. You know what happens to us when it's all over. That's the sad part. Fighters who made big names, they walk around and they don't even know what time of day it is."
Not only does Moore obviously know what day it is, he believes that a new day is dawning on Fight to Learn. He has spent many years attempting to develop a champion charity. He sees the corner. Where others might have given up, Moore used each setback as a stepping stone to higher ground. He is committed to giving of himself to show at-risk kids a positive side to life.
"I put Fight to Learn together to hopefully last forever," said Moore. "There is work to be done in Philadelphia. There are millions of children in the world who could use it. We are certainly always in need of tax-deductible contributions."
For more information, visit www.fighttolearn.com
Brian D'Ambrosio's latest book, "Life in the Trenches," offers 37 narratives and stories of modern day trench warriors - including Stephen King's favorite folksinger (James McMurtry); a Greco-Roman wrestler and MMA forefather from the Midwest (Dan "The Beast" Severn); entertainment wrestlers so convincing as villains that they repeatedly put their own lives in danger (Ivan Koloff, "Rowdy" Roddy Piper).
Calling all HuffPost superfans!
Sign up for membership to become a founding member and help shape HuffPost's next chapter