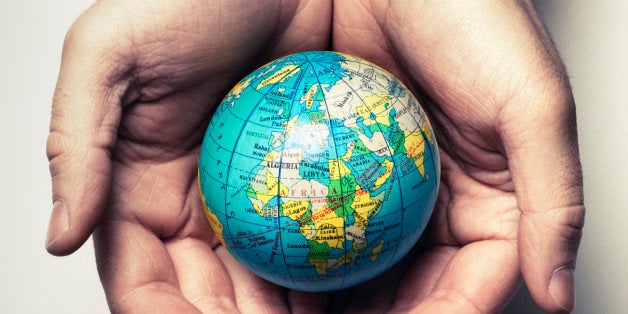 Happy New Year. This weekend, while reflecting on the legacy of Martin Luther King, Jr. and his pivotal place in American History and his continued inspirational impact on our society, I came across this quote by him:
Every man must decide whether he will walk in the light of creative altruism or in the darkness of destructive selfishness.
In this, King calls us to actively seek ways to elevate the needs of others within our society. He embodied these ideals in a life devoted to justice, and his actions as a leader reflected this creative altruism.
While the concept describes our civic life and responsibilities, it also holds true in our professional interactions. I look at the leaders and students with whom I engage, the most successful ones - those who have credibility and have the ability to influence others, are all creative altruists. Sometime in their journey, they've made the choice (whether deliberate or through formation of habit) that intentionally finding ways of helping others is non-negotiable.
So, why is it when time is among our most limited resource, that those who give their time, care and attention manage in turn to capture our time, care and attention. And by doing so, they scale their impact to build exceptional careers.
Adam Grant has identified and conducted numerous studies on generosity. In his book Give and Take, he demonstrates that "givers" are also often the most successful people in any organization, even when the environment is "cutthroat and competitive." A creative altruist himself, Adam's success is indisputable -- from being the youngest tenured professor at Wharton to someone whom corporations regularly tap for advice. He is also one of my fellow members in the new Silicon Guild, a group of altruistic and influential authors who are focused on creating positive impact. Adam writes in this Time piece, "there's reason to believe that in the long run, the greatest success -- and the richest meaning -- will come to those who, instead of cutting other people down, pursue their personal ambitions in ways that lift others up."
Creative altruism comes in many different forms. But it stems from a mindset of helping others whenever you can even when there is no direct benefit to you. So here are three ways to practice creative altruism.
1. Share advice and learning with those who seek it.
An organization that immediately comes to my mind is Women in America, a group of powerful female leaders that includes Ursula Burns, Maggie Wilderotter, Carol Hochman, and Beth-Ann Eason (the CEOs of Xerox and Frontier Communications, President of RHH Capital & Consulting, and Head of Condé Nast Digital Development, respectively.) These executives convene regularly to mentor and cultivate the next generation of top talent through professional support and sponsorship.
It's easy to fall into the trap of thinking that this type of activity is purely the domain of c-suite executives. The reality is - these leaders are successful because they've practiced creative altruism throughout their lives. You don't have to wait until you are a CEO because there are always others who are coming up behind you at any point in your career.
Take for example, Amanda Meyer, a senior who has been an undergraduate scholar with our COLE center for the last three years. A loved and trusted team member, she is also a finance whiz who landed internships last summer with Goldman Sachs, JP Morgan, and Barclays. Underclassmen who seek an understanding of and careers in finance, reach out to her. And without fail and with cheer, Amanda makes time with them to demystify the job landscape and the application process based on successes and pitfalls she has had along the way. Because of her acumen and openness to sharing advice, she has inadvertently built a network of top-notch students who, through their interactions with her, are sharing advice and information back with her and who are deeply invested in seeing her succeed.
2. Make meaningful introductions.
This may not be something that comes to mind when you think about altruism, but one of the most powerful things you can do is help connect people to each other and expand their network in a meaningful way.
Given the fast-paced nature and task pressures of today's reality, we all need help to break out of our silos and expand our perspectives. Tre'Ellis Scott is a master at making introductions that transcend sectors and disciplines. As an example, he recently introduced me to Jamie Sands, a Captain of the Navy Seals because Jamie and I share a mutual interest in leadership character formation. I believe this ability to connect people is a cornerstone of Tre's success. He is highly influential in the Duke undergraduate community, and I constantly run into students and faculty from different circles and networks who speak of his good work. Tre is also the Editor of The Standard, a digital publication on Duke culture. In its first 3 months, Tre and Stephanie Chao, the publication's co-founder, were able to recruit 80 top writers, photographers, designers, and coders across the university to the Standard team.
3. Be a thought-partner for others
One of my go to people for brainstorming is Lisa M. Shalett, an advisory director and a retired and widely respected partner at Goldman Sachs. Lisa headed up the firm's Brand Marketing & Digital Strategy through the financial crisis and currently works with entrepreneurs and executives to bring "innovative thinking to disruptive challenges." In a sea of brilliant people with deep expertise, what makes Lisa such a powerful thought-partner is her ability to create "safe spaces." She listens, and with encouragement, effective critique, and without judgment- co-shapes ideas and strategies towards clarity and execution.

We can never underestimate the power of constructive and encouraging feedback in empowering others and giving them a clarified sense of purpose and awareness in both self and ideas.
Through creative altruism, any ordinary career can tip the scales towards becoming an exceptional career, defined as one of service, meaning, purpose, and growth. Not only will your career be more deeply satisfying and connected within a larger context, but it will inspire and catalyze others to act more altruistically.
When I think about Martin Luther King, Jr, his perpetual impact and resounding legacy, I think not only about his presence, eloquence, and substance. What makes him so special is also how he lived his choice to "walk in the light of creative altruism." In turn, he ignited a new vision for an entire nation and opened the chapter for a more collaborative world.
So, readers, who are the creative altruists in your life and how did they put it into practice? Please share in the comments and send in questions and topics that you'd like to see. You can also tweet at me @SanyinSiang and #ExceptionalCareers.
Related
Popular in the Community