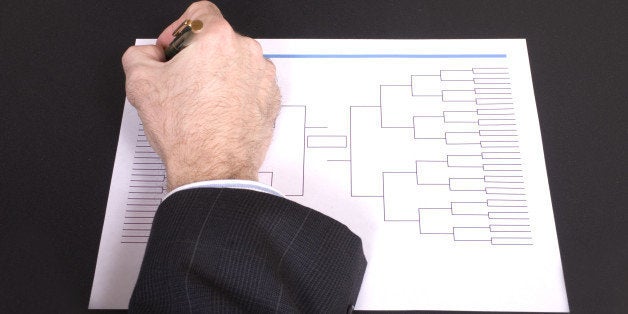 They don't call it March Madness for nothing. This Saturday and Monday, the 60 million plus Americans who filled out brackets will be following the NCAA basketball tournament with fierce intensity. There will be much talk about the games for a good part of next week. For sports skeptics, managers, and coworkers alike, the distraction can seem irrational, especially when there is so much work to be done and so little time.
But understanding March Madness (or any other major sports event for that matter) is important for us in our work. Here's why.
As a former sports skeptic, I confess there was a time when I could barely name a single player on any team. And to this day, I struggle to retain any sports stats in my head. Yet trivia and stats are not why I love sports.
Just survey the audience at any sporting event, and the ability of sports to bring together people from diverse backgrounds and across divides - socioeconomic, gender, race, religion, generation - is evident. So whether you're obsessed with March Madness or not, it's hard not to accept sports as a key part of our culture and a shared passion for so many.
Extend this truth to the workplace and you find some tangible insights. The interdependencies and complicated structure of today's projects require trust and relationship building among diverse domains.
Bonding over sports can often be a simple way to build that trust.
I've learned that sports illiteracy can sideline one in a conversation - business or social - while sports intelligence can lead to meaningful insights. A major part of my work is engaging CEOs, scholars, and students across sectors and industries on leadership, character, and culture.
I've seen a jump in my ability to engage after I became more aware of what's happening in sports and can allude to it. Often-times, how the other person surveys a sport gives tremendous insight into their thinking process and what they find important. And over time, I've come appreciate the rich analogies and inspirational stories that sports offer for our everyday lives.
For these reason, I co-founded The SportsQuip, a weekly e-brief of talking points and story-links to empower everyone to participate in the sports conversations. And often receive feedback from our thousand SQ readers on how applying just basic knowledge has jump started great conversations.
So how can a sports rookie or diffident talk genuinely about sports? It's simple.
Sports language goes beyond trivia or stats. Sports resonates so deeply because at its core is the human factor. It's the triumphs over seemingly insurmountable challenges; the ability to pick oneself back up after failure; the mental and physical discipline required to be a champion; or that there is no guaranteed win in life - as evidenced in the first rounds of the NCAA Basketball Tournaments.
When I enter into a conversation about sports I remind myself of the stories that interest me in the first place: why a game matters, the back stories of the players in that game, and what lessons we can draw from them.
For example, what gave Derrick Coleman, the first deaf player to play in the Super Bowl the resilience to keep trying when so many have told him no since childhood? How did the Spurs foster the emotional connectivity among teammates so that the whole of what they are able to accomplish is far greater than the individual parts?
Or how sports connect to larger societal issues - such as what role did Title IX and the ability for girls to play sports have in upping the number of female executives today?
If that doesn't inspire you, remember sports can be leveraged for societal good because of its ability to cast attention on pressing issues. Just take a look at how sports heroes such as Julie Foudy, Coach K and Adam Silver, and Shane Battier have used their celebrity to draw attention to closing the gender gap, commitment to service in partnership with our military, and first-generation college access. And social impact organizations such as UNICEF, St. Jude's Children's Hospital, and the Emily K Center have partnered with sports to help children's welfare, health and education.
I was not always sports literate and I'm not a sports stats person. But I fell in love with sports because of its power to develop people, the analogies to business challenges, the power for societal good, and its ability to bridge across divides, to bring together people from diverse backgrounds.
At the end of the day, to build relationships, we must still be authentic - so it's about finding the aspect of it that resonates with you and speaking from that point of view. And that, will give the other person a glimpse into who you are, while enabling you to connect more deeply with them. It could even help you bolster your career.
So, go watch the tournament this weekend. Not only will it help you in the workplace, but you may just be surprised at how much you might like it.
So, readers, how do you talk sports in the workplace? Please share in the comments. You can also tweet at me @SanyinSiang and #ExceptionalCareers.
A version of this piece first appeared on LinkedIn on March 23, 2015.
Related
Popular in the Community