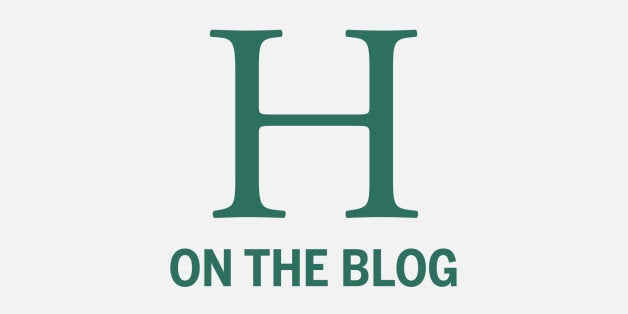 As we plan out our career futures, how often do we reflect on our past and thank those who championed us and helped us recognize our value even before we started a career? And why is doing so such an important building block in our journey towards success?
Recently, Caroline Fairchild shared a personal story with me. Before I launch into the story, let me first tell you a little bit about Caroline. She is the 24 year old editor in charge of Fortune's newest e-pub, The Broadsheet, built on its Most Powerful Women (MPW) brand. Each day, Caroline curates top stories, zones in on hot- button issues, and offers a unique inner circle perspective on women's leadership. In just a few short months, under Caroline's keen eye and engaging writing style, The Broadsheet has grown to tens of thousands of subscribers.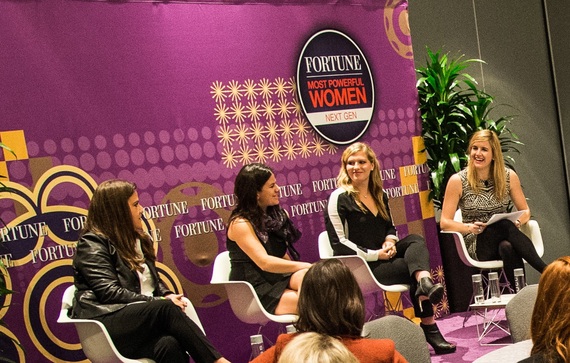 Caroline Fairchild (pictured far right), moderating a panel at the Fortune MPW Next Gen Summit

As with any start up endeavor, she is constantly on the go. During an especially busy week, she received an email from her dad. "You are the most powerful woman and don't forget it." This type of championship was nothing new for Caroline. Each week since high school, her dad would send her magazine and news clipping of stories that he thought were important for her to read, or words of encouragement. Because of her dad's actions, Caroline developed a confidence and drive that came to characterize her personal brand today.
In an entirely different arena, Shane Battier, a COLE Sr. Fellow, told me about the way his parents helped him navigate the challenges of growing up biracial. They helped him to recast the adversity into a learning opportunity and recognize that which makes him different can in fact be a tremendous strength.
If you were to meet Shane in person, what you would notice first is his complete ease with being outside of his comfort zone. Shane has won two NBA Championships with the Miami Heat, in addition to other impressive achievements on his scorecard. A key competitive advantage on the court and off, is his leadership ability to knit people who are very different from one another into tight cohesive teams.
While I've talked about parents, the people who have championed us in our career journey don't necessary have to be family members. I've had the privilege of being a part of the Emily K Center, a wonderful organization that helps more than 200 first grade to high school scholars each year break the cycle of poverty and gain access to college through after school programs and mentorship.
If you were to ask the kids at the Emily K Center who have helped them feel deeply valued and showed them their potential, they would point to Ashlea Hitchcock, Heather Hindin and Dalia Wimberly, who lead the student programming. If you were to ask Ashlea, Heather, or Dalia why they do what they do, they would tell you that "every kid has a story," that every kid matters and that "their dreams and goals have become our hopes and dreams." It's because of this mindset that many of the kids come to see the center as another home, another safe place where they can learn and grow.
Ashlea, Heather, and Dalia illustrate a critical aspect of this building block - they help those behind them to succeed. Characteristic of those with exceptional careers, they, Caroline and Shane reflect on what those before them had done for them, and turn around and do those things for others. Caroline is constantly sharing advice and connections with student groups and MPW hopefuls. Shane founded the Battier Take Charge Foundation to provide support and scholarships for first generation college students.
So, as you think about your journey to building an exceptional career, I urge you to commit to two things:
One - Think back on your life and think about all those champions of your life, who believed in you even before you knew how to believe in yourself, and who gave you the time, love and support through the ups and downs and ordinary everyday moments. Reach out and thank them.
Two - Reflect on what they did that made you feel valued and helped you to grow. Turn around and do those things- be that champion for others.
What better time to dive into this aspect of success than during this season of reflection and renewed connections?
For me, I'd be remiss if I didn't give a shout out to my dad, who always challenged me to address problems through different perspectives; my mom, who taught me to get back up from failures and never rest on past achievements; and my husband (also my best editor), who always keeps me accountable to the things that are truly important in life.

So, readers, who are your champions? Please share in the comments and send in topics that you'd like to see in future posts. You can also tweet at me @SanyinSiang and #ExceptionalCareers.
Happy Holidays and see you in January.
Calling all HuffPost superfans!
Sign up for membership to become a founding member and help shape HuffPost's next chapter