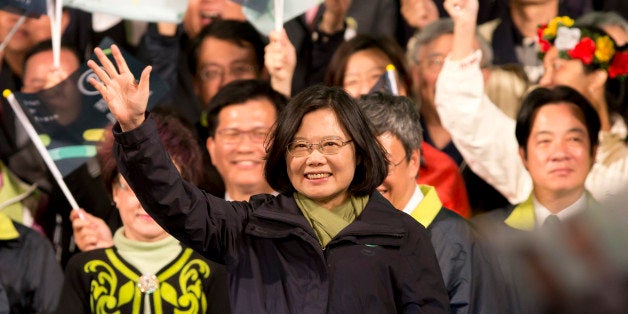 On January 16, 2016, Tsai Ing-wen made history when she was elected Taiwan's first female president. Tsai's election not only broke a glass ceiling for women in Taiwan, but it could herald a long-awaited breakthrough for LGBT rights in Taiwan and the rest of Asia. President-elect Tsai is an unabashed supporter of LGBT rights and marriage equality. During the presidential campaign, Tsai posted a pro-marriage equality video on her Facebook page to coincide with Taiwan's 13th annual Pride Parade. Taiwan Pride, which attracted nearly 80,000 participants, is the largest such event in Asia. In the video, Tsai proclaimed "I am Tsai Ing-wen, and I support marriage equality." She explained that "we are all equal" in love and that everyone should be "free to love" and pursue happiness -- as pink and red hearts and rainbow rings floated across the screen. It was a first for Taiwanese politics.
No country in Asia has marriage equality yet. Tsai's election, along with her Democratic Progressive Party (DPP) winning an absolute majority in the national legislature, could mean that Taiwan will become the first. Tsai and the DPP defeated the ruling Kuomintang Party (KMT), which failed to advance LGBT equality while in power. In 2013, over 20 DPP legislators introduced a marriage equality bill, but the KMT has prevented the bill from moving forward. We do not yet know whether the new government will have sufficient votes and political will to pass marriage equality and other LGBT bills. Tsai and her party have not committed to making marriage equality a legislative priority. As a candidate, Tsai stated that marriage equality is "something that society needs to tackle together as a whole, in which some are supportive while others are more reserved." Indeed, Tsai has explained that her political "style" is to be "patient" and to work "steadily, practically and accurately to achieve the ideal." But the political landscape for LGBT rights in Taiwan has changed significantly.
In addition to legislative efforts, Taiwan's vocal and assertive LGBT activists appear ready to seize the moment to pressure the new government to make legal equality a reality. Taiwanese LGBT activists have been pressing for equality for years. As we did in America, LGBT couples in Taiwan have presented themselves to local officials to ask for marriage licenses, putting a human face on discrimination. In 2012, a couple filed a marriage equality lawsuit, which was subsequently withdrawn for strategic purposes when it appeared that a positive ruling would not be forthcoming. The cities of Taipei, Kaohsiung and Taichung recognize partnerships for same-sex couples. Last year, hundreds of supporters marched on the Kuomintang Party Headquarters to protest the party's inaction and threw rainbow water balloons at the building in an act of symbolic defiance. When the government's Justice Ministry conducted an online marriage equality poll, approximately 60 percent of respondents voted in favor. A 2013 poll showed 53 percent public support for marriage equality, with a whopping 78 percent of people in their twenties in favor. Another 2013 poll showed that marriage equality did not then have majority support, but a 2014 poll showed support at 54 percent.
In 2013, the China Post opined that "[l]egalizing same-sex marriage will be a huge step forward in the fight for universal equality akin to ending apartheid." It's hard to overestimate the importance of winning marriage equality in Asia, home to billions of the world's population. Activists are fighting for equality in many Asian countries, and a victory in Taiwan would not only bring marriage equality there but could ignite a spark across the entire continent.
John Lewis and Stuart Gaffney, together for nearly three decades, were plaintiffs in the California case for equal marriage rights decided by the California Supreme Court in 2008. They are leaders in the nationwide grassroots organization Marriage Equality USA.
Calling all HuffPost superfans!
Sign up for membership to become a founding member and help shape HuffPost's next chapter