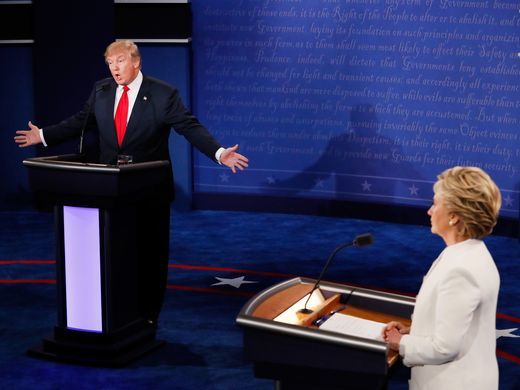 If presidential debate questions are any indicator of our nation's most pressing issues and challenges, Vladimir Putin is more important than addressing climate change. The 2016 presidential debates are over, and not a single question about climate change was asked.
This presidential election has seen many issues painted as the apocalypse, from the resettlement of Syrian refugees to the employment of Mexican immigrants. Ironically, the presidential debate has spent a total of 327 seconds, or 2 percent total time, on climate change, the most significant challenge our generation faces, and the true potential apocalypse.
If President Obama considers climate our generation's greatest threat, surely it merits prioritizing. We ask about boosting the US economy and combating unemployment, but hardly touch on the jobs and industries that will shift as our climate does. We rightfully talk about the refugee and humanitarian crises in Syria, yet ignore the impending 50 million people displaced by climate change we will likely see in the next decade alone.
The international climate regime has taken important steps to minimize the changes we will experience and mitigate these impacts. The Paris Agreement entered into force just this month, which holds nations responsible for their energy and emission commitments, and just a week later nearly 200 states agreed on a landmark deal reducing the use of hydrofluorocarbons, potent greenhouse gases. However, the strides and commitments the United States has made and its role in the international climate regime are threatened by the outcome of the upcoming election.
Donald Trump is a climate change denier, who on twitter stated that climate change is "created by and for the Chinese in order to make US manufacturing non-competitive." He promises to dismantle the Obama administration's climate initiatives and the international commitments the United States has made. Hillary Clinton, in contrast, outlines a detailed climate plan that includes prioritizing renewable energy sources, cutting oil and gas subsidies, promoting conservation, and centering disproportionately burdened communities and environmental justice. However, she has told proponents of fossil fuel divestment and opponents to the Keystone XL Pipeline to "get a life," in an email released by WikiLeaks. Neither candidate has weighed in on the Native American protest of the Dakota Access Pipeline where environmental activists are putting their lives and bodies on the line, which may well continue into 2017.
Donald Trump must be held accountable for his words on climate change, no matter how quickly he tries to make his tweets disappear. If he believes climate change is a conspiracy created by the Chinese, he owes it to the American people to admit as much on primetime television. Hillary Clinton must also be pressed on how she plans to pay for her ambitious infrastructure shifts, and on her commitment to equity and justice in battling climate change. If she prioritizes indigenous land rights as she claims, she must be called out on her silence on DAPL and absence of a carbon tax in her plan.
The threat climate change poses to the world future generations will inherit cannot be understated, and American people are not apathetic to ― 73 percent of registered voters care to some extent about the issue. A softball question about energy needs and jobs is simply insufficient, especially if neither candidate truly answered the question. If the candidates for the office of the president are not held accountable for their words on climate change now, how can we hold them accountable for their action or inaction after the election? The absence of its discussion in the presidential debate is disrespectful to the concerns of American voters and simply irresponsible.
Calling all HuffPost superfans!
Sign up for membership to become a founding member and help shape HuffPost's next chapter