An explosion of tweeted expletives welcomed Justin Reeves to our Women in Media panel at Social Media Week Bangalore last week, sent by a clique of self-appointed feminist defenders from around the world.
"Get f***ed. Seriously, is irony lost on you people?", tweeted one such crusader from Sydney, Australia, "WTF?! Is this a joke?", asked another from "suffragette city."
Reeves is the Director of NGO Partnerships at Girl Rising, a powerful global movement that works for the education and empowerment of girls and women, whose central message is that "educating girls can transform societies" and that girls and women must be united with boys and men to effect change.
What better way to illustrate their message and set a strong example than by having Justin talk about the compelling work of Girl Rising on Women in Media?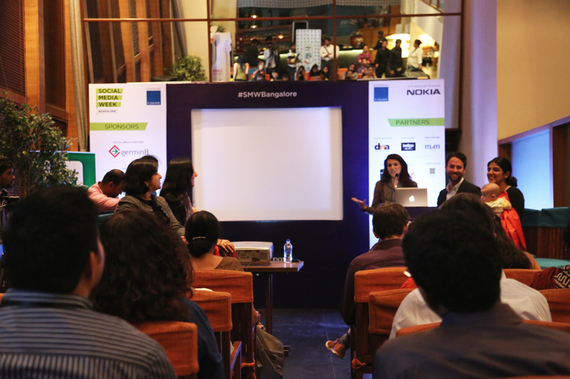 Marissa Bronfman hosting Moxie Media's Women in Media panel at Social Media Week
Though our audience at Social Media Week Bangalore (SMWB) agreed with us, many women on Twitter didn't, so Moxie Media reached out to them to better understand what the brouhaha was all about.
"There are enough girls & women out there to do that. Girls don't need to see more powerful men."
"Feminism is for women. Why don't you tackle male violence instead of speaking for us?"
"A man representing a movement which focuses on girls rising is contradictory."
"Can't they be allies by getting the hell out of the way?"
A day-long tweeting rally unfortunately accomplished very little, with angry women unable to accurately articulate just what exactly had them up in arms. Many threw around the word "feminism" but seemed to miss its meaning: equality.
While the semantics of "feminism" tend to polarize people, its definition is very simple: equality between men and women. Despite its use in the vernacular, it's preposterous to think of building a future in which women are equal without the help of 49% of the world's population. It's not wrong to say that all those who believe in equality, are in fact "feminists".
As we approach International Women's Day on March 8, discussions about feminism, equality and women's empowerment couldn't be more relevant, yet sadly, they all too often remain rooted in an archaic discourse of "us" vs. "them." Equally troubling is the trend of using "women's empowerment" as an empty buzzword, fashionable to talk about it and even easier to discard.
Celebrated journalist Maureen Dowd recently christened Sheryl Sandberg the "Pompom Girl for Feminism" due in large part to her oft-ridiculed tome Lean In; "Sandberg has co-opted the vocabulary and romance of a social movement not to sell a cause, but herself," says Dowd.
So when a man represents a powerful social movement like Girl Rising, why do we attack his gender instead of listening to his words and observing his actions? New York Times journalist and author of Half The Sky Nicholas D. Kristof argues that women's empowerment "isn't a woman's or a man's issue" and he couldn't be more right.
In Girl Rising's eponymous documentary, we're told that if India enrolled a mere 1% more of its girls in secondary school, our GDP would rise by an astonishing 5.5 billion dollars. There are few investments that can rival the return on investing in girls.
Previously, I never expected to feature a man on one of our panels but now I am proud to offer Women in Media as a platform on which many voices are represented and I can only hope that more of us start to listen. As we often say at Moxie, the #futureisfemale and I look forward to that future being built by people, irrespective of class, religion, ethnicity and most of all, gender.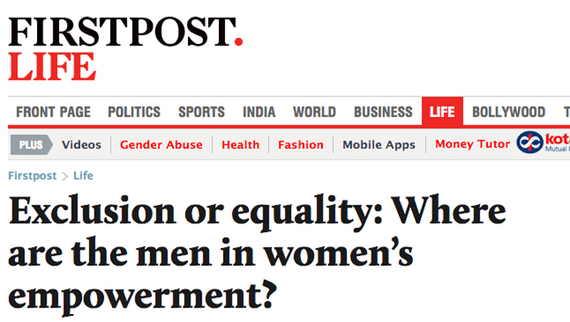 Calling all HuffPost superfans!
Sign up for membership to become a founding member and help shape HuffPost's next chapter