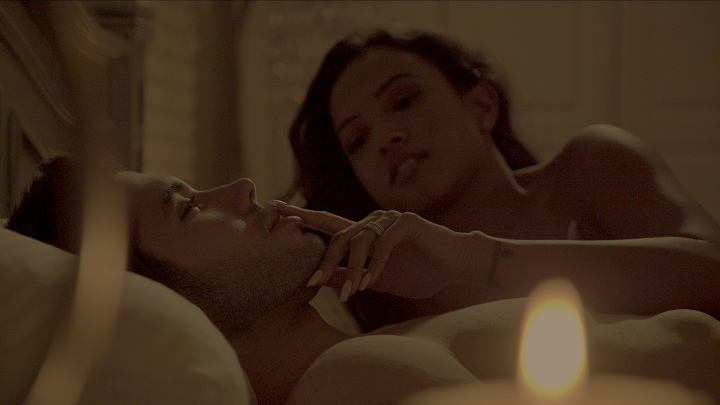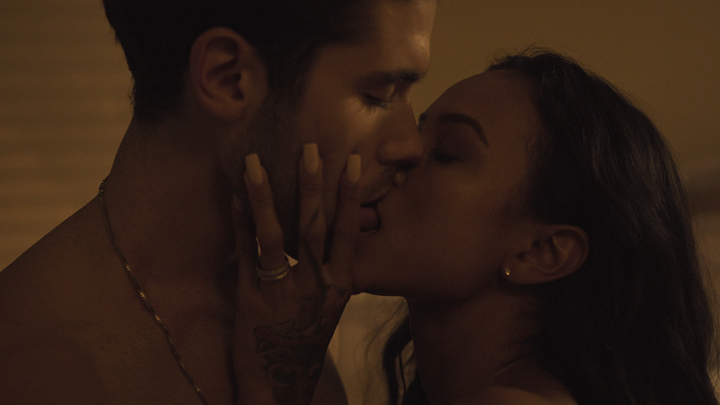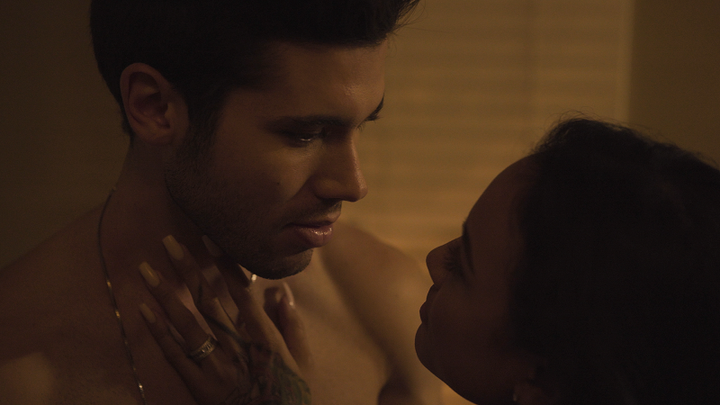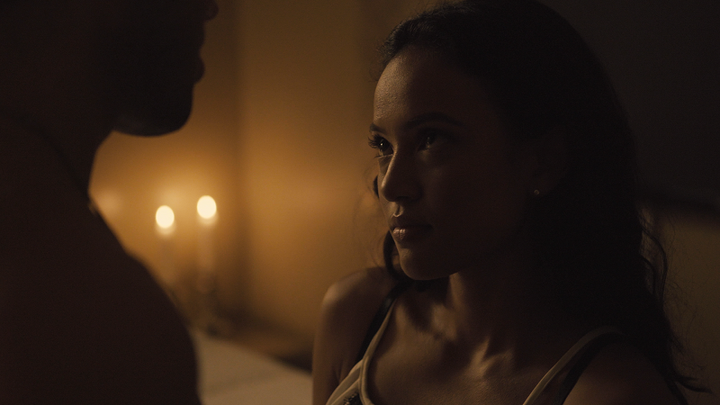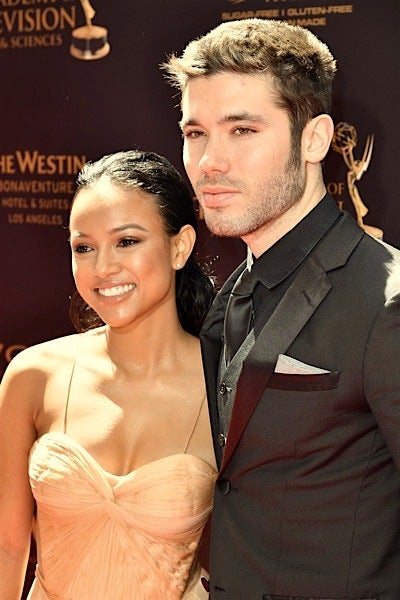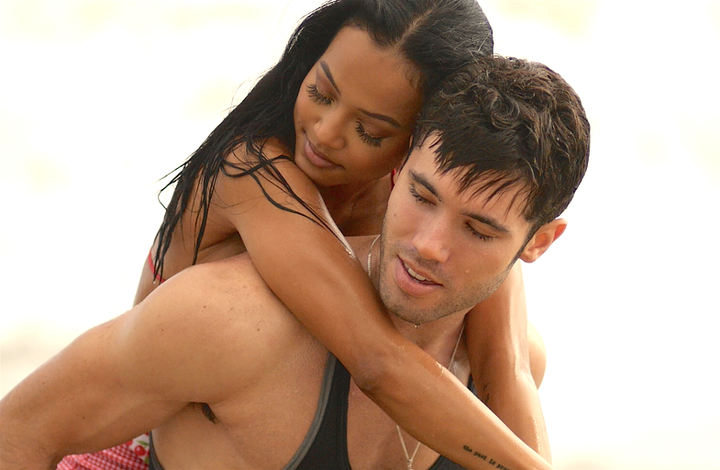 In the history of television there have been pairings of actors that somehow are destined by fate in the casting process such as Luke and Laura on "General Hospital", Sam and Diane on "Cheers", Blake and Krystal on "Dynasty", Phillip and Elizabeth on "The Crown", Brenda and Sonny on "General Hospital" and now Pete and Vivian (#PETEVIV) on "THE BAY" have joined the historic list of television matches made in heaven and will be referenced in pop culture for decades to come.
In season 3, episode 7 "Sex, Lies, & Tequila" released yesterday on Amazon fans of "THE BAY" get the moment that has been in the making for over two years! Pete (Kristos Andrews) and Vivian (Karrueche Tran) #PETEVIV #Bingethebay (hashtags) finally give into their true feelings and have one of the greatest love scenes ever filmed for television. There is no denying the chemistry between the Emmy® winners is electric.
"When Karrueche came to audition for "The Bay", I immediately saw the chemistry she had with Kristos.They are two of the kindness people you will ever meet, and both full of life and positive ambition."- Gregori J. Martin (Showrunner/Creator/Director, THE BAY)
To celebrate the release of season 3, stars Kristos Andrews (Pete) and Karrueche Tran (Vivian) #PETEVIV, graciously took the time out of their busy schedules to answer our reader favorite 16 questions together!
What is your favorite word?
What is your favorite color?
What is your favorite city?
KARRUECHE: LA! Born and raised
What is your favorite season?
What is your astrological sign?
Who has been the most positive influence on your life?
KRISTOS: My whole family's been a positive influence throughout my life; my sister and parents, cousins, my long time close friends and their families who've brought me in too, very grateful for all who I have around me. This said, the stand out person would be Gregori J. Martin, who happens to be Creator/ Showrunner of The Bay, my business partner and essentially my big brother for the last near 8 years. He inspired me to give my dreams a real effort and to persevere through the doubt. He gave me faith and has had my back as a bro through just about everything. My worlds definitely been a more positive place with this guy in it.
KARRUECHE: My mom and God mom.
What trait do you find most attractive in other people?
KRISTOS: Kindness and sincerity, always impressed by those two things.
KARRUECHE: Work ethic, someone who is focused and dedicated in something they are passionate about. People who stand up for what they believe in.
What is something most people don't know about you (Hobby or Secret Talent)?
KRISTOS: I secretly bake bread.
KARRUECHE: I went to college for graphic design for two years.
What inspires you creatively?
KRISTOS: The feeling of truth. Seems creativity ultimately comes down to truth and spirituality. As confused or complexed as anyone in this world can be, they can regain their center of gravity through engaging on a sincere level of creative expression and therefore rekindling their own unique connection to the hub of spirituality we all share and can resonate with. This can also be done through experiencing another creative's expressed truths which essentially spark theirs. We all have a center of gravity which we get inspiration from. I'm happy to a. be doing this myself and b. ideally inspire the same in others. We're all creatives, it only depends on the level one engages in it.
KARRUECHE: Life! Anything living and breathing around me. There's so much beauty in life. I love nature the most. Botanical gardens and the ocean are my weakness.
What is your favorite swear word?
KRISTOS: I guess I'll have to go with the F word due to its OG rep as well as coming with a variety of uses which fortunately include the support of positive statements.
KARRUECHE: (laughs) F***!
KRISTOS: Good music. Less ignorant, more wise. Unless you're working out.
KARRUECHE: The sound of waves along the beach or against rocks.
What is your favorite food?
KRISTOS: I appreciate all types; all cultures, as long as there's some protein in there
KARRUECHE: Everything! I'm a foodie :)
What is your favorite beverage?
KRISTOS: Good old water. It keeps you alive. And those who party with me know the other answer
KARRUECHE: Water! It's the key to life.
Where do you keep your Emmy's®
KRISTOS: My bedroom, the living room and my office. Good to have uplifting reminders covering ground in case a really bad day strikes. Perhaps the sight of an Emmy® will save my life one day. Fun fact: Kristos made history this past spring as the youngest 5 time Emmy® winner ever!
KARRUECHE: On the dresser in front of my bed so I can wake up to them every morning.
KRISTOS: I considered music while in my teens as it was quite suggested to me and then ended up gravitating more toward skateboarding which I was obsessed with and this lasted a while. There's still passion and energy for both the above, through projects I can always play different characters in, but I'm sure my job would have been skating right now if I stayed in my so called comfort zone and continued that path despite not being entirely whole hearted in it. Nothing against it, I still love it and always will, but I felt myself gravitating away from it being my main thing as I got older, so knew I had to be real with myself and figure out the next life steps. Grateful with the way things have gone despite the risk I was making. Most careers, life choices, anything, is a risk, and what I learned from skateboarding is to just go all out whatever it is you wanna do and make sure you're just making the best of it. I figured that particular law can be applied no matter what it is you decide to do.
KARRUECHE: I'm not exactly sure. I definitely would have figured it out if life lead me down a different path. I'm a creative person, so definitely something I would have been able to utilize my creative energy.
What would you like to hear the Angels say when you arrive at home on the other side?
KRISTOS: Their beautiful singing voices I've heard a lot of hype about
KARRUECHE: Welcome Home :)
If you haven't yet had the time or opportunity to #Bingethebay #PETEVIV you will be happy you did. It is OK to start with watching season 3 https://www.amazon.com/dp/B076JL4219 and watch seasons 1 & 2 in between new episodes of season 3 being released every Tuesday on Amazon for the next three weeks.
"I knew right away that their chemistry was going to play really well on screen.This season fans will get to really see and enjoy what I saw from day 1."
- Gregori J. Martin (Showrunner/Creator/Director, THE BAY)
Popular in the Community