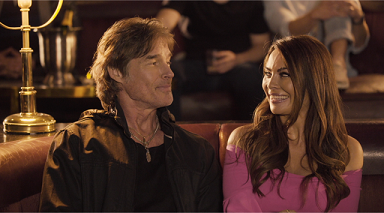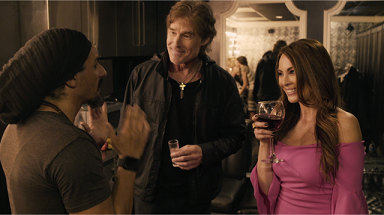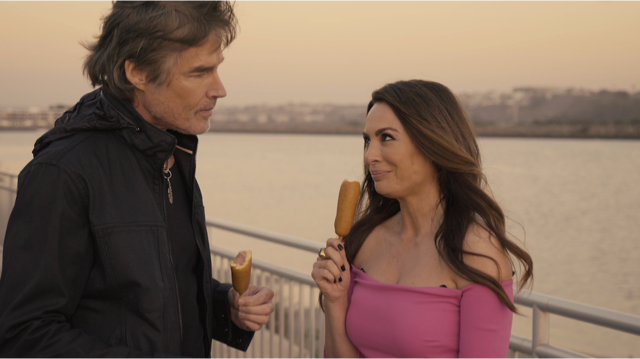 Emmy® winners Ronn Moss (Blackwell) and Lilly Melgar (Janice) are heating up the screen with their courtship and romance on "The Bay" season 3 (Amazon), it has viewers and social media buzzing.
"The Bay" creates a space for actors to take full advantage of their nonverbal communication skills. That brings an extra level of depth to the series, storylines, and characters. A fabulous example of this is in season 3 episode 6 where these two gifted actors talents shine brightly together and demonstrate that "just because I said it, doesn't mean I meant it" and how important "nonverbal communications" are and can be when developing a new romance and relationship. Executive Producers Gregori J. Martin and Wendy Riche haven't revealed what all is the cards for Bay City's newest couple but, we are eager to see how it unfolds.
To celebrate the release of season 3, Ronn Moss (Blackwell) and Lilly Melgar (Janice), graciously took the time out of their busy schedules to answer our reader favorite 16 questions together!
1. What is your favorite word?
2. What is your favorite color?
3. What is your favorite city?
RONN: Right now… Ghent, Belgium.
LILLY: Always an LA girl at heart!
4. What is your favorite season?
5. What is your astrological sign?
6. Who has been the most positive influence on your life?
7. What trait do you find most attractive in other people?
LILLY: The combo of quiet confidence and humor.
8. What is something most people don't know about you?
RONN: That I'm very spiritual but I'm not religious.
LILLY: A penguin bit my boob once ... does that count?
9. What inspires you creatively?
RONN: Art & music and a beautifully made guitar.
LILLY: Doing what I love!
10. What is your favorite swear word?
RONN: Fuckin'. I try and use it as sparingly as possible, but it has SO MANY uses.
LILLY: (laughs) The F word!
11. What sound do you love?
LILLY: My daughter's laughter... and then the sound of rain.
12. What is your favorite food?
RONN: Fresh Salads with many ingredients.
LILLY: Japanese and Peruvian food.
13. What is your favorite beverage?
14. Where do you keep your Emmy's®?
RONN: In my office and in my home theatre room.
LILLY: My fireplace mantle.
15. What was career plan B?
LILLY: (Laughs) An image consultant!
16. What would you like to hear the Angels say when you arrive at home on the other side?
RONN: "Hey dude… you did alright there… how about a beer?"
LILLY: (Laughs) "You did GOOD!"
Season 3, episodes 9 and 10 are available today on Amazon and two more episodes will be released on 11/14 (episodes 11 and 12) and 11/21 (episodes 13 and 14).
Popular in the Community