On May 6th, AC/DC treated fans to an in person appearance at the world premiere of their brand new DVD & Blu-ray release Live At River Plate, which dropped on Tuesday, May 10th. The Hammersmith Apollo in London was decked out with AC/DC cannons, Hell's Bell, and a black AC/DC carpet on which the band entered the event, greeting fans on the way in. Ozzy Osbourne introduced the band before AC/DC appeared on the stage for a hello to fans, after which they took their seats to view the concert film on the big screen. As reported by Sky News, Angus Young discusses Live At River Plate and what's in store for the future.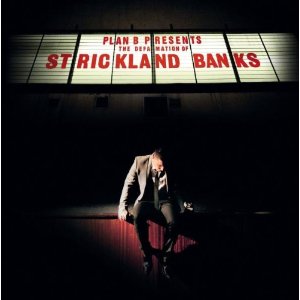 A Conversation with Plan B (Ben Drew)
Mike Ragogna: Ben, you define your new album The Defamtion of Stickland Banks as a culmination of films for the blind.
Ben Drew: Yeah, that's right. It's a concept story from start to finish, so each song is a scene in a film. It obviously has no images in terms of when you're listening to the album, it's just music. But I tried to make the storytelling really visual. If you want to look for a story within this album there is one, whereas with other albums, it's generally just a collection of songs. My whole career, my angle, has been telling stories.
MR: Including when your influence was more on rap?
BD: Yeah. Who Needs Actions When You Got Words? was my first album and it was hip-hop. That was a collection of short stories in one album, and with this new one, the whole album is just one story. Even though the first album was mostly hip-hop, I sang a little bit on the hooks, but it sounds completely different from this album, which is a soul album with elements of hip-hop. But it's a Plan B record because it's telling a story, and I think that's the most important thing about me - I'm going to constantly cross genres because I have the ability to do so. I get bored of just making the same style of music. But the one thread through it all is that I am like a film director like Cameron Pinot, except I'm doing it with music.
MR: Speaking of films, you starred opposite Michael Caine in the film Harry Brown.
BD: Yeah. I did a film called Adulthood before that, and that was my first role in a feature film. After that one I did Harry Brown.
MR: And you played the character Noel Winters.
BD: I did, yeah. He's a nasty piece of work.
MR: He is! (laughs) So, the way you sing on this album is pretty soulful, and you include retro strings and orchestrations that provide cinematic sweeps. When you're singing, do you see "scenes" in your head?
BD: Yeah. When I wrote certain parts of certain songs like "Welcome To Hell" for example. I needed a song for Strickland Banks, as the main character of this film, to represent his first day in jail. I needed a song that was him going from the courts and arriving at his first day in jail, and I didn't have anything. Then the title "Welcome To Hell" popped into my head because arriving in prison would be hell, and he is a famous guy, so everybody's gonna want a piece of him. So, that title felt appropriate because all of the inmates would be excited that this guy was coming to jail. They would welcome him into this hell. Once I had that title, and I knew what part of the story the song would be able to flow in, I wrote it very quickly, and it was like that for the rest of the songs. As soon as I knew what part of the story it was, I had a title for the song.
MR: Can you tell me more about the process of what went into recording this album?
BD: I wanted it to sound like the Pilooski edit of a song called "Beggin'" by Frankie Valli and the Four Seasons. I don't know if the song made it over the shores, but 679 Records, the label that signed me, did a remix of a song by that group with Pilooski. It got really big in the clubs and really revitalized the song to the point where people my age knew the song because I never knew about it before that. Then a group called Madcon from Denmark covered it and had a massive #1 in the UK and in Europe with it. Again, I don't know if that happened over in the U.S., but the point is they had taken an old song that was recorded in mono and revamped it and remixed it for now, which meant it had that bottom end that old Motown soul music didn't have back in the day. The drums were really set far back, whereas the drums in modern music are upfront and you can feel the bass. That's what I wanted this album to be, I wanted it to have a feeling of nostalgia with it to sound like an old record that had been revamped for now.
So, we tried to make the stuff that we were recording sound as if it were recorded back in the day. We did that using old string reverbs and distortions. There's an overdrive distortion on Logic, the standard distortion drive that comes with the software, and we just literally put a little bit of that over every stem. That, mixed with reverb and the right EQ's, gives it that old sound, and it's not as easy as it sounds, either! I wrote most of the songs on my acoustic guitar at home, and then went into the studio and recorded them with my band. Then Paul Wentworth, the guy I brought the demos to, created the sound of this album. He showed me what to do and what tricks to use to make the record sound like this. He actually ended up producing four of the most important songs on the album: "Writing's On The Wall," "Welcome To Hell," "Stay Too Long," and "Praying." He was the catalyst for my work after that. After those songs, I went on and did the rest of the songs alone. But we needed him to give us that initial help, and the strings, which were done by Sally Herbert who does a lot of the Radiohead strings, obviously were done to compliment what we had already done. It was great because when other people came in and heard the sound that we were going for, it inspired their input and only enhanced the final product of the songs. When you talk about the strings feeling cinematic or the brass feeling like it was from an older era, a lot of that was me saying, "Yes, I like this...no, I don't like this." But the other side of it was the people who were helping us hearing the music and, I guess, loving it to the point that their additions just complimented what we had already done. Yeah, with this album, everything just kinda came together, and I was watching over the process the whole time so I was never gonna let this album fail.
MR: Are there any guests on the album?
BD: I don't have any guests, no. I felt it was very important not to rely on guest artists.
MR: That's great because the trend seem to be whoever gets the biggest tally of famous guests wins.
BD: Well, the problem with a lot of artists now is that they just get shoved down your throat, they're just over-promoted. They have a music video, and then you see footage of them performing and you think, "Wow, this person is really talented!" But then you just get sick of them because you are inundated with posters and crap everywhere, and you don't care if they're talented anymore because you know that there's a machine behind them just shoving them down your throat. Don't get me wrong, I need that initial promotion and for those doors to be opened in order to help me play to the masses. But once you've done that, it has to be the masses' choice if they want to listen to you and tell their friends about you. I much prefer that. I don't want to be force-fed into people's lives, I want them to come looking for me, and it was very important with this album that I didn't rely on anyone else's profile to help me sell records. I've always felt very uncomfortable about that. I made myself in this world and I don't want or need anyone else to say that they gave me a leg up, you know?
MR: I know that this is kind of contrary to what we were just talking about, but what was it like performing "I Guess That's Why They Call It The Blues" with Elton John on the BBC's Electric Proms?
BD: It was surreal, man! I was quite nervous. We did a soundcheck and I was taking quite a while to get the sound the way that I wanted it. I wasn't annoying anyone, but I felt like I was. I wanted to get up there and do the sound check and then just say, "See you later guys," but I am very particular about how I have my sound when I'm onstage. So, it was great, but I wasn't 100% happy with my sound, and that's the thing with me. If I don't perform the way I want, it always taints the experience. I felt like I could have done better that night because I'd done better in soundcheck when I did that song. Having said that, I don't think I embarrassed myself or anything. The show was okay. But being on the stage with Elton John...that guy has been, like, a massive, massive icon since I was a little kid. He's like musical royalty, so for him to like your music and invite you up on stage? It's like, I don't know. Damn! It's the most surreal, strangest thing in the world. Then you meet him and he's just a normal guy. He's as normal as anyone else and very humble. It's strange when you get to this position and you meet celebrities and you realize that it's just a bunch of normal people who other people treat differently and put up on a pedestal, and I think that's sometimes what people do to me. They meet me and they can't even talk to me. (laughs) They don't know what to say and they get all nervous and start having panic attacks and they just don't realize that I'm just a normal person. But it's really all about how you perceive it.
MR: What advice do you have for new artists?
BD: Never follow money! Because music is not about the money. And if that's the reason you're in this, me and the rest of the world will see through it and you won't get the respect you wanted. This isn't a game to me, this is my life...I live for this. I mean, money is something we all need, I won't be a hypocrite and say that I don't need it, but that's not why you should do this. And the number one thing, to me, is to be happy about the things that I'm doing to earn that money, because if not, I might as well go and be a prostitute and earn my money like that.
Tracks:
1. Love Goes Down
2. Writing's On The Wall
3. Stay Too Long
4. She Said
5. Welcome To Hell
6. Hard Times
7. The Recluse
8. Traded In My Cigarettes
9. Prayin'
10. Darkest Place
11. Free
12. I Know A Song
13. What You Gonna Do
Transcribed by Evan Tyrone Martin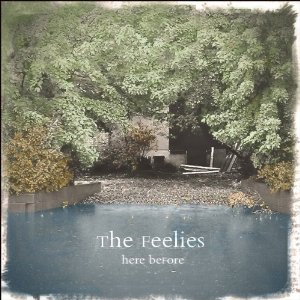 A Conversation with The Feelies' Glenn Mercer
Mike Ragogna: Glen, how the heck are you?
Glenn Mercer: Great, thanks.
MR: What inspired The Feelies reunion and the new album, Here Before?
GM: It's the same motivation as before, really. It's great to reconnect with friends and fans and to express ourselves through our music, and it happened at a time when everyone was able to be a part of it.
MR: Have you guys been getting together and performing through the years anyway?
GM: Well, we started talking about it around 2002. We had some business that came up, some requests for licensing, and I guess since that point, we began to get more and more requests for playing lives shows and to reissue our back catalog. It seemed like the interest in the band was growing. But it wasn't until 2008 that we could get everybody to the point where we could focus 100% on the band, which meant writing new songs and recording a new record. We didn't just want to get together for the sake of a reunion and have it be purely nostalgic, although it's fine to have that element, we just didn't want that to be the only reason for it.
MR: over the years, you've been cited by several artists including R.E.M. as having influenced their work. And Here Before is technically the fifth Feelies album?
MR: What was it like being together from the first rehearsal through your time in the studio recording Here Before?
GM: Well, the first rehearsal was a little bit awkward because we set ourselves up in a circle. I guess our reasoning was that we needed to make eye contact for cues and such, and for whatever reason, it just didn't settle well. So, the next day, we set up the way we do when we play live, which is, I guess, similar to the way we used to rehearse, and that made a big difference in the sound. It might have something to do with the fact that it was our second day as well. It just seemed to be a lot more relaxed.
MR: Do you think it was like muscle memory, your having played so often together through the years?
GM: A little bit. But you have to remember I played with Dave, Stan and Brenda pretty much the whole time we were apart as a band. For me, it wasn't that unusual - you just put us together and we're bound to make a sound. It came kind of naturally, really.
MR: Of course, especially because of the relationships that already existed there. But was it different coming together with a new album mission after all this time?
GM: For Bill, it was probably a bit different because he hadn't really played much in the time that we were apart. But the rest of us have all played and played with each other over the years.
MR: How did the material come together? What was the creative process like?
GM: We pretty much started writing right away, but it took us a while to get to the stage of having enough material and getting into the studio. Bill still lives in Florida and Brenda is in Pennsylvania, so we couldn't get together too often. But we found that when we did get together, like when we had a gig, we'd spend most of our time rehearsing for the gig and not have enough time to go over the new stuff. So, at some point, we realized that we had to put the live playing aside for a while, and once we did that and focused all of our energy on putting the new record together, it came together pretty quickly. We made demos last summer and started recording for about two weeks, and then we did four sessions over the course of four months - some in the Fall and some in the early Winter.
MR: Are there any songs on this album that have a special meaning or story behind their creation?
GM: Not exactly, no. Well, Bill and I were asked to do a soundtrack for a film and it didn't work out - once the film was finished they decided to use someone else for the music and then the film wasn't released in theaters. But there was one song, "Bluer Skies," that I wrote on an organ. I had already recorded a demo of the song thinking I could use it in the film, and when that didn't work out, I liked the song so much that I adapted it slightly to include it on this album.
MR: What was it like returning to the studio with the group?
GM: It was good. You know, we had played together for a couple of years and we had already made the demo, so we knew the sound that we were going for. I think it all worked out well - it was pretty effortless, really. We put in long days but we didn't really have any major problems.
MR: When you were in the studio, how were you able to gauge when the work was complete? How did you decide that the mixes and the sound and were just the way you wanted them on the tracks?
GM: Well, like I said, we had already done the demo, so we had that template established. Really, it was just a matter of recreating that, but leaving a bit of room for each studio version to have its own sound and evolution into the track we wanted. A few of the songs were different from the demo, but by and large, the work we had done on the demo really paid off. That allowed us to go in and complete the record in about two weeks, which is pretty quick for us.
MR: Are there plans to tour for the album?
GM: No. Right now, we're not really in the position to do anything like that.
MR: I read the great review that you guys got in Entertainment Weekly. Once again, The Feelies are critical darlings, how does that feel, pun intended?
GM: Great. It's better to have that response than have the record be panned.
MR: Are there currently any artists on the music scene that make you excited about where the industry is going?
GM: I don't listen to a lot of new stuff because when I'm working on things with The Feelies, it takes up a lot of time. We also all have families, so music isn't really completely full time for us. If people recommend bands to me, I'll definitely listen to them, but I'm just not really up to date on a lot of new artists to be honest.
MR: Have you ever happened upon American Idol or any of those types of shows when you're with your family?
MR: But I assume you know the concept of a show like American Idol. What are your thoughts on it and the process they put contestants through?
GM: I don't know. I think it's kind of awful. (laughs)
MR: (laughs) Do you think there could be any type of show of the same vein that could develop and showcase talent with a process that isn't quite as contrived? (laughs)
GM: Well, I think that the inherent problem is that they're mixing television and music. TV could certainly be a great tool for promotion, but in those types of shows, that's not the case. It's backward to me - it's seems like the music is exploited for the television.
MR: I guess they were trying to create something different than the mix that we basically had in the '80s and part of the '90s with music videos being the prominent musical force on television. How do you feel about videos?
GM: Well, we did a few years back. I don't know. (laughs) We didn't complain about doing them, but I'm sure glad we don't have to do those anymore.
MR: It seems like most artists really need a constant visual presence that will hopefully go viral to promote their music.
GM: I guess, I don't know. It's really up to the individual. I know many people who just listen to the music on their iPhones and don't really need the visual. And there are some that say they enjoy listening to The Feelies while they're driving, and that provides a visual all it's own. (laughs)
MR: (laughs) True, I never thought of it like that. Are The Feelies planning any sort of live shows or appearances in the near future?
GM: Yeah, we have a few shows coming up in Spring and Summer. Then we'll probably do a few more in the Fall and Winter.
MR: Great. Is there any advice that you would like to give to new artists?
GM: Protect your hearing. Don't turn up the music too loud.
Tracks:
1. Nobody Knows
2. Should Be Gone
3. Again Today
4. When You Know
5. Later On
6. Way Down
7. Morning Comes
8. Change Your Mind
9. Here Before
10. Time Is Right
11. Bluer Skies
12. On And On
13. So Far
Transcribed by Evan Tyrone Martin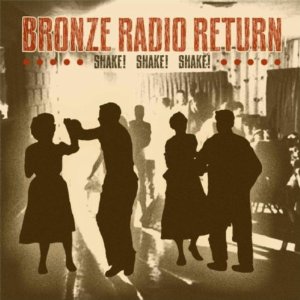 A Conversation with Bronze Radio Return's Chris Henderson
Mike Ragogna: Chris, how did you guys come up with your name?

Chris Henderson: The name Bronze Radio Return was inspired by old radio I grew up listening to in my fathers art studio in Maine. On this beautiful tube radio, we would listen to all kinds of great music from delta blues and jazz standards to American folk and country twang. I learned a great deal about music through osmosis from the sounds coming from that radio. When our band started making music together, we found that a common theme in most of our backgrounds started from listening to roots music at early ages. As a result, we decided we wanted to pay a certain homage to these styles with the music we would make together...the return of the bronze radio.

MR: What's your origin story?

CH: The band was formed through people and places in Hartford, Connecticut. In college, I would sometimes pop down to Long Island to play blues with some friends at open mics or in peoples' garages. On one occasion, I met our guitar player Patty there, and we started a musical friendship that eventually led to us coming up with this crazy idea to start a band. Through mostly students of the Hartt School of Music in Hartford, the band was formed and things started from there. Several months after getting everyone on board, we recorded our first material at Hartt Studios and began playing shows in the NY/CT area.

MR: What was it like performing before President Obama?

CH: Playing at the presidential rally was a trip! There were a lot of people all riled up and excited to see Obama speak. He is such a rockstar...the entourage he rolls with is nothing shy of enormous, and the energy of a room that the president is speaking in is incredible. We had to go through several rounds of background clearance before arriving and then allow dogs and security personnel to search our gear. Russell Simmons was emceeing the event and announced our band. We played a short set and then the President came out and took it from there.

MR: Got any cool stories about any of the songs on your new album, Shake! Shake! Shake!?

CH: The song "Shake! Shake! Shake!" was one of the last songs to come together on this album. During the several weeks we spent in Oklahoma recording the album, we kept circling around this song. We would try a guitar line or a key's texture and nothing was sitting right. Everything sounded unnatural. When we started nearing the end of our time in the studio, we noticed that we still had a lot of work to do in order to finish the song "Shake! Shake! Shake!" After a few long, late night sessions of really focusing on the tune, we came up with something we all liked on the last day. It ended up being the title track of the record.

MR: Were you surprised by the critical praise your debut album, Old Time Speaker, received?

CH: Old Time Speaker was a great learning experience for us as a band. We tracked the record over two weeks in Nashville with a young producer by the name of Chad Copelin. We had met Chad through checking out his other work and sending him a blind email asking him to produce our upcoming album. He obliged, and we met in Nashville to give it a try. The short time in the studio made for a whirlwind of productivity and creativity. The final product is something we are all proud of and believe is a great starting point for what we hope is a long career of making music together. It felt great that people seemed to like the record. All the kind words and support for Old Time Speaker played a role in the confidence we took into the studio to record Shake! Shake! Shake!.

MR: Have you watched any of your songs when they've been synch-licensed, and have you ever been surprised by some of their uses?

CH: While we were making Shake! Shake! Shake!, we got a call from a friend that had just seen a song from Old Time Speaker used on 90210. The song "Lo-Fi" was used during a high school hallway scene in which a teacher is talking to a student they are sleeping with. I can't say I saw that one coming.

MR: (laughs) Are you guys still having fun?
CH: The fun never stops here in the BRR camp. We are having more fun than ever with this new album. It's been a blast playing the new songs live and incorporating newer material with older material. We've been getting a really positive response to this new album, which has pushed us to make sure our live show can keep up. This band thrives on having fun at shows.




MR: Will you be taking all this fun on the road in support of the album?

CH: Yes, this summer looks to be a full season of shows and traveling. We will be branching out into more shows outside of the Northeast as we promote our newest release. There are several festivals throughout the Summer that we are playing that have us excited to be a part of as well as attend. Our summer touring gets underway starting in mid-June.

MR: What advice do you have for new artists?

CH: As a new artist, I strive to take as much advice as I can get my hands on. I believe the best way to learn something is to talk to people with experience in the field you want to excel in. Ask questions. Listen to the answers. Recognize biases and form your own opinions. There is a lot of learn from the stories and experiences of people around us.
Tracks:
1. Down There
2. Wonder No More
3. Shake!, Shake!, Shake!
4. Warm Day, Cold War
5. Blurry-Eyed Worries
6. Rough Town
7. Curse The Ground (Broken Ocean Intro)
8. Broken Ocean
9. Everything Moves
10. What Good
11. Sell It To You
12. Sticks And Stones
Calling all HuffPost superfans!
Sign up for membership to become a founding member and help shape HuffPost's next chapter