It appears that many journalists and publicists were angered, but NOT surprised by the snubbing of legendary photographer Bill Jones at the recent record-breaking BET Awards show. Since the posting of my Huffington Post piece, with an exclusive statement from Jones detailing his disappointment in being denied credentials for the BET Awards show, I have been inundated with calls, emails and messages from journalists, photographers and publicists characterizing BET's Communication's department as; "arrogant," "incompetent," "dismissive" and "disorganized."
In fact, 25-year public relations maven, Lynn Jeter wrote in an email to scores of her public relations colleagues, "...this year's red carpet was an absolute disaster." Jeter's email's subject line was: "BET RED CARPET DISASTERS AND WITH WHITE PR FIRM SLATE PR."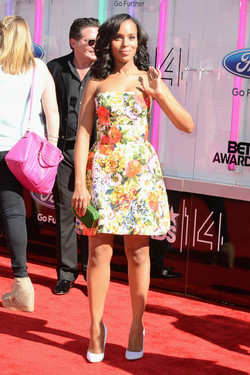 Jeter's letter continued:
The photo pool was at the end of the red carpet, which was ludacris. The celebrities were looking their worst due to the photo pool being at the very end causing celebrities to walk more than a block to take photos, which means they were not looking their best! The publicity check in and communication was a nightmare and not organized. The publicist holding area did not have shade or water until after 2:30pm. The Red carpet started over 30 minutes late.
Many recognizable celebrities, and even talent associated with BET programming, were clamoring to attend the show but were denied seats. However, some publicists wish to steer their clients away from the event.
"When the BET Awards first came to Los Angeles, it was an exciting time, and I cut my teeth on its red carpet under the tutelage of veteran celebrity publicists Lynn Jeter and the late Pat Tobin," said Wyllisa Bennett, celebrity publicist and blogger. "The awards show was accessible and inclusive to all talent and publicists in Black Hollywood, working in TV, film and music. Something has certainly changed, and now many publicists wonder if it's worth the headache and heartache for their clients to participate at all."
Many publicists and journalists have stated, under the condition of anonymity, that they believe the snubbing of veteran journalists and the "chaos" on the red-carpet was due to BET's hiring a white owned PR firm, Slate PR, as referenced in Jeter's email. According to some, there is tremendous significance in Slate PR being a white owned PR firm with little experience with Black journalists, photographers and in representing African-American talent. I repeatedly heard that Slate PR is ignorant to the smaller, black media outlets and their importance in African-American celebrities garnering coverage.
I was provided a heated email exchange between Jeter and Tracy McGraw, BET's Senior Vice President of Communications, regarding BET's choice in hiring Slate PR and the alleged mistreatment of talent, publicists and journalists.
In response to Jeter's email, McGraw wrote:
The BET Networks Communications department reserves the right to arrange our red carpet(s) in whatever way we see fit .... In fact, we opted to mirror the layout for the VMAS, Oscars and Grammys - which eliminated bottlenecking at the top of the carpet, allowing for our talent to smoothly progress down the carpet. Additionally, I was horrified with the reference made in your subject line about the PR firm we hired ("WHITE PR FIRM SLATE PR") ... BET Networks embraces global diversity in all its forms and seeks to maintain an inclusive workforce and a culture that values all perspectives and backgrounds.
In a telephone interview with me, McGraw discussed the new direction BET chose in hiring the white owned public relations firm, Slate PR, and confirmed that legendary photographer Bill Jones had been denied credentials to work the red carpet at the record-breaking event.
To explain BET's hiring of Slate PR, McGraw stated that BET had numerous pitch meetings with various PR firms for this year's BET Award show, and Slate PR came out on top. McGraw was sure to explain that all decisions regarding who would receive credentials and access to the red carpet, the media room, the BET Experience and other BET Award show events, came directly from her office and not Slate PR. The fact that very few smaller, Black media outlets received red carpet credentials was solely her department's call and thus the finger pointing at Slate PR is misdirected.
McGraw stated that BET reduced its issued red carpet credentials by 50 percent, yet, as a means to give the media access to dozens of celebrities, her department issued over 500 media credentials for the BET Experience events (the BET Experience is a 3-day entertainment festival at L.A. Convention Center or L.A. LIVE). The BET Experience featured celebrity-driven events like: a concert by Mary J Blidge, Trey Songz and Jennifer Hudson; a celebrity basketball game with troubled singers, Justin Beiber and Chris Brown; and intimate discussions with Nikki Giovanni, Bill Withers and Floyd Mayweather.

McGraw did not offer an explanation as to why Jones was rejected, however, she stated that due to the extreme reduction of red carpet credentials, the BET communications department had to make some "hard decisions". However, in retrospect, and possibly due to the outrage incited by my article about Jones' snub, BET contacted Jones and promised that he would be appropriately credentialed at future events. According to McGraw, BET will make accommodations for the 83 year old photographer, including a designated shooting area in the shade, as well as, standing room for his assistant.
I spoke to Jones and he offered the following exclusive statement regarding his conversation with BET: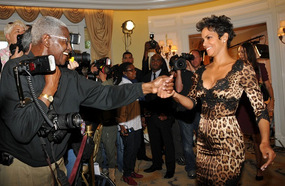 I appreciate BET reaching out to me to offer their apologies and rectify this situation. However, I've left the door open for a new generation of African American photographers to follow in my footsteps, and I hope they will be extended the same professional courtesy in the future. Giving access to Black media to capture the important moments in our culture is a win-win situation for all parties involved.
Jeter offered the following words to BET, "please be mindful that your brand is targeted to African-American and treat African-American talent, media and publicists with respect because they are the ones you need to leverage the brand and it's upon their shoulders that BET thrives."
McGraw acknowledged that it is impossible to make everyone happy and grant all media the access they request, but she stated, "We get the media what they need." She continued, "We want to keep the conversation going to find a healthy and happy compromise" in addressing communication matters within BET's entire programming platform, not just the awards shows. She concluded, "there is room for everyone".
She may be right, but its just not on the BET Awards red carpet.
REAL LIFE. REAL NEWS. REAL VOICES.
Help us tell more of the stories that matter from voices that too often remain unheard.