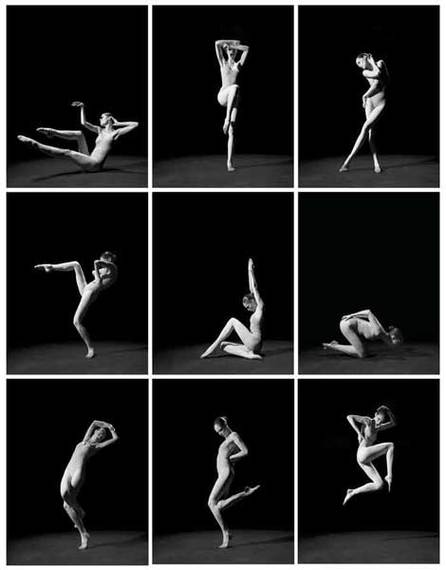 Coco Rocha, a supermodel known for her versatility, just released her first-ever published book, Study of Pose to show off her breathtaking talent and teach others the art of the pose.
The book showcases the 26-year-old Canadian model posing in 1,000 different ways wearing just a simple, tan leotard, which by the way only, "[Took] three days. Although, I keep saying I think we could have done it in one day," said Rocha in our interview last week. Blurring the worlds of fashion and dance over the years, her expressive body language quickly gained her the nickname "Queen of Pose", and her range of curves and contorted twists have featured her in campaigns for the likes of Chanel, Longchamp, Dolce & Gabanna and Christian Dior. The former Face coach, who worked with famed photographer Steven Sebring on the project, admits it was a challenging task but completely doable -- of course it was, she's the posing pro! Sebring shot all 1,000 poses on what he calls his "rig": a geodesic dome filled with cameras that shoot simultaneously, producing images that can be viewed from 360 degrees. The "rig" is the same camera that Rocha used to video her pregnancy announcement.
This December, Coco and Steven will be releasing an app version of the book -- which will include renderings of each pose visible from 360 degrees, and we cannot wait to download it. Last week, Modelinia spoke with the mother-to-be about details on the book, revealing her favorite pose and what she's most looking forward to about being a mother -- read her full interview below:
I met our photographer, Steven Sebring, a few years prior to making the book. At the time, he had come up with what we called "the rig," which is essentially a device with 100 cameras and me being shot from the middle. He hadn't yet announced to the world that he had fabricated this technology yet and we were just kind of playing around with it. In one of those sessions, he said that in the Nineties, he actually wanted to create an encyclopedia of poses, but he couldn't quite find the right model. I don't know, maybe models then didn't have a repertoire for posing. When he mentioned this to us, he was just kind of joking about it, but on the side, James and I were thinking 'wow,' this would actually be a really great idea. We could call it Study of Pose. Then for whatever reason,1,000 came up as the number of poses we could include in the book--why 1,000 I don't know, at the time it seemed like an achievable number, but also an aggressive number. And so a week after bringing it to Steven, we started shooting and that was about two years ago. In the book world, things definitely take a lot longer than in magazines, so it was definitely a learning curve for us. But we did it and I think by pose 800 I was done and I thought let's make this book just 800 poses, that's still a really good number, but they were like 'no, you can finish.' And so James and Steven really started to look up inspiration--we wanted to make sure the book was not just random poses, but also made reference to pop culture, art history, and film, all of that. We really wanted this to be more of a great reference book for future artists out there. Models yes, but also painters, sculptors, poets--you name it.
Was it a challenge coming up with those 1,000 poses, or did you find that most of them flowed out of you throughout the process?
When we started, we were really trying to figure out how we go from pose 1 to 1,000 without finding ourselves thinking, "Have we done this before?" So we would go in there and say "okay, let's start with cross legs and from cross legs shift your body in certain directions and do those different variations before moving on to the next thing." If we did ever get stuck at a point that's when James would be ready with a new idea or moment in time like Venus rising from the sea from art history, Michael Jackson from pop culture, or Charlie Chapman from film, to inspire us and have me copy the best that I could. Although, if you ask me, 800 was still the magic number of poses before we really had to start searching for the inspiration.
How long did it take you to actually shoot the 1,000 poses?
Three days. Although, I keep saying I think we could have done it in one day. The only reason it actually took all three days was because we were working with the rig, so not only is there just the book format, but we're also coming out with an app soon, which will show each of these poses in a 360 degree viewing. So with this technology, we would shoot a pose and then we'd have to wait 10-15 seconds for it to reboot, which is far unlike on normal photo-shoots where you could just keep going.
How does the app differ from the actual book?
The book and the app are two totally different experiences. What is so exciting about having both of these mediums, is that the book is an entity of authority--you look at it and it's timeless--but the app is this new way of experiencing an art book. I also keep thinking of a sculptor, who doesn't need a standing subject anymore because he could pick any position in the app and instantly be able to see the entire form right there. I think that's pretty unique in and of itself. They are both a great source of reference, but also two very different experiences.
Did you learn anything new while doing this project?
I think there can no longer be such a thing as hitting a wall on a photo shoot. If I ever hear a photographer say to me 'ok, what else?' I should retire, because that should never happen now having experienced just how much the body is capable of doing. Yes, there are a lot of quirky, fun, ridiculous poses in this book and maybe fashion doesn't want all of that, but on the other hand, I've always been the model that doesn't take herself too seriously and with this project, I've realized that I can go even further with that.
What do you hope up-and-coming models and artist take away from this book?
An experience, if anything. If you think of any past artist, there was something that they looked at that inspired them to make their most famous pieces, whether it be the Mona Lisa or Venus Rising. There was something that made them project those paintings or those photographs, so I would love to think that this book would be that to the future artist or the future models. I love to think that they would look at this and something would click and inspire them to make that next great piece of art hanging in the Louvre. I would like it to be something that is studied in this industry and the art industry as something that artists must-have as if it were studied as part of their curriculum. I think that would be pretty cool.
Do you have a favorite pose out of the 1,000?
Pose 1,000 is pretty hilarious. If only because about halfway through the book we said 'wouldn't it be funny if for the last pose it looked like I was ripping my hair out and my makeup was all smeared because I had been pushed to my limit and just couldn't give you anymore.' So I think that's my favorite pose, but honestly there are a lot of really beautifully pieces in there that I look at now and think, 'how did my body do that?' Even now people will open the book randomly and say 'ok, no repeat that one,' and I look at it and think, 'I don't even know what I'm doing there.' There are some very interesting poses in there for sure.
You announced your pregnancy to the world using the same technology as you used to create the book. What inspired you to announce it in that way?
I think these days there are just so many ways to announce a pregnancy that I just really wanted it to be different. I always like to be a little different and plus, having Steven as a friend and this rig at your fingertips it was just kind of like 'well, why not?' As for now, we're hoping go back each month to take a photo on the rig so that after nine months you can see this little bump growing and spinning into the image of the baby finally being there.
Have you come up with a special pregnancy pose yet? Pose 1,001 perhaps?
No, not yet. Although, maybe there is a pregnancy pose in there somewhere--we'll have to figure that out. It's funny though because when we were filming the pregnancy video I kept thinking 'how am I supposed to hold my hands?' It's actually a really funny thing to think about in the moment. So yeah, I'm going to have to see how this posing with a bump works out.
Has your approach to fashion and style changed at all since learning of your pregnancy?

Not yet. Of course, the pants and shirts are starting to get a little tighter, but I actually can't wait until I actually have to go out and buy new maternity outfits. I'm excited to see what I'm actually going to wear with this little bump. That's what I'm most excited about--showing off my bump. I always remember seeing Heidi Klum and other celebrities walking the red carpet in these perfect red carpet gowns with their baby bumps and thinking, 'will I have the chance to wear a really cool gown like that?' Otherwise, I don't think my style will really change in any way. I always think that some of those moms who are rocking cool fashion looks while walking their little babies in a stroller is just the bomb. You don't have to all of a sudden have to transition into 'mom' outfits from the '90s just because you became a mom.
Speaking of your style, what are some of your key off-duty pieces right now?
I have a huge amount of white button-down shirts right now. They're just really fun to be able to dress up or dress down depending on the occasion. I do tend to wear black heels almost every day. I think it's fun to dress up, although sometimes you do get a little tired of it, but I definitely try to have a different look every day. Like today, today is my menswear-inspired tie day and last night at the K.I.D.S./Fashion Delivers Gala was my Zac Posen gown day. It's all about changing it up and having fun it.
Have either your mother or mother-in-law shared any parental words of wisdom with you since learning of your pregnancy?
It's funny because when I first announced that I was pregnant, I was a little afraid of how much advice people were going to share with me, which you take but on the other hand, you're afraid it might just end up overwhelming you. But almost everyone that has given me advice so far has said 'don't listen to anyone's advice.' So I've actually asked my mother and mother-in-law for advice more than they have given me, which has been very nice.
Have you already started shopping?
My mother and mother-in-law are actually in town right now, so they just went to American Apparel and picked up a little zip-up sweater and matching sweater pants and a little black t-shirt--it's adorable. I also have a 'Coco Made Me Do It' tee that I gave to James, which his mom later made into a 'James Made Me Do It' shirt for our wedding and now she's getting a little black t-shirt for the baby that's going to say 'Mommy and Daddy Made Me Do It.' So it's all very cute.
Have you already started nesting?
We're starting to do that very soon. We find out soon if it's a boy or a girl, so once that happens then I'm sure we'll really hone in on the room and stocking up on little boots and pants. I'm one of those people who likes to plan everything out, so for right now I'm just waiting to see what we're having before starting any decorating.
What are looking forward to most about being a mother?
Wow, I don't know, everything! I'm excited to see who this little person is, what he or she is going to look like, will they have his [James] lips--I hope they have his lips--whose personality will they have? I think all of that is really interesting.