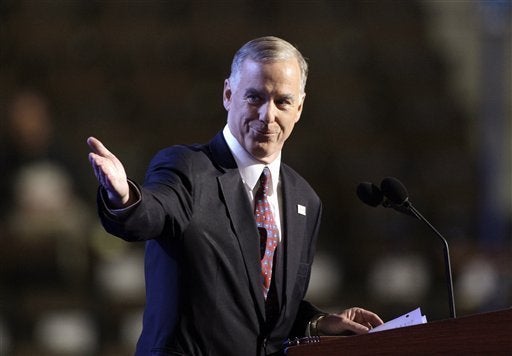 Having been bypassed for a cabinet post after leaving the DNC, former Gov. Howard Dean has chosen to pursue a multi-faceted career in health care advocacy, progressive political strategy, speeches, education and energy, and even election monitoring.
The Vermont Democrat, whose supporters were hoping to see him end up as Secretary of Health and Human Services, summed up his plans this way: "It is sort of outside government but doing the things that I want to do anyway."
Buoyed by the opportunity to tackle so many different projects, Dean nevertheless didn't hide the fact that his preference was to serve in the Obama administration. "I was pretty clear that I would have liked to have been Secretary of HHS but it is the president's choice and he decided to go in a different direction," he said. As for the person who got the HHS nod over him - Gov. Kathleen Sebelius of Kansas - he said: "I think she will be very good. She is a very nice person and I think she will be fine."
Despite spending four years deep in the trenches of political warfare, Dean won't be winding down. In a phone interview with the Huffington Post he listed seven full-to-part-time gigs that he has lined up for the months and years ahead. Chief among them would be to renew his work with Democracy for America, the organization that he founded to build on the grassroots success of his presidential campaign.
"I'll be most interested in their health care stuff," he said. "Not only pushing for a health care bill but for one with meaningful reform."
In addition, Dean says he plans to work with foreign governments, specifically in Europe - where he is traveling this week - to advise progressive parties and interests. In France, he says, he will help groups looking to diversify their political coalitions. "They all want to take advantage of the Obama mania," he said. "They are wondering where their Obama is. So we are going to talk about diversity."
As for domestic politics, there won't be any individual consulting, at least in the near future. "Probably not," he said. "We will of course be doing stuff through Democracy for America. But I don't really plan to be a political consultant."
For Dean, who will be based in Vermont while traveling often to D.C., employment doesn't end there. The governor will work closely with the National Democratic Institute on topics such as spreading democracy and monitoring elections. He will serve as a Senior Strategic Advisor and Independent Consultant at the firm McKenna Long & Aldridge LLP. He will also work on early childhood education with a pilot program in New York City. Additionally, through the Harry Walker Agency, Dean will give paid-for speeches.
Those close to Dean say that the broad range of focus is something that will suit him well, having been a governor of a state for six terms. But they fully expect him to remain uniquely engaged in the health care battles, the issue about which he is most passionate. Asked to assess the Obama administration's approach to reform - as witnessed by the $630 billion set aside for health care in the budget - Dean offered a detailed analysis and strong praise.
"The budget was an important first step," he said. "And now the question is the substance of the bill... What the Obama campaign's proposal does is get rid of the Harry and Louise stuff and this is socialized medicine stuff. Because Harry and Louise relied on deceiving people about a new plan that they wouldn't be able to understand. President Obama is not proposing a new plan that the American people won't understand. What he is proposing is if you want what you have you can keep it. If you want to have private insurance you can. If you want to have Medicare you can have that too... there is no boogeyman in this plan."
Popular in the Community