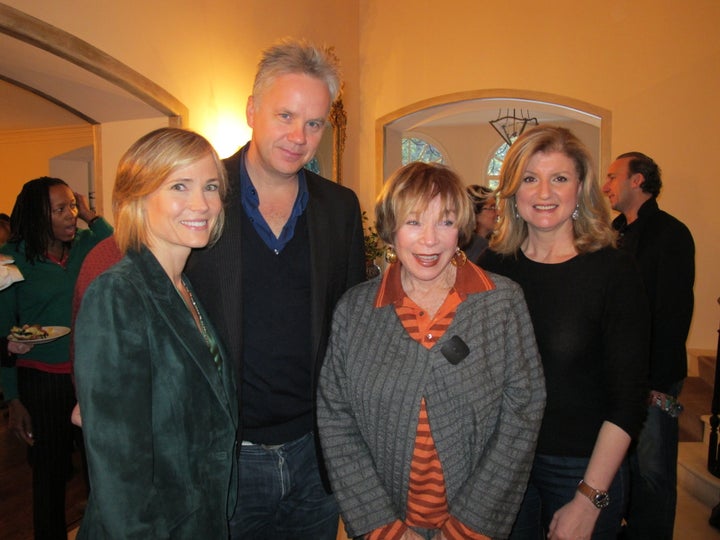 There was a time when playwrights tried their new work out in Connecticut.

Nowadays, it's the living rooms and private theaters of the rich, famous and influential--or at least it is if you're television producer and writer Scott Carter, whose newest dramatic work is an historic assessment of the legacy of no less a celebrity than Jesus Christ.

An invited audience of journalists, entertainment industry activists and others gathered Sunday at Arianna Huffington's Brentwood home for the north of Sunset premiere of Carter's "The Gospel According to Thomas Jefferson, Charles Dickens and Count Leo Tolstoy."
The invitation to Sunday's performance carried a subtitle: "The life and teaching of history's most noted figure is delightfully debated by three men who were almost as famous as He was."
Although Carter is best know for his television work, "The Gospel according to Thomas Jefferson, Charles Dickens and Count Leo Tolstoy" is hardly the playwright and director's first work for the stage. He has written and performed a pair of autobiographical monologues--"Heavy Breathing" and "Suspension Bridge"--in the United States, Ireland and Scotland.
Some of the preoccupations in this most recent play will be familiar to those who have followed Carter's work with satirist and political commentator Bill Maher, since the pair began to collaborate in 1993. Carter currently is executive producer and writer for "Real Time with Bill Maher," now in its sixth season on the cable network HBO. He is also executive producer and writer for Comedy Central's new topical show, "Lewis Black's Root of All Evil."
In his spare time, he's been doing readings of the play in for friends and associates in New York and Los Angeles, with special performances in Norman Lear's living room and in HBO's private theatre.
Among the guests attending Huffington's event on Sunday were Shirley MacLaine and Tim Robbins and about 60 others. (SEE SLIDESHOW) Carter is hoping his living room tour will someday lead him to an ultimate house engagement -- on Broadway.
Support HuffPost
The Stakes Have Never Been Higher
Related
Popular in the Community