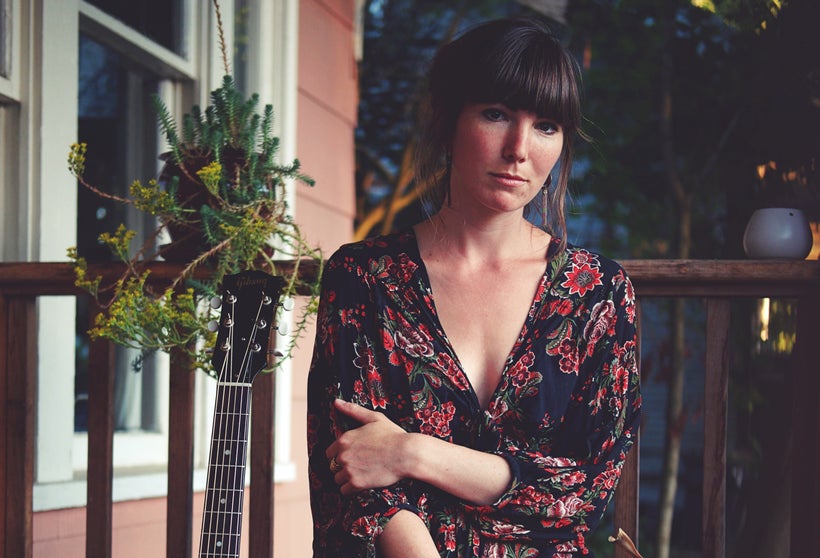 I admit that sometimes all it takes to get me to listen to a new song by an artist that I have never heard before is a personal connection to the song title. In the case of today's exclusive first listen, it's because the song is called, "Illinois." To know me is to know that I call "The Land of Lincoln" home and no, it does not mean I am from Chicago. I am from Illinois — a proud downstater, who will eventually inherit a portion of my homesteading family's centennial farm, and a graduate of the University of Illinois at Springfield.
So when Anna Tivel's "Illinois," landed in my inbox, I naturally had to give it a listen. And I am writing this to tell you that you should too. In fact, when her new album, "Small Believer," is released by Fluff and Gravy Records on Sept. 29, you are going to want to buy it.
This gorgeous first single captures how haunting and lonely it can be to drive, and drive, and drive across the long, flat prairie.
"Underneath the heavy sky, the highway shines
A razor blade cutting down to bone
Nothing left to do but hold the wheel and drive
The dark of night, the dim light on the road
All the way from Illinois, a thousand miles of waiting for
A gentle touch, a kind, believing word
All the way from Illinois, and not one to be heard."
Tivel's lyrics combined with the wistful and longing notes paint a picture that is at the same time heartbreaking and hopeful. Her songwriting has been called viscerally moving and I have to agree. But don't take my or anyone else's word for it. Instead take a listen for yourself.
Tivel writes about the song, "This one is for a good friend who moved a long way to be with someone who ended up really breaking her spirit. It's about the hope of making a new life, the promise of real love, and the terrible let down and destruction of abuse. I wrote it imagining her driving back home, hoping so hard that she would, but knowing how blindingly difficult it is to leave, how much shame and hurt and hope and fear is involved."
A native of Portland, Oregon, the songs on "Small Believer" were written while Tivel was touring, but also in-between shifts at the odd waitressing job or driving Meals on Wheels in her spare time, according to a release. To make the album, Tivel drew her close community of friends and collaborators in Portland, starting with Austin Nevins (Josh Ritter, Della Mae), who produced the album.Nevins shared a deep love for the kind of quiet stories Tivel loves to tell. Nevins brought together Portland collaborators to make the understated accompaniment that pervades the album: slow-driving fiddles, accordions, electric guitars moving beneath and supporting Tivel's soft words. Released on Fluff & Gravy Records, label-head John Shepski has long championed Anna's music along with other great, unheralded Northwest songwriters across genres.
REAL LIFE. REAL NEWS. REAL VOICES.
Help us tell more of the stories that matter from voices that too often remain unheard.
This post was published on the now-closed HuffPost Contributor platform. Contributors control their own work and posted freely to our site. If you need to flag this entry as abusive,
send us an email
.