Dark Horse is excited to announce the adaptation of American Gods into comic book form. Originally published in 2001 by William Morrow and Headline, American Gods is a Hugo and Nebula Award–winning novel by Neil Gaiman (How to Talk to Girls at Parties, The Sandman). North American rights were acquired from Gaiman's literary agent, Merrilee Heifetz at Writers House. American Gods is the latest Gaiman adaptation from Dark Horse, preceded by graphic novel adaptations of How to Talk to Girls at Parties, Troll Bridge, Forbidden Brides, and many more. Starz will also premiere an American Gods TV show in spring 2017, adapted by Bryan Fuller (NBC's Hannibal, CBS's Star Trek: Discovery).
Dark Horse tapped P. Craig Russell (The Sandman: The Dream Hunters)—who, having worked on Coraline and The Graveyard Book, is no stranger to adapting Neil Gaiman's work—to adapt and co-write the comic series, while Scott Hampton (Hellboy, Batman) lends his illustrative skills to the complex world Gaiman created. Glenn Fabry (Preacher) and Adam Brown (Predator vs. Judge Dredd vs. Aliens) create the hauntingly beautiful cover art. David Mack (Kabuki, Fight Club 2) and Dave McKean (Black Dog, Cages) provide variant covers for the first issue. The American Gods comic series will feature guest interior art by Walt Simonson (Thor), Mark Buckingham (Fables), Colleen Doran (The Sandman), P. Craig Russell, and more.
American Gods creator Neil Gaiman explained his excitement for the upcoming American Gods adaptations: "There's a tremendous amount of excitement, in my house and in the world, about the American Gods TV series coming up on Starz. What we've managed to keep a secret until now is that there is something just as exciting out there: American Gods, the comic. I've been watching P. Craig Russell breaking down the book into comic form, watching Scott Hampton painting the pages, watching Glenn Fabry create the covers, and grinning to myself with delight, because the American Gods comic is going to be an astonishing, faithful, and beautiful adaptation."
American Gods: Shadows #1 finds Shadow Moon released from jail only to discover his wife has died. Broken and uncertain about his future, Shadow Moon meets the mysterious Mr. Wednesday, who employs him to serve as his bodyguard. This fateful decision thrusts Shadow into a deadly supernatural world where ghosts of the past come back from the dead, and a brewing war between old and new gods hits a boiling point.
Dark Horse will adapt American Gods into twenty-seven single issues with three story arcs: Shadows, My Ainsel, and The Moment of the Storm, to be collected into three hardcover graphic novels. The first issue of American Gods: Shadows goes on sale March 15, 2017.
Below is the exclusive preview sequence, the main cover by Glenn Fabry,.
"Adapting Neil Gaiman's bestselling and beloved AMERICAN GODS novel is a massive undertaking. It's a 500 plus page novel that will published by Dark Horse Comics as 27 comic book issues. I admire the freshness of his Neil's vision, the wide open enjoyment of all the strange byways and backroads of America as seen through the eyes of a writer who grew up in England. AMERICAN GODS was Neil's first novel after he moved to America and it just happens to be about all the strange people, characters, and Gods who also came to America. He imagined them as perhaps only a newcomer could. I've been drawing comic books and graphic novels for 44 years and while there is a great satisfaction in producing the finished drawings the greatest joy for me is in providing the 'blueprint' of the adaptation, the novel to script to visual design. So it's been a delight to have someone of Scott Hampton's expertise provide the finished artwork over that blueprint. He and I have worked together before and he was my first choice to collaborate with in producing one huge piece of work." P. Craig Russell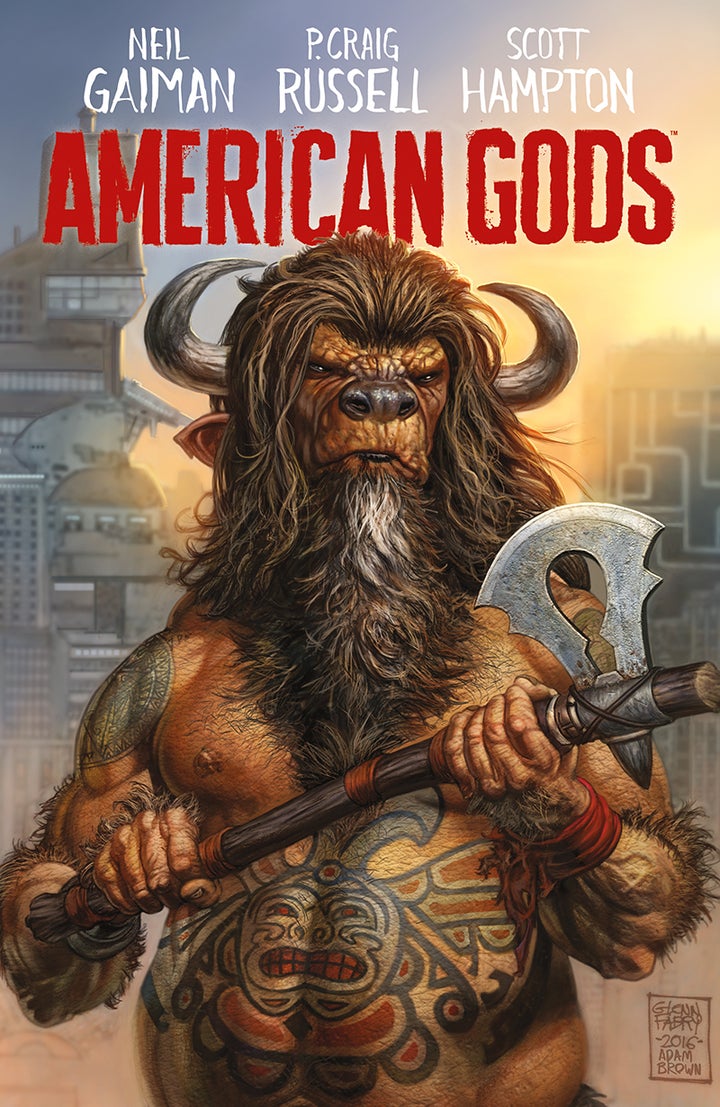 American Gods: Shadows #1 Neil Gaiman (W), P. Craig Russell (W/A), Scott Hampton (A/C), Glenn Fabry (Cover), David Mack (Variant cover), and Dave McKean (Variant cover) On sale Mar 15, 20017 $3.99 Synopsis: Shadow Moon just got out of jail, only to discover his wife is dead. Defeated, broke, and uncertain as to where to go from here, he meets the mysterious Mr. Wednesday, who employs him to serve as his bodyguard—thrusting Shadow into a deadly world of the supernatural, where ghosts of the past come back from the dead, and a brewing war between old and new gods hits a boiling point.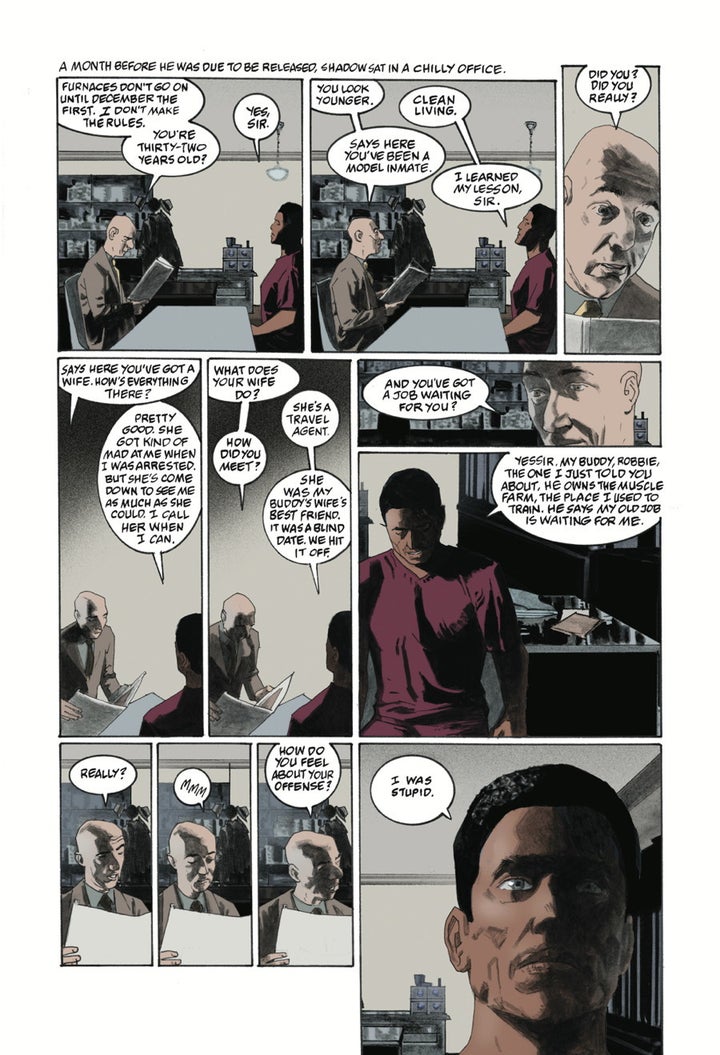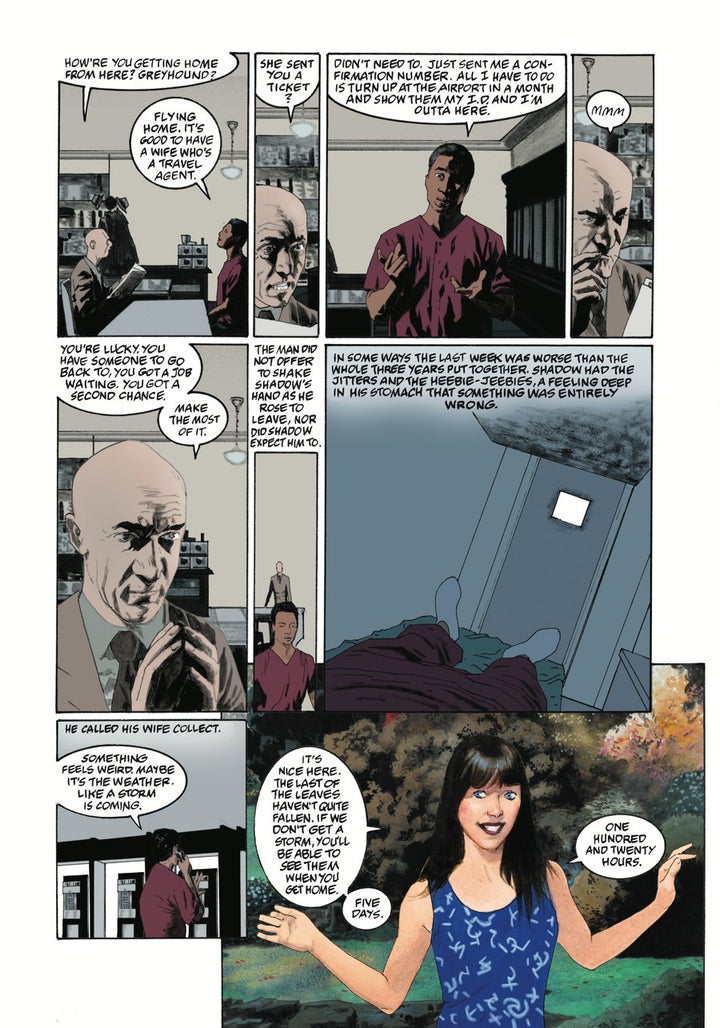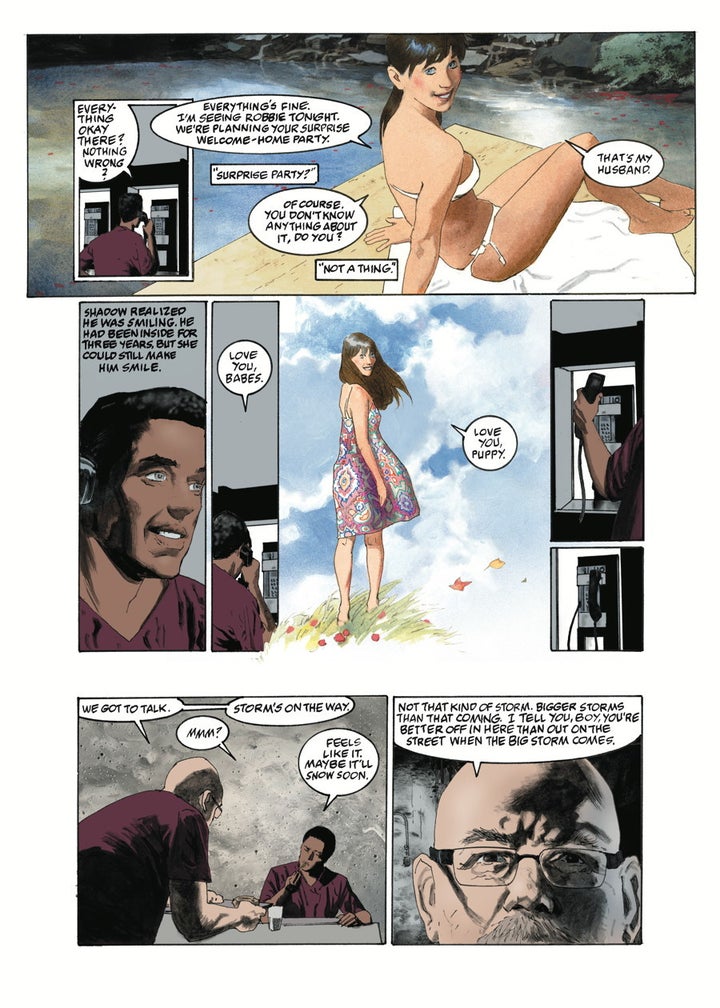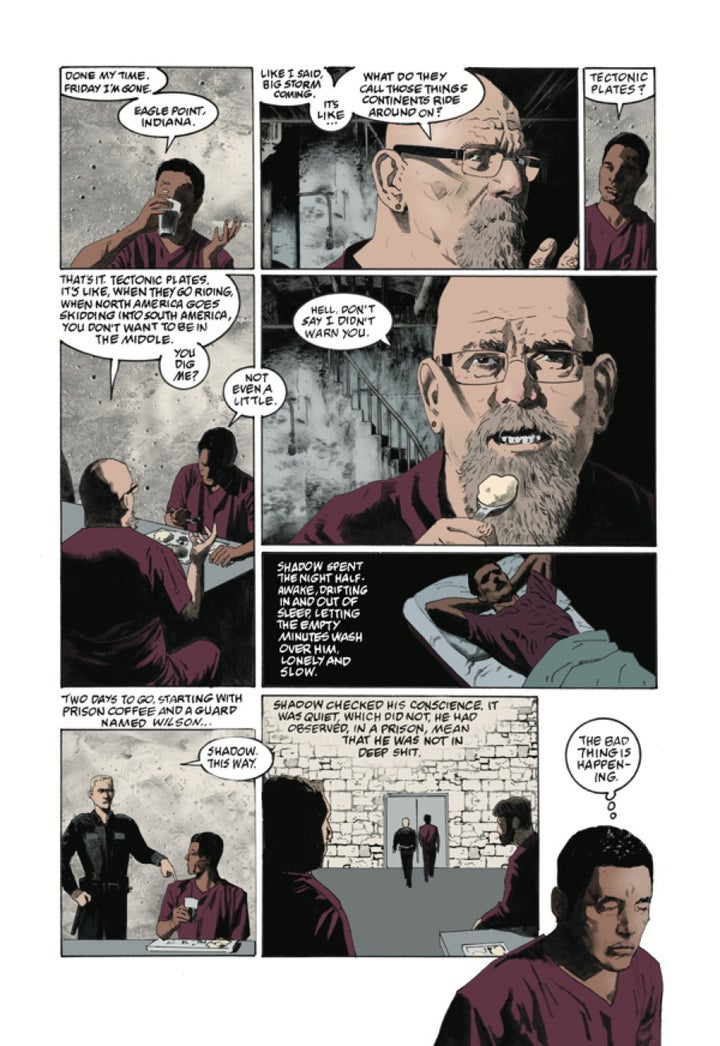 Neil Gaiman is the celebrated author of books, graphic novels, short stories, and films for readers of all ages.
Some of his most notable titles include the groundbreaking #1 New York Times bestselling Sandman comics series (which garnered nine Eisner Awards and the World Fantasy Award for Best Short Story); The Graveyard Book (the first book ever to win both the Newbery and Carnegie medals); American Gods (which will soon be released as a television show in the US); and The Ocean at the End of the Lane, the UK's National Book Award 2013 Book of the Year.
The film adaptation of How to Talk to Girls at Parties (directed by John Cameron Mitchell) will be in theaters in 2017.
Born in the UK, Gaiman now lives in America.
Popular in the Community