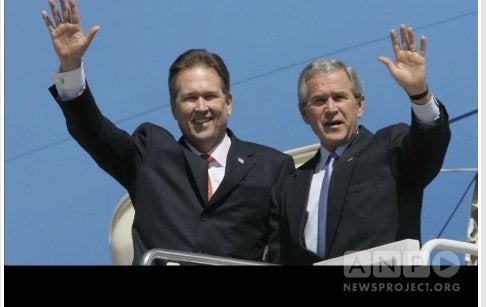 Research support for this article was provided by the Investigative Fund at The Nation Institute. See below the article for a video from The American News Project that includes interviews with people accusing Rep. Vern Buchanan of campaign finance violations.
Vern Buchanan, the Republican fundraiser who took over Katherine Harris's seat in southern Florida, is the fourth richest man in Congress. With assets including some fifteen auto dealerships in Florida and elsewhere, properties in several states, and offshore companies, his net worth is estimated to be well over $100 million.
First elected to Congress in 2006 by only 369 votes after a controversial recount, Buchanan is currently in a tight rematch with Democrat Christine Jennings.
But this former co-chair of the Republican National Finance Committee and top fundraiser for JebBush and Senator Mel Martinez may find his career derailed by seven civil suits that were filed against him, his executives, and his dealerships over the past three months in Sarasota County and Pasco County courts.
The explosive allegations indicate that Buchanan and his dealership employees may have taken part in conspiracy, fraud, and retaliatory personnel actions. The plaintiffs, mainly former employees, describe incidents in which Buchanan and his staff appear to have violated campaign finance laws, hired undocumented workers, bilked customers, threatened employees, sent fraudulent information to banks, and misappropriated funds. Additional lawsuits are expected soon.
On August 13, the Florida Democratic Party called on the FBI and other authorities to investigate the allegations that Buchanan violated the law. But the lawsuits do not appear to be a partisan hit job. Three of the former employees who filed lawsuits--Joe Kezer, Carlo Bell, and Willie Lee--are longtime Republicans, while two others, Scott Russ and Richard Thomas, are political independents. The sixth and final plaintiff, Jeffrey Sutton, was never an employee of Buchanan's and his political affiliation could not be confirmed.
Some of these allegations have trickled into the local Florida media in recent weeks, but a fresh investigation by The Huffington Post of internal company documents, public records, and interviews with key players buttresses the plaintiffs' charges and provides a more detailed--and shocking--picture of Buchanan's apparently extensive wrongdoing.
One recurring theme in the lawsuits is that if employees refused to engage in illegal conduct they were fired or forced to resign. Indeed, many past and present Buchanan employees were afraid to speak on the record out of fear of reprisals. Several of the plaintiffs, and one additional former Buchanan employee, reported having received death threats or threats of bodily harm from other Buchanan staffers. When an assistant to plaintiff Joe Kezer, a former finance director for Buchanan's flagship outlet Sarasota Ford, blew the whistle about being asked to engage in fraudulent activities, the dealership's general sales manager began to scream and told Kezer to "get on the same page." He then threatened to beat Kezer's assistant "to a pulp" if he complained again. Kezer said he fired the assistant to get him out of harm's way and later was fired himself--in retaliation, he claims, for refusing to go along with the alleged fraudulent practices.
According to interview transcripts and other documents obtained by The Huffington Post, a former accounting department employee at one Buchanan dealership, who is not currently a plaintiff in any of the lawsuits, "received three death threats from employees at work" during 2006 after refusing to go along with illegal practices. Plaintiff Scott Russ, a former finance and insurance director at Buchanan's Suncoast Ford in Port Richey, Florida, claims to have been similarly threatened in August 2005 while on staff there and filed a police report about the incident.
Duane Overholt, a leading consumer auto advocate through his organization Stop Auto Fraud, has been instrumental in uncovering these allegations about Buchanan. He, too, said that in recent weeks, a death threat was pasted to the door of his home and he received a threatening phone call, both from unknown sources.
Despite their fears, the plaintiffs laid out detailed allegations in court documents and interviews. Some of the most stunning incidents appear to constitute a pattern of campaign finance violations, in which Buchanan and his associates solicited campaign contributions and then reimbursed the employees.
For example, during the 2000 Presidential race, Buchanan's Sarasota 500 Corporation made a $1,000 contribution to the campaign of George W. Bush in the name of plaintiff Richard Thomas, then director of fixed operations at Sarasota Ford, according to his lawsuit. Thomas received a signed picture of Bush and $1,000 was docked from his paycheck. Some time later, he claims to have received an unexpected bonus payment of $1,000.
In September 2005, plaintiff Carlo Bell, then finance director of Buchanan's Venice Nissan Dodge dealership in Venice, Florida, was "instructed" by senior executives to make a $1,000 donation to Buchanan's Congressional campaign. Bell did--he has the canceled check to prove it--and claims he was immediately reimbursed in cash (he has the deposit slip to corroborate that).
During the same period, Buchanan personally offered Kezer, the former finance director at Sarasota Ford, a week at Buchanan's home in Colorado. "He put his arm around me and promised I could use his house in Vail if I donated," Kezer said in an interview. Kezer did write a $2,000 check to the Buchanan campaign, but he said he never went to the Vail house, fearing that it was a violation of campaign finance law.
Bob Whittaker was a former sales manager at Buchanan's Spacecoast Honda in Merritt Island, Florida. Not a plaintiff himself, Whittaker nevertheless said in an interview that he attended a Saturday morning sales meeting in the fall of 2005 at which the general manager announced that all managers were to donate $200 to Buchanan's campaign and all salesmen $50. The clear implication, according to Whittaker, was that if you didn't give, you would be fired. As soon as he cashed his next paycheck, Whittaker gave $200 in cash to the general manager for Buchanan's Congressional bid.
Federal election law clearly prohibits "coercion, such as the threat of a detrimental job action" to encourage an employee to make a campaign contribution and prohibits a candidate for reimbursing a donor for a contribution--in cash or in kind. In a similar case in 1988, Joseph Crabtree, the chief executive of a car dealership in New York State, funneled illegal campaign contributions through his staff to Rep. Joseph DioGuardi, a Westchester Republican, and then reimbursed the employees. The Democratic Congressional Campaign Committee filed a formal complaint with the Federal Election Commission charging that the campaign had received illegal contributions. Crabtree eventually had to pay a $10,000 fine, and DioGuardi lost the election.
One plaintiff and two other sources allege that Buchanan hired undocumented immigrants, a charge that has dogged elected officials from Tom Tancredo to Mitt Romney. It's particularly ironic in the case of Buchanan, who wrote in an op-ed piece last year in the Sarasota Herald-Tribune: "Illegal immigration undermines the rule of law. It creates an underground economy, places financial burdens on our communities, and endangers our national security."
Despite such rhetoric on the part of the Congressman, two sources and plaintiff Thomas, the former Sarasota Ford employee, allege that Buchanan arranged for approximately eight illegal aliens to help build his home on Long Boat Key, Florida, in about 1998 or 1999, primarily by doing masonry. According to a former high-level Buchanan staffer, the immigrants from Mexico and Guatemala were paid through a construction company to give Buchanan deniability. But the former staffer said that Buchanan arranged for transportation in a company van for the men to travel to and from the home construction site. Their sleeping quarters were in a building Buchanan owned next to Sarasota Ford.
According to interviews and documents, after Buchanan's personal residence was finished, at least one of the men continued to do maintenance work at Sarasota Ford and other Buchanan properties. During the period before Buchanan's Congressional bid, when he was seeking a post as ambassador to the Bahamas, Thomas happened to be present for a conversation between Buchanan and John Tosch, his right hand man, about a particular undocumented worker named Tony Vasquez. According to Thomas' lawsuit, Buchanan said, in effect, "I need to be distanced from any of the people that don't have a green card."
But Vasquez continued to be paid. A bank account transaction for a Buchanan company that owned residential condos reveals one such payment: in February 2000 Tony Vasquez received a payment in cash of $179.20 for maintenance work.
Vasquez was apparently fired and rehired over a period of several years. As recently as 2006, the year Buchanan won his Congressional seat, Vasquez was again working at Sarasota Ford when information about him was reported for tax purposes. According to the former accounting department employee, Vasquez's Social Security number "bounced back" because "it was not valid," and he could not then produce a valid number.
Willie Lee, a plaintiff who filed two lawsuits against the Sarasota Ford dealership, worked as a salesman there from 2005 to 2007. "Tony Vasquez worked at Sarasota Ford during the time I worked there," he wrote in an email obtained by The Huffington Post. "He even wore a Sarasota Ford uniform with his name on the shirt."
Mark L. Ornstein, a Buchanan attorney, wrote last month that Vasquez has a green card and is currently a legal worker. However Ornstein has yet to address exactly when Vasquez obtained his residency papers.
Central to most of the lawsuits is the allegation that Buchanan, a member of the House Small Business Committee, engaged in pervasive consumer fraud. For example, dealerships would send sales contracts to financial institutions listing amenities and upgrades that were not actually on the vehicles in question to inflate loan values, a type of fraud commonly known as "power booking."
The suits also allege that the dealerships charged customers for free warranties, or added on hidden charges for insurance and other items that were never disclosed to buyers. While such practices occur at scattered auto dealers across the country, Overholt said he is astonished by the sheer scale of the allegations. "In all the years that I've been in the auto industry as an employee and consumer advocate," he said, "I have never seen the degree of documentation and the number of people who have come forward to protest illegal practices against one individual and one organization."
The Huffington Post spoke with customers who back up these charges, such as Eve Abaza, a Desert Storm veteran. She said she intends to file a lawsuit of her own against a dealership owned by Buchanan, a member of the House Committee on Veterans Affairs, claiming that when she purchased a Mustang last year, the dealer misrepresented the warranty, billed her for items that were not on her car, and falsified her salary information on the credit application to the lender. Another customer, Jeffrey W. Sutton, believing that "the public needs to know what's going on," filed suit against several of Buchanan's dealerships, charging that they forged his signature on documents and misrepresented his credit information.
In his lawsuit, Russ, the former finance director at Suncoast Ford, alleges that in at least twenty instances potential car buyers who didn't have sufficient income to qualify for loans were sent to an accounting office "across the street" where false tax returns were prepared. In some cases, according to the former accounting department employee, and confirmed by Russ and Kezer, fraudulent contracts were returned to the dealers by banks or other lenders who wanted to be reimbursed for the loans, and the dealers paid them back. "There was a clearly defined large amount of money coming out of the corporation to pay back lenders for fraudulent loans," said the former accounting department employee.
In other cases, Kezer alleges in his court filings, lenders appeared to knowingly approve fraudulent loans because they received "hidden bank charges" that were "not shown on the paperwork given to the customers," Hundreds of documents support his allegation that such fees were charged to the cost of the car and never revealed to the buyers. The former accounting department employee said that "Buchanan was well aware" of these "fraudulent transactions" as the lenders were obligated to formally notify him, as the dealership owner, in writing.
The plaintiffs also accuse the dealers of telling auto manufacturers that cars were sold when they weren't. Reporting the sale would trigger a rebate and incentive fees to be sent to the dealer from the manufacturer--incentives that were later unavailable to the buyer when the car was, in fact, finally sold. The warranty period would begin as soon as the phony sale was reported to the manufacturer, so by the time the car was actually purchased, the warranty period was foreshortened. The lawsuits also allege that paperwork was falsified so that salesmen and other employees at the dealerships received lower commissions.
Buchanan's past business activities have also been marked by controversy. In his 20s, he is currently 57, he started a printing franchise--American Speedy Printing Centers--that eventually grew to almost 750 outlets. In 1992, he resigned from all his duties even though he was sole owner of the company just one business day before it declared bankruptcy. He was subsequently accused by creditors of taking excessive compensation and overstating earnings, leading to some settlements. He was also initially found by the Internal Revenue Service to have underpaid his taxes.
In 2001, Buchanan settled a lawsuit he had filed against developers after they dropped him from being part of a Ritz-Carlton Sarasota bayside hotel and condo project. Instead of a cash payment, Buchanan worked out a deal in which he bought a penthouse at the Ritz-Carlton for $5 million, and sold it back slightly over a year later to a member of the developer's family for $6.35 million.
Buchanan received the $1.35 million and saved about $260,000 by paying capital gains taxes instead of income taxes. The Sarasota Herald-Tribune raised questions at the time about whether "Buchanan avoided income taxes and the manner in which his penthouse was appraised."
"It amazes me," said Overholt, the consumer advocate, "that so many questionable activities have not been examined by federal and state regulators."
Citizens for Responsibility and Ethics in Washington (CREW), an organization for promoting ethics and accountability in government, was joined today by former Buchanan employees Carlo Bell and D.J. Padilla in filing a complaint with the Federal Election Commission alleging "serious violation of campaign finance law" by Buchanan.
The Florida Democratic Party has called the charges against Buchanan "serious." A spokesperson for the party, Eric Jotkoff, added, "While Congressman Buchanan deserves the benefit of the doubt until these allegations are proven true or false, it is a sad day when a member of Congress does not live up to the laws he took an oath to defend."
In response to a detailed list of questions that included the allegations of fraud, the potential violations of campaign finance laws, and the hiring of undocumented workers, Sally Tibbets, spokeswoman for Rep. Buchanan, said only, "These are absurd, politically motivated statements being made by former disgruntled workers." She declined to comment on any specific charges.
Support HuffPost
The Stakes Have Never Been Higher
Popular in the Community