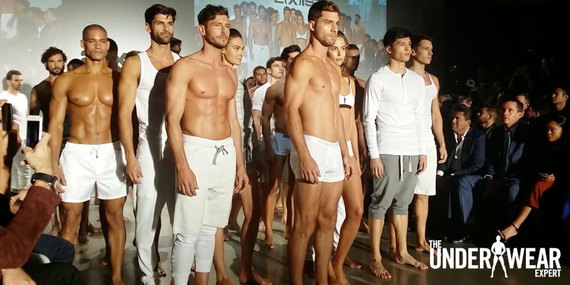 The upcoming 2(X)IST S/S16 Collection made its stunning debut at Manhattan's Skylight Modern venue on Wednesday night, showcasing everything the brand has in-store for the new year. We were front row capturing it all as we were most eager to see their new underwear and everything else they have to offer - since 2(X)IST is much more than just an underwear brand. 2(X)IST is a lifestyle brand also designing athleisure and swimwear looks, even accessories such as bags and watches. Their latest venture though is their first line of women's intimates and activewear, which also made an appearance on the 2(X)IST Spring 2016 Runway.
Jason Scarlatti, Creative Director for 2(X)IST, clued us in on what to expect from the brand at this year's Project Menswear Tradeshow. As a whole, 2(X)IST is big on experimenting with different fabrications. The brand is riding the micromodal train into 2016, focusing on materials that react with your body - in this case, a natural moisture-wicking ability.
Standout looks from the 2(X)IST S/S16 Collection were, of course, the newest iterations of their No-Show Briefs - one of which was made from a transparent mesh material, a first for the brand.
In terms of apparel, a shirt with mesh panels on the shoulders left a burning impression and showcased the "fun fabrications" Creative Director Jason Scarlatti promised. For the women, one standout top was designed with attractive cutouts just below the shoulders, both revealing and breathable.
What look off the brand new 2(X)IST S/S16 Runway has you most excited for the upcoming collection? Has your personal 2(X)IST collection extended beyond the brand's underwear yet? Let us know in the comments below, or by tweeting us @underwearexpert.
For more information on this brand: 2(X)IST
Video Credit: The Underwear Expert
Related