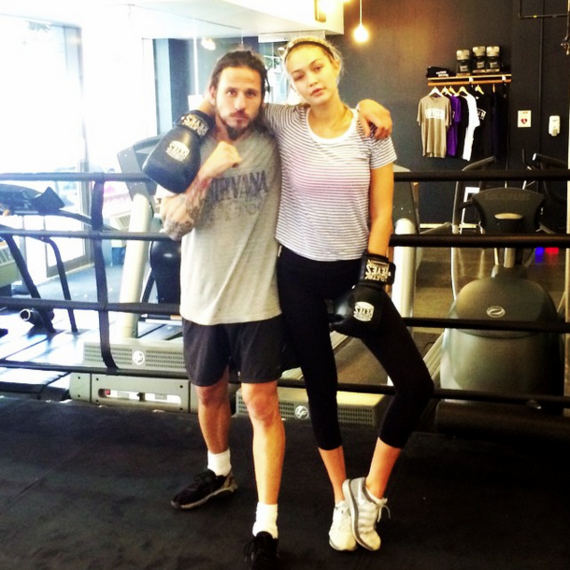 For all of their genetic advantages, most supermodels approach their fitness routines with the intensity of a professional athlete. After all, one doesn't stroll one's way onto the Victoria's Secret Fashion Show runway or maintain a bikini-ready body year-round without hours of hard work and dedication at the gym. To stay in fighting shape, the industry's top models seek out New York City's best trainers, and these days, it's beginning to feel like one trainer in particular: Rob Piela of Gotham Gym.
Located in New York's West Village, Gotham Gym is the not so secret home-away-from-home for a growing number of today's top models. Take a look at your Instagram on any given day and you'll likely spot photos of Gigi Hadid, Sara Sampaio, Lais Ribeiro and Josephine Skriver (and the list goes on and one) documenting their tough-as-nails workout, which includes everything from jump roping to sparing with professionally trained boxers in the ring and beating the hell out of a heavy bag. Surprised? You shouldn't be.
"They're tough!" said Piela of his model clientele. "It's really no surprise that they're all so good at it, because they understand how to move their bodies and take direction. They're athletes, and more importantly, they train like athletes."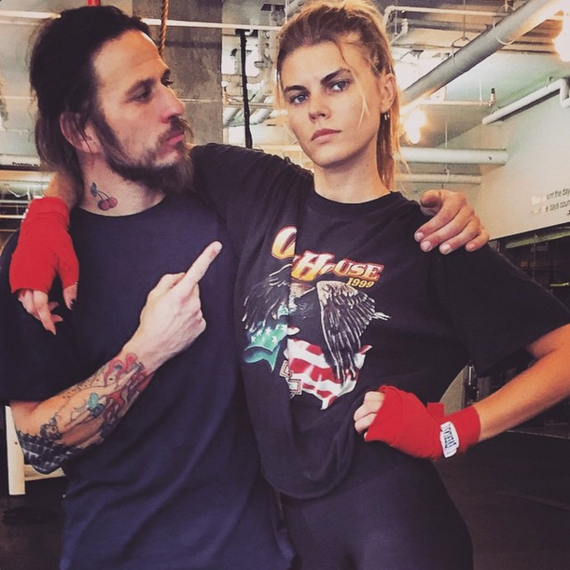 While boxing seems to run counter to the more feminine image attached to modeling (however misconstrued that may be), Piela assures us it's actually the perfect workout for supermodels, average joes and nationally-ranked boxers alike.
"We have a 'no bullshit' approach when it comes to the workout," explain Piela. "There aren't any tricks or fangled ideas -- it's based on science. All of our trainers are very educated; we have guys here that are national champions and have fought for world titles, so we're not just putting you through a workout. We're teaching technique, and I think that's what keeps people coming back -- you're continually learning. I've been boxing for 26 years and I still learn new things about it every day!"
Of course, that's not to say that there aren't some common practices in the typical Gotham workout. According to Piela, the workout focuses on body weight training rather than using a lot of heavy weights, short bursts of calorie-burning cardio intervals (done typically with a jump rope), and training according to boxing's 3:1 ratio in the ring -- for newcomers that means three minutes on (boxing with a trainer) and one minute off (no, not rest; try core strengthening exercises like inner/outer leg abductions, burpees and planks). Still, don't expect to get the same routine twice, as Piela assures us it's "not a blanket workout."
"Each session is based on the individual's needs and personal fitness goals, so no two workouts are ever really the same," said Piela. "We're also constantly changing up the workout, so that they're constantly improving and seeing results. The body gets used to certain movement and routines after a while, so you have to keep changing things up to "shock the system" and avoid becoming stagnant."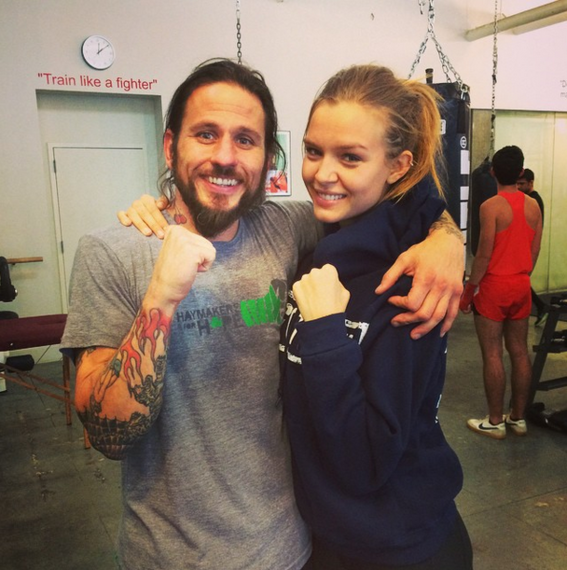 As for the results of Piela's "no bullshit" workout (aside from the rock hard abs as evidenced in the models' Instagram photos), "there's a million!"
"To start, there's improved hand-eye coordination, improved balance and increased confidence," explains Piela. "Physically speaking, you're adding definition in the arms and shoulders, toning the hips and legs and creating lean muscles throughout the body. You really can't miss with boxing -- it kind of does it all!"
No wonder these girls keep coming back. Of course, that may also have something to do with the fact that walking into Gotham feels less like walking into a gym and more like heading into your favorite hangout.
"That's my goal first and foremost -- to create a place where people feel comfortable and actually want to go to work out," explains Piela. "We want people to feel like they can come down, hang out and also get a really good workout. It's just a good community vibe."
A good vibe and kick-ass clients -- convinced yet?
For more on Gotham Gym check out their website and follow them on Instagram!