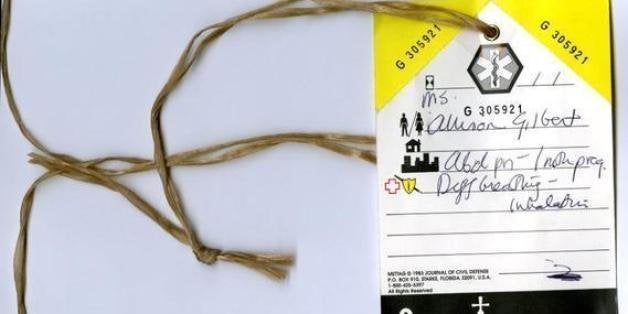 Before tubes were put down my throat to help me breathe, I was put in an ambulance. An emergency responder found me barefoot and terrified just blocks from Ground Zero. I was on the corner of West and Vesey when the second tower collapsed and had run out of my favorite pair of slip-on shoes escaping the downpour of debris, abandoning them somewhere a few blocks away. The bottoms of my feet were bleeding, lacerated from sprinting across pavement strewn with broken glass. The crisis worker (was my lifeline a he or a she? In the mind-blanking terror of that morning I still don't recall) thrust a triage tag around my neck. Scrawled in black ink and shorthand, the rectangular piece of paper lists my medical conditions: "diff breathing," "inhalation," "abd pain."
My triage tag is just one of 11,000 artifacts in the official collection of the National September 11 Memorial & Museum. A decade after the attacks I donated it, along with my press pass working as an investigative producer for WNBC-TV. And while seeing the triage tag on display and reading the accompanying description likely makes some visitors wonder whatever happened to me, I wish there were a button next to the plexiglass case that played an audio recording of how I feel 15 years later. "I'm so happy," the voice would proclaim again and again. "Some days are harder than others, but mostly I'm at peace."
I've come to learn this sense of healing is the experience of many individuals who've donated belongings to the museum, some in recognition of their own experience, others in memory of loved ones who died. In a just-completed, yet to be published study called A Theory of Psychotherapeutic Object Dynamics, researchers conclude that the act of donating objects to the 9/11 Museum has made moving forward easier for many people.
Brenda Cowan, Associate Professor of Exhibition Design, School of Graduate Studies at SUNY/Fashion Institute of Technology, led the investigation and partnered with the museum to find participants. I was part of that group, each of us interviewed separately. At the conclusion of the report, which the National September 11 Memorial & Museum shared with me, Cowan writes that every subject of her study expressed "deep themes" of "personal healing," "renewal," "transformation," and "growth."
There are several reasons why donating objects sparks this surprising uptick in happiness, even years after a donation is made. In the process of bequeathing possessions, the 9/11 Museum became viewed as a partner in keeping our personal survivor stories and the memories of our loved ones alive. Donors came to recognize the museum as a protector of belongings and recollections, a place to keep them safe, in perpetuity. One person even referred to the museum as a "therapeutic ally." Cowan calls this phenomena the result of "Releasing/Unburdening."
This has certainly been the case for Eileen Fagan who lost her older sister, Pat, on September 11. Pat worked as an insurance adjuster on the 98th floor of the south tower. Eighteen months after she was killed, Fagan learned her sister's black purse had been located, covered in dirt and dust, but miraculously, fully intact. Among the items still inside were an extra pair of eyeglasses, a few credit cards, a driver license, and the ID card she used every day to get into her job at Aon. There was also Pat's signature coral-pink creamy lipstick. The most evocative items for Fagan, though, were the small denomination dollar bills and rosary beads.
"My sister would often stop in church for mass on the way to work," she told me. "She'd always wanted to light a candle, and she'd needed a few dollars to do that. When I see that pocketbook, it's not a reminder of her death. It's a wonderful and inspiring reminder of her life."
Like Fagan's donated pocketbook, my triage tag is also a surprising reminder of good memories. It helps me recall that after I was released from the hospital, with the triage tag cut off and in my bag, I had somewhere in Manhattan to go that felt completely safe -- my father's apartment. My mother had been dead five years by then, and even though my dad was frail and desperately ill from lung cancer, a day-long wave of panic gradually transformed into a nighttime oasis of love and support -- a safe harbor that included much-needed parental doting and affection.
September 11 was the last time I saw my father sitting up, able to talk to me, or hold my hand. It was also the final Tuesday I got to be somebody's daughter. That Friday, my dad died in another New York City hospital, a few miles from where I'd nearly suffocated on soot and rubble.
In many ways my triage tag is a symbol of survival and a job performed. But it's also a reminder that my father wanted to protect me even as our world was shifting and his was ending. His love endures and that knowledge bubbles up and makes me happy every time I think about my triage tag on display at the museum. And the realization that loved ones who have passed away can still be part of our present? That makes Eileen Fagan smile, too.
REAL LIFE. REAL NEWS. REAL VOICES.
Help us tell more of the stories that matter from voices that too often remain unheard.