About the author: La Carmina is a TV host and fixer, coolhunter, author & blogger. Her company, La Carmina & The Pirates, makes arrangements for TV crews that wish to shoot in Japan and worldwide.
Ah, Japanese host boys. "Rent-a-boyfriends" with sky-high hair, who proffer champagne and whisper sweet nothings into the ears of generous female patrons.
I took a Norwegian travel TV show to Club Ai, the popular and ultra-tacky chain of host clubs in Kabuki-cho (Tokyo's red light district). *SEE PHOTOS BELOW*
Mogul Takeshi Aida, owner of the seven establishments, knows what women want. "A lot of our customers are ladies dissatisfied with relationships," he says. "The hosts entertain them. They listen, and make them feel special."
That's how Aida treated a client named Akemi. She ended up leaving her boyfriend to marry him.
Women pay big for a slice of a pretty-boy's attention. Leo, the second most popular host at Ai, juggles a dozen regulars who net him 300,000 yen a month.
The Lite Brite decor highlights the fantasy element of the clubs. Naomi Rubin, my "fixer" (TV location scout and arranger), says, "Hosts are true businessmen. Even though you realize their emotions are false, they know exactly what to say to make you blush right away."
The dream has a dark side, as explored by the excellent documentary, The Great Happiness Space. There's something uneasy about the romantic charade -- especially when the women tend to be hostesses themselves (earning money by doting on males). Some customers put all their savings into this substitute experience of love, an un-reciprocated bubble that quickly bursts.
What do you think of Japanese host clubs, and the "relationships" between the boys and their clients? Is this type of romantic outlet more harmful than not?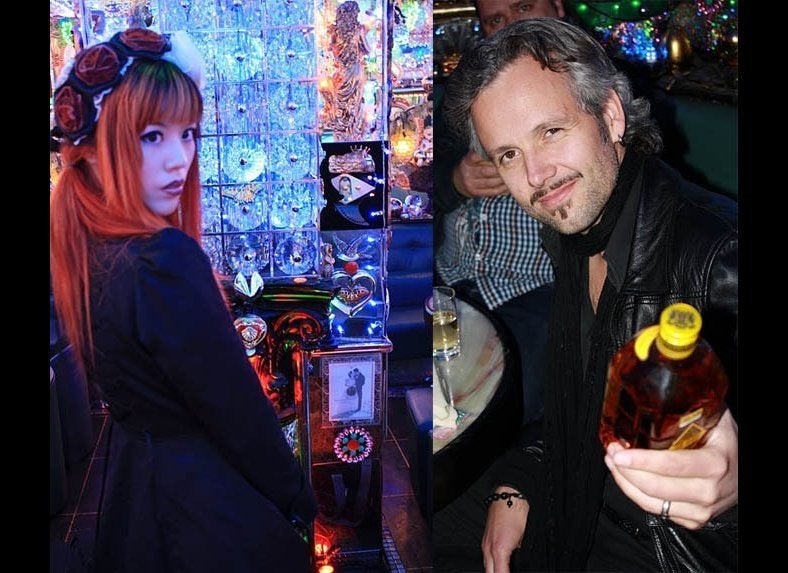 The Lure of the Japanese Host Boy