Best-selling author and historian, Dr. Nina Ansary hosts official book launch for Jewels of Allah in the UK
The masses were on hand on October 12 at Dr. Nina Ansary's talent-packed launch event for her best-selling book, Jewels of Allah: The Untold Story of Women in Iran. The event held at the renowned, award-winning Foyles Bookshop in London brought out people from all walks of life from prominent members of London's academic community to big names in the social scene, and feminists. Among them were Sussan Deyhim, world-renowned Iranian composer and vocalist, Maziar Bahari, Iranian-Canadian journalist, film maker and human rights activist, CNN International's Senior Producer/Correspondent, Rosie Tomkins , and Marjaneh Halati, founder and CEO of Omid Foundation amongst others. Other notable authors who have hosted book events at Foyles are Salman Rushdie, Hilary Mantel, John Irving, Zia Haider Rahman, and Samantha Shannon.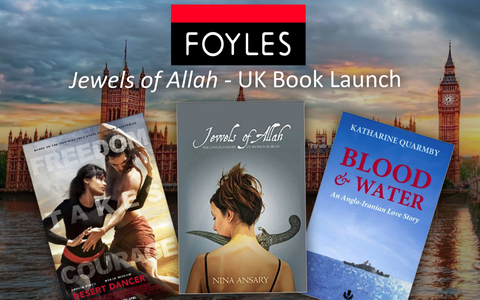 Ansary was joined in discussion by Richard Raymond, director of Desert Dancer (which debuts in the UK in March 2016 after much success around the world) and author and journalist, Katharine Quarmby. Hundreds of eager Londoners listened as the dynamic trio highlighted the accomplishments of women in Iran, past and present and offered an informed view of pressing issues in Iran.
On the topic of gender equality, Ansary agreed with British star Emma Watson that it is time to unify our efforts and bring together one half of humanity in support of the other half, for the benefit of all stating,
"Part of women achieving advancement really centers on
the support of men, because predominantly, gender equality
gets categorized as a women's issue but it's not only a women's
issue any longer."
A common thread throughout the evening was discussions separating the people of Iran with its fanatic government. When asked about their views on the recent Iran nuclear deal by Iranian-American journalist and analyst Negar Mortazavi, who was live-tweeting from the event, the panelists agreed that the lifting of sanctions will provide much needed relief for the citizens of Iran.
Not just as a story of one gender overcoming the odds in a patriarchal society, Jewels of Allah is a powerful metaphor for the daily struggles of millions of Iranians who yearn for freedom from an oppressed regime.
To view the official book trailer for Jewels of Allah, please click here.
Calling all HuffPost superfans!
Sign up for membership to become a founding member and help shape HuffPost's next chapter