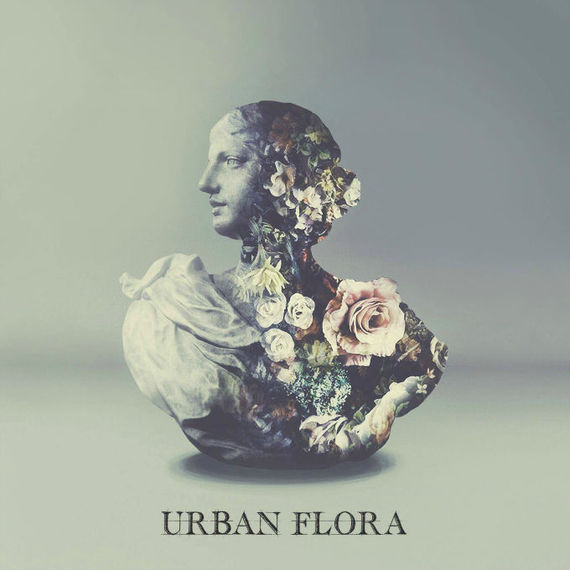 Art by Gabriel Levesque
Three years ago, I stumbled upon the sumptuous sounds of Galimatias. Instantly I was engulfed in his unique methods of sonic design and evocative soundscapes. Quickly becoming a fan, I explored every Galimatias track I could find, swimming through the liquid vibrations of his music. A few years later, I revisited his music to discover a new element had been added to his tracks: the cosmic vocals of Alina Baraz.
Breathing new life into familiar tracks, Alina's velvety voice and ethereal lyrics turned Galimatias' multifaceted tracks into soul-melting songs that made me viscous in the meniscus. The musical chemistry oozed from my speakers and I was completely enamored with this new pairing. When I discovered that I would be interviewing Galimatias and Alina, I felt as if I had conjured the opportunity. Whether or not it was coincidental or celestial, I was elated to connect with these two artists.
It was mutually decided that we did not want to engage in a formal question-answer interview. We wanted to evoke a real connection, see each other's authenticity, speak candidly and comfortably, and possibly even forge a friendship. So instead of choosing a place to sit, we chose a place to hang out. Alina suggested The Museum of Jurassic Technology in Culver City and the location was set.
Upon first meeting, I was slightly nervous to be amongst those whose music I so intimately admired. We entered the small edifice where the lighting was dim and the scent of old books hung in the air. A taxidermy sloth was slung in the gift shop. I felt comfortable with Galimatias and Alina, both of their energies warm and magnetic. As we walked from dimly lit room to dimly lit room, peering into microscopes that revealed complex mosaics invisible to the naked eye, cracking jokes, and reading about strange superstitions, the proverbial ice slowly began to break.
Getting to know each other as we gazed upon the strange exhibits curated by the Museum of Jurassic Technology, I slowly worked my way into interview mode. I learned that Alina is from Ohio and has been living in Los Angeles for a few years. I also learned that Galimatias is from Denmark and that this was his first time in the sprawling metropolis of L.A.
Ascending the stairs onto the next floor, I began to focus my mind on the questions I planned to ask. When we reached the final floor, we passed three walls hung with the painted portraits of the Soviet Space Dogs, a memorial to the creatures who were found on the streets of Moscow and sent to outer space as a precursor to human space travel.
Passing into the next room, our eyes were instantly drawn to a sleeping Borzoi on the ground; a large, Russian dog breed. A very strange juxtaposition coming from a room dedicated to the Soviet Space Dogs. A woman walked out of a functioning kitchen and offered us tea and cookies as the wistful music of a live concertina billowed in from the adjacent room. We filled our mugs with tea, sat down, and began the interview.
Morena: So how did you two find each other?
Alina: We actually just met recently. I stumbled upon 'Drift's' instrumental and I knew two things instantly: I knew the sound I wanted to hear and I would make an EP with Galimatias. I wrote to the instrumental and released it via Soundcloud. Gali heard the song and we started going back and forth on some ideas which lead up to the EP Urban Flora.
Galimatias: Yes, I still remember that very humble message in my Soundcloud inbox from Alina: 'hey I wrote a song on your track, I hope it's okay,' and I was just blown away. That's when I knew we had to create more. So we then worked on the EP for six months and didn't meet in person until February this year when the project was already finished.
Morena: What are your inspirations musically, artistically, philosophically and otherwise?
Alina: I'm inspired by my environment. My sources of inspiration changed when I realized that I can resonate with anything. I stopped reading/listening to things with the intent to be inspired and just followed my curiosity. Eventually it all ends up influencing you. Colors majorly influence and inspire my work when I'm writing. I've never started a song without color changing lights.
Galimatias: I'm inspired by many things. If talking about what inspires me to create new music it could be pretty much anything. Just anything that puts me in a mood of creating. It could be words from a friend, an article I read, artwork I see, it could be food even, but most often I would say it's music. Like, I will listen to a track and get obsessed with one element. It could be the way a sound is filtered and cut up, it could be someone using vinyl surface noise and panning it around rhythmically or whatever. Just something new and unique that catches my attention and I'll be thinking: I wanna try to do something like this.
Morena: Tell me more about Urban Flora and what it means to you.
Galimatias: Urban Flora means everything to me, it's the project that I feel like defines the sound I want to create and keep exploring. It was very inspiring to work the way we did because having never met throughout the making of the EP we really got to just dive in with our respective traits in solitude and then present it to the other. We also worked in a way where the vocals weren't necessarily the last step in the process of making a song. It's different to each track but on some of them I got to create the instrumental around Alina's voice which inspired me on a whole new level.
Thinking visually, if you are painting a picture and starting with the motive, you can cater to the surroundings and base them off of the qualities and aspects of the motive. As opposed to starting with the background and then painting the motive, it's just two different approaches that can create two very different results, but there was always this mutual understanding of what we wanted it to be like. I guess we just had the exact same idea of how the music should sound from the start.
Alina: Urban Flora was conceptual to me. Everything revolved around the stages of a flower. I hadn't realized the reoccurring theme until all the songs were done. Lyrically, it's most apparent in 'Unfold.'
Galimatias: I would always know when Alina wrote a new melody or words that I was gonna love it so it was just pure excitement every time I was sent a new recording and then it was so simple to just work in my own environment and we would send the track back and forth a few times until it was finished. In essence, Urban Flora is just the result of two creative heads from two sides of the Atlantic Ocean that resonate very well together.
One of the most alluring aspects of Galimatias and Alina Baraz is their enigmatic approach to the media. Having never performed live, requesting that there be no photos taken at this interview, and keeping their presence on social networks minimal, they have found a way for their music to be heard and not seen. In an image-based society, this is not just a feat, but a poignant message. The power of music needs no accompaniment. The more evocative the music, the more minds it will reach. As their musical relationship evolves, however, Galimatias and Alina have reassured me that they will someday connect face to face with their fans through the magic of live performance.
Related
Popular in the Community