Hot on the heels of the popular television series "Mad Men," NBC producers are capitalizing on the recent trend of '60s-era shows with their new drama series, "The Playboy Club." Since its September 19 premiere, the show has caught some flak for its last-place debut in its time slot with only 5 million viewers. Which has led former Playboy Bunny Marilyn Miller to denounce the show, telling Vanity Fair that "not one Bunny I know liked the show. Everyone is hoping it gets canceled," adding that she thought the show was "cheap" and "demoralizing."
Not every former employee of the landmark club has the same sentiments as Miller. For pioneering pinup Jennifer Jackson, who became the first black playmate in March 1965, the show brought back a few memories.
In an exclusive interview with The Huffington Post, the former NYU student and ex-model offered unique insights into what it was like inside the original Playboy Club, life as the magazine's first African-American playmate, and her subsequent work to establish laws to protect children -- and she talked about NBC's new series, too.
What was your initial reaction to the announcement of NBC's "The Playboy Club"?
After "Mad Men" became so popular and then I heard that they were doing a show about Pan Am, I thought to myself that people got the crazies for the '60s. I also had some family and friends call me and say, "Hey Jennifer, they're going to have a show about the Playboy Club. Did anybody call you?" I said, "No!?" Then they said, "You should help write the script for a show and tell them your views on how it was."
So to this day, none of the show's producers have reached out to you?
No. But then I said, "I wonder if they're going to have any black bunnies on the show." There are not a lot of original bunnies who are around from the '60s; we're all up there in age. And then I said, "Well, it looks like they should've called me."
As you now know, the show has a black bunny by the name of Brenda, who is played by Naturi Naughton. What are your thoughts on her character being loosely based on you?
I read the interview that she did with (The Huffington Post), and she said some really nice things about me. But again, "loosely based off of me," and nobody contacted me. If someone's going to be playing you, it's kind of weird for them not to contact you. I'm thinking that they just don't want to spend the money. But she's a very talented young lady. She was on "Fame" and on Broadway. And I felt proud that they got somebody who's so talented to play that part.
After watching the first episode, what was your reaction to the show? Did it bring back any memories?
When I saw the entranceway, I said, "Ohhhh, there's the Playboy Club" (although the bunnies didn't go in that way; we went in on the side entrance). The storyline grabbed my attention. I thought the casting was good. What it reminded me of was that some of the girls lived at the mansion, the ones who didn't have apartments. I had my own apartment, but that's where a lot of them did live. They had parties all the time where you would go down stairs in your pajamas and go into the vertical swimming pool -- that was the star of [Hugh Hefner's] mansion. And just like [Naturi] Naughton was saying, being in that costume for nine hours, it was something else. And that's how it was for me as well. Three inch heels in a corset, you couldn't eat anything. You had to stand up straight all the time, and you're on your feet for nine hours. It was no fun.
How would you describe the attention that you received from guys once you began working at the club?
The thing about that is, I never thought I was that pretty. Chicago had a lot of beautiful women, and for me to say that I was pretty? I was just there. There were so many other girls who were so much prettier than me. It's just that a white man's beauty is different from a black man's beauty. I was tall and leggy -- white men like that. Black men, on the other hand, liked the girls who were short and had what they called a "brick house body." I didn't get any attention from the brothers. They liked the little women who were short and shapely. So there was a different standard of beauty.

Was there any competition amongst you and the other bunnies?
It was competition because you couldn't gain any weight. They watched your weight, they watched your appearance, and no one paid you a salary. It all depended on how nice you were to the customers, how fast you could get the drinks on the tables. It was competition like that. And everyone aspired to be a playmate, everyone wasn't asked. It was like that television show "Project Runway." Everyone wanted their picture to be in Playboy [magazine].
While everyone aspired to become a playmate, you were actually still pursuing a higher education. Were there any other women balancing their life between wearing a corset and going to school?
There weren't that many educated bunnies. Shirley Johnson, the older black bunny, was the only educated one. She was 25 and already teaching school. I had just got out of high school at 18 and started attending junior college. And that's why I was looking for a job downtown, because I wanted a job while I was going to college.
Going back to 1964, '65, how did you make the transition from working at the club to being featured in the March 1965 issue? Who reached out to you?
The photographer Pompeo Posar, he came into the club while I was working. He came in one time and I said, "No, I can't do that. It's enough that I'm putting on this bunny costume." I had a fight with my boyfriend at the time; the timing was right when Pompeo came in and I said, "Why not? That'll give me enough money to move to New York." At the time I was also runner-up for Ms. Chicago Land, did a few hair ads, and modeling before I took the picture. But they were saying to really make it big in the modeling business that you had to go to New York. So after I took the picture, I had the money to move to New York. I was living in Manhattan with my first husband when that picture came out in 1965.
What was your family's reaction to your posing nude?
My mother didn't say anything and my father didn't say anything, except that he got a key to the club. My father was a real estate broker and had his own office in Chicago, so he could afford it. You had to have a certain income to become a member. But it was a shock to my sisters because I didn't tell anyone until after I took the picture. And I didn't feel proud of it; I was kind of ashamed of it for a long time, until I went to the playmate reunion back in 1999. And I'm glad that I went, because it was like a closure. Everyone always made a big deal about it but I was always ashamed of it.
So while everyone was celebrating you for breaking down the barrier as the first African American to pose for the magazine, you were actually ashamed?
I never looked at it like that. I guess I was the first, but in Chicago we had black doctors, dentists and business men living in our neighborhood. You had black people with money who lived well.
Did you receive any hate mail following the magazine's release?
I didn't know about the fan mail until I spoke to somebody who was working at the magazine. They said, "You got a lot of fan mail. You have more fan mail than anybody." And they did send me some fan mail that I read through, but I didn't get any hate. [Hugh] Hefner said that he and the magazine got some. But most of the mail was positive.
What was your relationship with Hugh Hefner?
We just looked at Hefner as the boss. They had the club that was on Rush Street, and then they had the magazine office, which was located nearby. But the Playboy Club in Chicago was the biggest thing going in the whole country. Nothing else was really that popular. He branched out to Miami, New York and other locations, but nothing took off like it took off in Chicago. Because Chicago at the time it was a nightclub city.
Once you relocated to New York City, what were some of your other modeling gigs?
I worked for Eileen Ford of the Ford Modeling Agency. Then I was with an agency called Black Beauty, which was nothing but black models. I was the first black model to do Lady Clairol and KOOL cigarettes. All of the ads went into Ebony magazine. You didn't have any black models that went into LIFE [magazine] and all that stuff. I also was the poster girl for the Ebony Fashion show back in '65. And then I got pregnant with my first child, I gave birth in '66. That's what every girl wants. They want to settle down and have a family, and that's what I did.
You became a social worker later in your career. Can you talk about that transition?
I moved back to Chicago in '71, and I really didn't want to leave New York but I had to leave my first husband because he had a drinking problem. So I left him and took my two children with me and went back to Chicago and finished school. And that's where I met my second husband, Charles Green. He was getting his master's degree while I was getting my B.A. degree. I had another child, then I said, "I don't want to stay in Chicago. Chicago is so polarized." My first two children are bi-racial children, so I had to move someplace where it was more cosmopolitan and where they would fit in more. So we moved to Seattle in '79 and I got a job working for the University of Washington. I didn't start working for the state as a social worker until 1990. So it took a while, because most of the time I was a housewife. My husband did most of the working up until that time. Once my kids were older, then I took my career more seriously.
Did you get your degree in the social field?
I got my degree in human services with emphasis on counseling, and so it just really fit. As a social worker, I worked in the sex abuse unit, and in our unit we made a lot of laws to protect children. In fact we had the strongest laws to protect children in the whole country. And there was a reason for that, because you had a lot of pedophiles that moved up here to the Northwest to hide out. So I worked there for 20 years, then I retired in June of 2009. I was a CPS [Child Protective Services] Investigator for most of those years, and I also recruited and trained foster parents for about seven years. So I had a variety of jobs which I enjoyed and in which I had to keep quiet about my past. I was always worried about them finding out about my past.
Are you still ashamed about your past?
No, I'm not now. But you'll be surprised. It depends on who you talk to. Most people really think it's a big deal and say, "Jennifer, you should write a book." Write a book about what?
Would you ever consider writing a book?
I would need a ghost writer. [Laughs]
What are your thoughts on today's black entertainers?
There's still a long, long way to go for black actors and actresses. You just get sick of seeing the same parts that they play. They're a little more versatile now, but it's still the gangsters, the prostitutes and all that kind of stuff that black people play. And the only thing that's going to change that is if you get more blacks behind the scenes and into producing, scriptwriting and things like that.
"The Playboy Club" airs every Monday at 10 p.m. (EST) on NBC.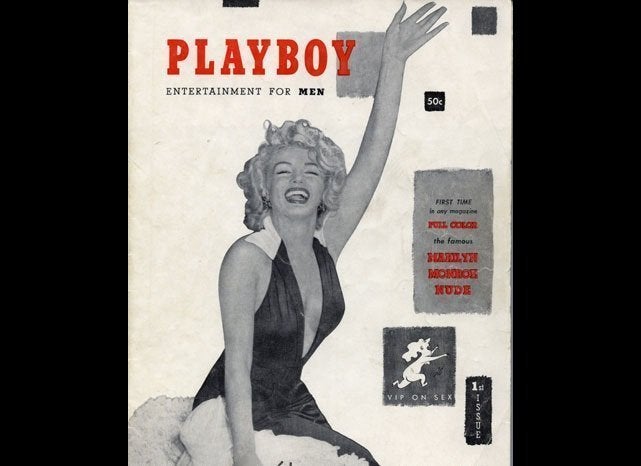 Playboy Magazine Through the Years
Popular in the Community