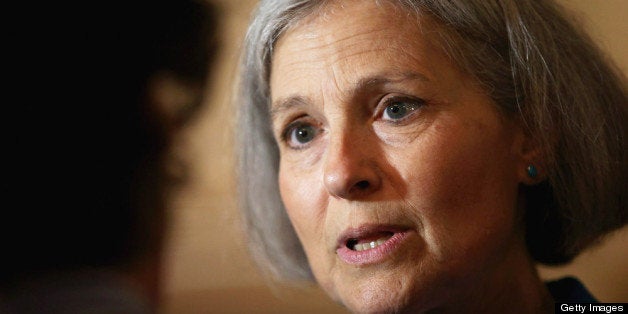 There are not many former presidential candidates that you can kick back with and share a bowl of blueberries. They usually don't have awesome stories about getting arrested with an 85-year-old nun at Fannie Mae while defending two women who were going to lose their homes -- or about doing push-ups in the cold jail cell to stay warm that night.
But 2012 Green Party nominee Dr. Jill Stein, who I recently interviewed, is not like many former presidential candidates.
Although she didn't win the election, she and her vice presidential running mate Cheri Honkala racked in 469,572 votes, making up 0.36 percent of the popular vote per Dave Leip's Atlas of U.S. Presidential Elections. Their tally surpassed Ralph Nadar's when he ran with the Green Party in 2004 (he garnered 463,655 votes).
Stein is still riding the wave of the 2012 election as she travels around the country to promote the Green Party. The current map of states with the Green Party on the ballot does not include my home state of North Carolina, and Stein wants to change that. The North Carolina Green Party -- which is not a recognized political party -- needs 90,000 signatures to get a Green candidate on the ballot. The petition is currently available on the North Carolina Green Party's website.
"North Carolina is one of the few states where we did not even try because it was absolutely, prohibitively expensive and would require so many volunteers and staff to manage volunteers to try to get on the ballot," Stein told me in Creative Loafing Charlotte. "So it is one way in which the voices of everyday people are locked out from the get-go."
Check out the first installment of my two-part interview with Dr. Stein -- and you might want to grab some blueberries too.
Calling all HuffPost superfans!
Sign up for membership to become a founding member and help shape HuffPost's next chapter