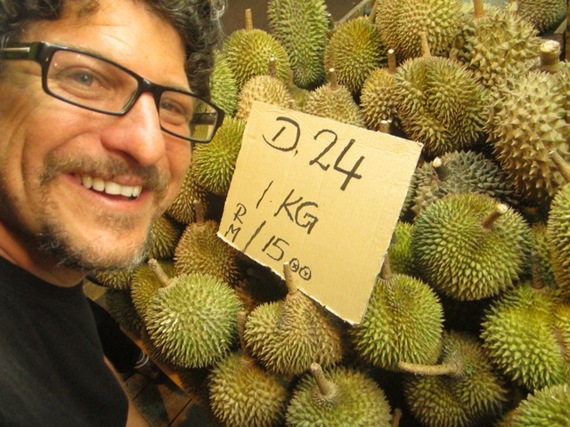 From the suburbs of Miami to the jungles of Costa Rica, Stephen Brooks has made it his mission to improve the world with his eco-conscious vision. Being a part of the ever-growing permaculture network, Stephen is integrating the power of sustainability and herbal medicine with the magic of music festivals. Envision is the marriage of his life's loves and his love of life.
Morena: How was Envision born?
Stephen: Well many of us had been deeply inspired by Burning Man over the years and we wanted to create experiences that drastically improve people's lives by sharing this kind of conscious festival culture, merging a good time with a transformative experience. We wanted to open more eyes to this kind of reality and Envision was the obvious next step.

Morena: What is the meaning behind the name "Envision?"
Stephen: We were throwin' a few names around but it came down to the idea of envisioning another way to do things. Everyone is enduring and accepting a very broken system and I believe, I know, things can be done differently. We try to show them a good design; not just physical design, but life design. We want people to truly taste community and then ask themselves, "what do I Envision?" With a new sense of what is possible, both in how we relate to one another and to our planet, we hope that each individual will explore the best possible future they can envision for themselves and their communities. Ideally, when we send them back into the world, they have a new strengthened ambition to realize that vision.

Morena: What brought Envision to the jungle of Uvita?
Stephen: The first year it was in the center of Dominical. The second and third it was at a different beachfront property about 2km south of the current location, but it didn't have great beach access or enough shade. The property we found last year has all that we dreamed of and we were able to sign a multi-year lease. This allows us to invest in the property a little bit by installing some functional infrastructure and planting some food. It really feels like Envision has found a beautiful home.

Morena: How is Envision reshaping our future?

Stephen: This isn't a marketing scheme. This is wholly who we are and how we live. Everything I teach at Envision, like permaculture, I have been teaching long before Envision was even an idea. Josh lives in Uvita and also runs an education center there. He has devoted his life to creating experiences that drastically improve other people's lives. That's the common motivation that drives each member of the core team. In being a destination event, we have the opportunity to gather visionary scouts from all corners of the map, present them with all sorts of knowledge and alternative ways of living, and send them back to their communities to spread it even further. If you can picture all of the ripples that would make in the world map, it'll be no time before all of those dots are connected.

Morena: How can those in attendance contribute to this organization?

Stephen: Everyone that's coming can arrive a few days early and join us at a local school where we'll be teaching and helping and improving. If we get enough people we might even be able to go to multiple schools. There are a lot of opportunities to participate all the time. It's no secret that we like to party, but that's not the reason we gather, it's the reward. All we wish for in every participant is that they take home some meaningful experience, where they learned something about community or themselves or how it all relates to the earth, and let it make a lasting, positive effect on who they are and what they do.

Morena: How does Envision benefit Costa Rica?

Stephen: The first year was 15% Costa Ricans, the third year it was about 30%, now we're shooting for half Costa Ricans. There are of course the obvious benefits, an influx in revenue to the local community and tourism businesses. We commit to several charitable initiatives each year with the local school, children, municipal infrastructure, and a have a long standing relationship with the rainforest reforestation organization, Community Carbon Trees. But far beyond the tangible benefits, we are giving Costa Ricans the opportunity to merge, grow, and learn with this international conscious community. Bringing the good, festival vibes to them and turning them on to a new way of relating to one another. Sharing and spreading the love. We also noticed the amount of people travelling here from all over the world, 31 countries in 2014! It's really bringing people together.

Morena: You are in a position of great influence. By fascilitating such a creative playground, you have provided the perfect petri dish for great minds to flourish. What's your message to these minds?

Stephen: Things are the way they are but they don't need to be that way and together we can envision a completely different and better and more regenerative way of doing things. I don't like using the word sustaining. We don't just want to sustain, we want to regenerate. Envision is an amazing tool used to open people's hearts and eyes to this reality we can create together.
People like Stephen are taking active leaps in improving this world. His wife, Sarah Wu, has been an herbalist for 15 years and is the director of Punta Mona Center for Regenerative Design & Education. Two weeks after the festival, Envision is offering the opportunity to learn about the abundant medicinal plants of the Neo-Tropics at the second annual Medicines from the Edge: A Tropical Herbal Convergence, March 13-16, 2015. Join Stephen and Sarah's global endeavor to advance human consciousness.
Calling all HuffPost superfans!
Sign up for membership to become a founding member and help shape HuffPost's next chapter