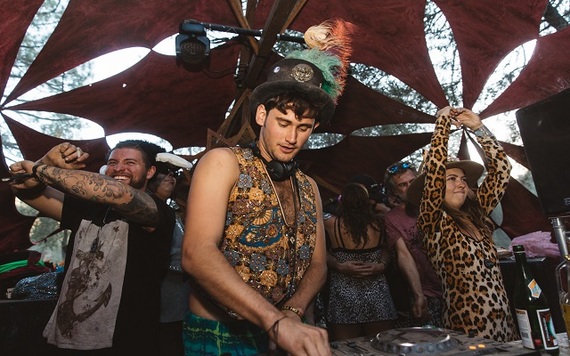 The light of the music festival is illuminating the world. Most festivals offer a melting pot of musical genres drawing a large and multifaceted audience. While the goal of many of these events is to grow, some prefer to remain at a smaller capacity. Desert Hearts is growing in acclaim but not in size. In this interview with Desert Hearts founder, Mikey Lion, we discover his inspirations, history, and personal mantra.

Morena: The rise of the music festival is exponential. Is your goal to continue to expand or to remain small and intimate?
Mikey: I would say 99% of the festivals out there are trying to go bigger and bigger every time by cramming as many people into them as they can but this is pretty much the exact opposite of the philosophy behind Desert Hearts. Even though the land that we throw our festivals on can easily hold 4-5 thousand people, we capped ticket sales at 2000 so we don't lose the intimate vibe of the festival. There are hundreds of other festivals out there that offer a variety of music across multiple stages. I think what makes Desert Hearts so special is that we focus 100% of our energy around our "one stage, one vibe" philosophy. Seventy-two hours of non-stop house, techno, and love has created a vibe and a culture that is unlike anything we've ever seen before.
Morena: Tell me the story of Desert Hearts. Who is the core team and how was it created?
Mikey: Back in 2010, myself, Marbs, Deep Jesus, and my little brother Porkchop had just graduated college and returned home to North County San Diego where we started throwing a party called Jungle. At the time the house music scene in San Diego was almost non-existent so we were thrilled when we came across a party called Moonshake that was ran by our soon to be partner Lee Reynolds. At that point our crews kinda collided and merged together when we were asked to DJ a renegade desert party by our next soon to be partner Christopher Kristoff. It was during that party that we all realized how amazing it would be if we all teamed up and threw a desert party together. Desert Hearts was born in November of 2012 as we and 200 of our closest friends voyaged out to the Mojave Desert for what would be the most epic weekend of our lives at that point. Six months later our second Desert Hearts Festival brought in close to 900 people and that's when we realized we had something more special than any other thing out there.

Morena: If you repeated a mantra everyday that represented your spirit and perspectives, what would it be?
Mikey: House, techno, and love. We are all Desert Hearts.

Morena: What role does the desert play in all of this? What does this landscape evoke from you?
Mikey: Whether we gather in the desert, mountains, or forest, we always want to take our festival off the grid and away from typical society. Not only is it incredibly beautiful and spiritual being engulfed by nature, but it adds to the vibe and the experience when our festival goers can't be on their phones uploading pictures, checking e-mails. One of the main goals of Desert Hearts is the stripping away of societal norms so people can truly be in the present moment and express themselves in any way they choose.

Morena: What kind of ambitions does the Desert Hearts team have in store?
Mikey: I think the festivals we organize in Southern California will always be our bread and butter, but I think our newly launched City Hearts parties are how we're going to be able to bring that same festival vibe to different destinations around the world. Our brand is growing at an exponential pace and we've already thrown sold out parties in San Francisco, Los Angeles, and San Diego. The next step is taking our City Hearts parties to the East Coast, Mexico, and beyond. No matter where you are in the world, if there's a market for underground dance music in your community, we want to bring our message of house, techno, and love and share it with you.
Morena: What musicians have inspired you?
Mikey: My three biggest musical influences have been the Wu-Tang Clan, Daft Punk, and Pink Floyd. Hip Hop has always been my background growing up and ultimately what got me into DJing. I kinda see the Wu-Tang Clan as a model for what we're doing now. Our Desert Hearts Crew runs deep with DJs so using them as a model has really allowed us to grow as artists, individually and as a crew. Seeing Daft Punk live at Coachella 2006 was the exact moment that I changed from a hip hop DJ to a house DJ. I had never heard music that good and it was at that moment I knew I wanted to make people dance for the rest of my life. And Pink Floyd is just Pink Floyd...
Morena: Are there any artists you hope to see on future Desert Hearts lineups?
Mikey: Lee Burridge, Damian Lazarus, Seth Troxler, and Super Flu are all names that really come to mind. These are DJs and individuals who have proven countless times that they have a passion for life, music, and love. They go to Burning Man, they promote love, acceptance, and spirituality, and they are constantly pushing the boundaries in our scene. We want headliners who want to engulf themselves in the Desert Hearts experience and really become a part of our family. The best example from our current spring festival headliners are the girls from Blond:ish who requested to camp and stay with us for the duration of the festival. As if we didn't like them enough already.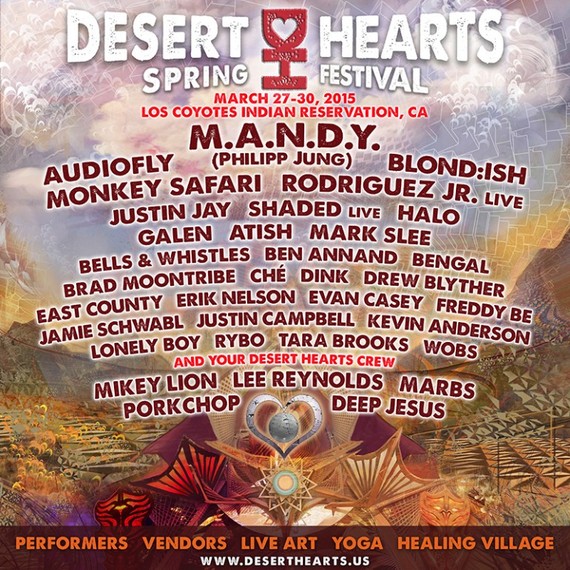 Calling all HuffPost superfans!
Sign up for membership to become a founding member and help shape HuffPost's next chapter