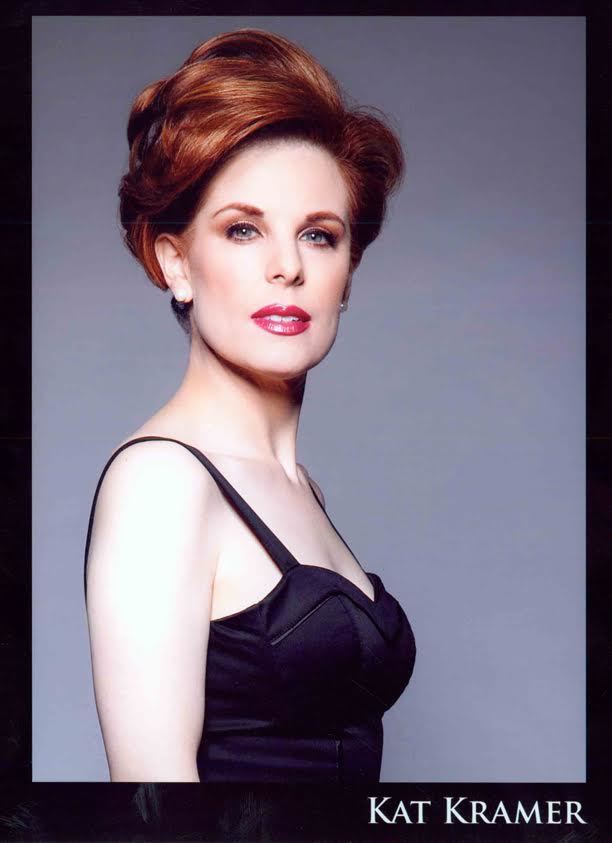 Katharine "Kat" Kramer (the godchild/namesake of screen icon Katharine Hepburn) founded "Kat Kramer's Films That Change the World" to showcase motion pictures that raise awareness of important social issues. In doing so, she is following in the footsteps of her late father, legendary producer/director Stanley Kramer, who was known for taking artistic and financial chances by making movies about controversial subjects.
A former Miss Golden Globe, Kramer has acted on stage and screen. She has starred in two popular one-woman-shows, "The Colors of Myself" and "Kriss Krossing". She has also won awards for her roles as Helen Keller in "The Miracle Worker" and Anne Frank in "The Diary Of Anne Frank", and starred as Lisa in "David And Lisa," Estella in "Great Expectations", Joan Of Arc in "The Lark", and appeared in the ensemble, "The Vagina Monologues."
Kramer is set to launch "An Evening with a Trailblazer" and is in production on a short film and reality show. She has headlined at Awards shows and galas for such luminaries as Shirley MacLaine, Robert De Niro and Joe Pesci. Kramer has recorded an album of Mick Jagger solo covers titled "Gemstone," and is set to launch her new one-woman-show called "My Duet With Mick."
What is Kat Kramer's Films That Change the World, and why did you create it?
It's an international cinema series I founded in Spring of 2009. A combination of red carpet movie premiere and think/tank salon with "power panels" I moderate. I'm having my 9th installment in June, and I present socially conscious feature films and documentaries. I don't charge admission, they are invitation-only and celebrity-driven. I cater to the media, activists, industry, students and educators.
I created it in honor of my father, the late Stanley Kramer, who made 35 socially-conscious films. And to fill a need, to have a place for socially-conscious films to be presented to the media and get the word out. It's true I mainly present documentaries because in many ways they are more compelling than narrative films in dealing with social issues, and I showcase new films and filmmakers. So far, we've explored the issues of women's equality, abortion, genocide, animal rights, LGBTQ teen bullying, nuclear and environmental issues, the Holocaust, diversity and access for the deaf, and coming up, rape on college campuses and child abuse. It started at the Stanley Kramer Theatre on the lot at Sunset-Gower Studios, formerly the home of Columbia Pictures where my father made "Guess Who's Coming To Dinner" and many of his classics. I outgrew that space and now use sound stages and spaces on the Sunset-Gower/Sunset-Bronson lot, including the Canon facility. The June event will take place off site at James Bridges Theatre/UCLA Campus.
My father donated his archives to the UCLA School of Film and Television and we have the Stanley KramerFellowship for directing there. I often feel dad is guiding my cinema series because it has really taken off and I have been told there is nothing else like it. A "think/tank" where the most high profile creators can speak openly about social issues dear to their hearts in a room full of media and students. It's an ideal way to spread awareness about social issues, and present new films and introduce indie films to distributors.
I have also presented DVD and Blu-ray premieres in conjunction with my series and co-partnered with film festivals. For instance, last year I co-presented and produced the "first" Atomic Age Cinema Fest here in L.A. I have also presented the first open-caption screening on a studio lot in many years when we screened "Grandma" for a primarily deaf audience. And I moderated the "power panel" featuring 10 ASL interpreters. And partnered with Signmation. I plan to incorporate ASL into the series as much as possible.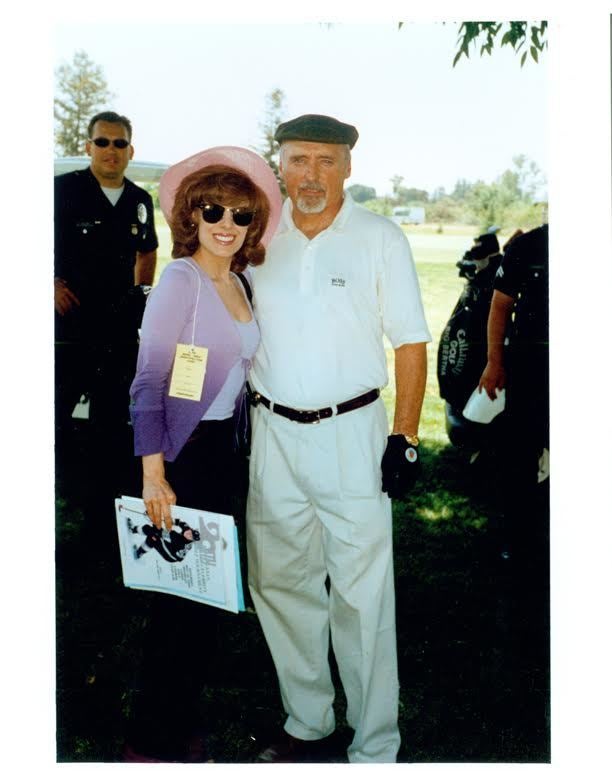 How well did you know your father, the legendary producer/director Stanley Kramer? What was your relationship like? What was he like?
I grew up in Seattle and New York, even though I was born in Los Angeles. My father had made most of his films by the time I came around. But he was always home for dinner by 6pm. He was not a Hollywood-type person. He didn't choose to do the social scene ever in his career. He only cared about the work and being a "voice" for the social justice issues and stories he told. We often clashed because we are so much alike. He was much older than my mother and had my sister Jennifer and me later in life. But he believed in me and did have confidence I would eventually make-it in the arts and show business. My mother and I established the Stanley Kramer Award at the Producers Guild Of America, where each year we honor a socially-conscious filmmaker/film that carries on the Kramer tradition. The best contribution I can make to my father's legacy is to carry it on. And not only make films and act in projects that have social issues, but showcase other filmmakers with stories that enlighten humanity and give them a "voice."
Of all the important causes you have championed, is there one that is closest to your heart?
There are many, but I suppose anti-bullying would be the leading issue. I am an anti-bullying activist and motivational speaker, and bullying exists in the fight for social change on many levels. For example, when the dolphins are slaughtered in "The Cove" and the elephants are held in captivity and abused in zoos and circuses, that is all a form of bullying.
Why make an album of Mick Jagger love songs?
I have always admired Mick Jagger as a great showman and pioneer of arena stage shows, how he created a persona, and is the biggest rock star since Elvis. And a marketing visionary. But I always felt his gifts as an individual songwriter were overshadowed by his sex god image. I chose to approach his music from a woman's point of view and selected love songs he wrote for his many solo albums which I feel are underrated. I sing them in my own style, more pop and easy listening, and people can't believe Mick wrote them because when he recorded them they sound like the Mick Jagger we all know. My concept showcases him as a songwriter of really good songs with a beginning, middle and end.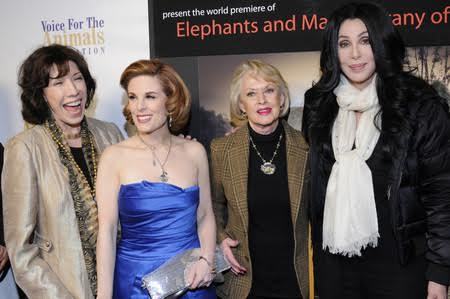 How would you describe your relationship with Lily Tomlin? How did you meet her?
I've always admired Lily as an artist and she was a favorite of my fathers. I knew Lily socially when I first moved back to LA, and we have many colleagues and acquaintances as well as friends in common. I didn't get to know her until we teamed up for my cinema series, and she hosted the world premiere of a powerful documentary called "Elephants and Man: A Litany Of Tragedy". We both advocate for elephants and this was soon after I presented "The Cove." It was also to spread awareness about "Billy the Elephant" the lone Asian elephant held captive at the LA Zoo. It's still our mutual goal to send Billy to a sanctuary. Lily and I bonded over the issues and we appeared on television and radio to promote the world premiere.
For my 4th installment, we teamed up twice on "Teach Your Children Well", which Lily narrated. It's an award-winning, impactful anti-bullying documentary about school violence and LGBTQ teen suicide. She then became an ambassador for "Kat Kramer's Films That Change The World", and we appeared on CNN and then we presented FALLOUT for my 5th anniversary. Dr. Helen Caldicott was the keynote speaker and she and my mother both appear in the documentary FALLOUT, about the bomb and the making of my father's classic "On The Beach." Dr. Caldicott is also a longtime friend of Lily's and she was an anti-nuke activist in the 1980s.
Lily has been a mentor and given me tips for my solo shows. And I was so inspired by her characters Ernestine, Edith Ann, Mrs. Beasley, Tommy Velour, Purvis Hawkins, Madame Lupe, etc., that I created my own characters for the web series I am on called "Child Of The 70s" and for my solo show, "My Duet With Mick." I'm working on my own reality show called "Travellin' For Tomlin." Keeping it under wraps, but have a Facebook page dedicated to it, and I created the "Grandma Gang" in honor of the film "Grandma", starring Lily.
You were a Miss Golden Globe. How did that come to be and what do you recall of the experience?
The Hollywood Foreign Press Association has a tradition that the daughter or son of famous parents serve as the official Miss or Mr. Golden Globe, and it's a prestigious and important role because you are responsible for handing out the awards to the winners. My father actually helped form the Hollywood Foreign Press Association in the early days and was a multiple Golden Globe winner throughout the years, and my mother, actress Karen Sharpe, won a Golden Globe, so it's a family tradition. And it was a hard job that takes lots of concentration because you're on-stage the entire time.
Did your parents ever try to discourage you from pursuing a show business career?
Yes and no. My parents moved my sister and me away from Hollywood at a young age to get away from show business and Hollywood. We moved to Seattle, which ironically turned out to be a major theatre and music town. And I came out of my mother's womb looking for my klieg light. When they saw my passion for being in the business, they supported it. I started out as a ballerina and in dance first, and then singing and acting.
Who are your role models?
Too many to mention here. But of course my mother and father. And my godmother, Katharine Hepburn. Judy Garland, Barbra Streisand, Bette Midler and Mick Jagger were early influences. Robert DeNiro and so many actors I can't list them all. And in comedy, Lucille Ball and now Lily Tomlin, of course. Shirley MacLaine, Meryl Streep and Jane Fonda. Very few of my generation.
What were the premises of your one-woman shows?
I've had several. My latest is a theatre piece called "My Duet With Mick", a solo musical journey. It's about my trying to get Sir Mick to sing a duet with me, and the characters I meet along the way. It's a fantasy musical parody of "The Wizard Of Oz", where Mick is the great and powerful wizard. I love parodies in general.
What advice would you offer young people desiring a show business career?
Trust yourself and follow your heart. There are no rules for success, but if you have a passion, you should pursue it.
You are big on animal rights. Are you a pet owner?
Yes. Always have been, especially cats, elephants and wildlife. We have a 16 year old Pomeranian black and white named Panda Bear Kramer.
What else remains on your bucket list?
Definitely to do a duet with Mick, and to do a command performance for the Queen. To work with my idols in a project.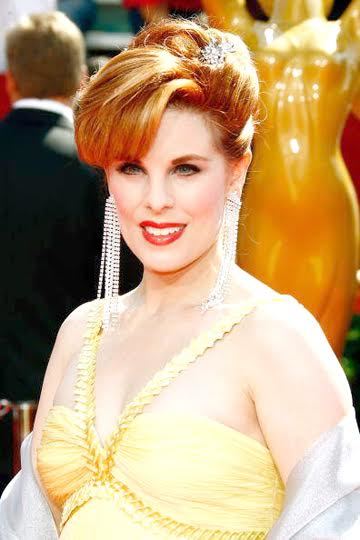 In public, you always appear exquisitely dressed and made up. Do you ever go to the grocery store in a t-shirt and jeans?
Let's just say I'm writing a song titled "Does She Ever Wear Blue Jeans?"
Besides you and your dad, are any other family members in show biz?
My mother, Karen Sharpe-Kramer, is an award winning actress who co-starred in many films including "The High and the Mighty" with John Wayne, "The Disorderly Orderly" opposite Jerry Lewis, and 100 television shows. She is now an acclaimed producer. We have a production company, KNK Productions, Inc. And my sister, Jennifer, is a composer, concert pianist and actress.
Of the films your dad directed, which is your favorite?
It would be a toss up between "It's A Mad,Mad,Mad,Mad World" and "Bless The Beasts And Children." I love "Mad World" because of the genius comics, and it's a movie for all ages that is still as popular today. And "Bless The Beasts" was an early animal rights film that has a cult following and still resonates today.
Your desert island choices for:
Out On A Limb, by Shirley MacLaine
One of your dad's movies:
"Grace And Frankie" (Netflix) and currently "Feud" (A limited series from Ryan Murphy on FX)
Anyone in history for conversation:
Has this presidency changed any of your attitudes, projects, or priorities?
Let's just say that we need "Stanley Kramer" in film more than ever. Because film can and has helped "change the world."
Any hobbies or interests outside of show business?
Art, travel and rock concerts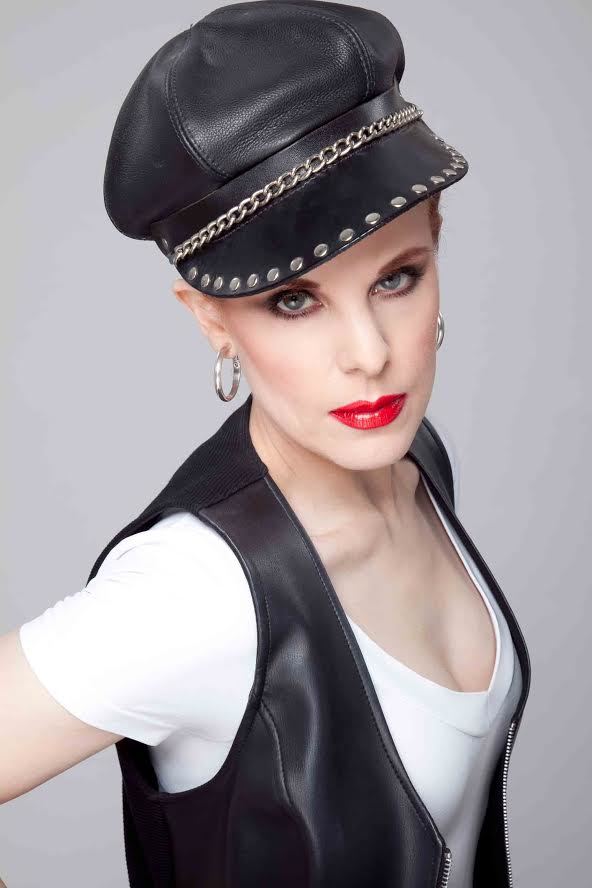 What's with the leather biker look?
It was for a photo session and magazine cover shoot. My father discovered Marlon Brando and starred him in his first picture "The Men" and later "The Wild One," It was an homage to Marlon who was an Aries like me. He established that "biker chic" look in "The Wild One" that became his trademark.
Popular in the Community