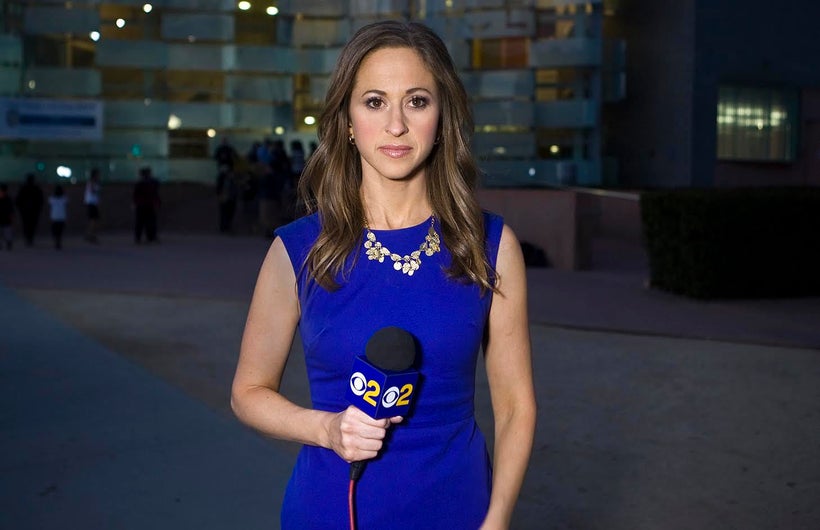 Erica Mandy is a Los Angeles-based, award-winning TV news reporter who joined CBS2 and KCAL9 News in August 2014. Erica has covered news around the country. In her first job in Columbia, Missouri (KMIZ-TV), she covered the devastating aftermath of a tornado in Joplin and won awards for investigative reporting. She then moved to Portland, Oregon (KATU-TV), where she covered intense Occupy protests, and was one of the first reporters on the scene of a high school shooting.
You'll now find Erica on KCAL9 at 10 pm and CBS2 at 11 pm Sunday through Thursday nights, covering everything from national breaking news to stories about everyday, inspiring people. Erica grew up in the Kansas City area and graduated from Indiana University's journalism school. She now loves calling LA home, and lives in the South Bay with her husband and two cats, where they enjoy weekly trips to the beach.
What made you choose broadcast journalism as a career?
I've always loved writing, and that passion was the first thing to guide me toward journalism. Once I enrolled in journalism school at Indiana University, and took my first broadcast class, it all clicked. The creative melding of my words with specific video and sound brought the people and their stories to life. I was hooked.
Are you the first broadcast journalist in your family? What do your parents/siblings/husband do for work?
Yes, and I give credit to my parents for their support and understanding as I pursued a fairly unique and taxing career path they knew little about. I moved out to a small town and made minimal money to get my foot in the door. Instead of showing concern, they encouraged me and wanted to learn the industry alongside me. My dad works in the car business and my mom is a retired teacher. My brother has always been supportive as well; he's a consultant.
I'm also grateful to my husband. He's come to fully understand the journalism world with my many stories and has never questioned the unorthodox and often long hours. He works on business development in the finance industry.
What do you miss most about the Mid-West in general, or the Kansas City area where you grew up, in particular?
Of course I miss my family and friends who still live there. Occasionally, I'll miss the genuine kindness the Midwest is known for, and perhaps, less traffic. Overall though, I love the weather, nature and vibe out here on the West Coast.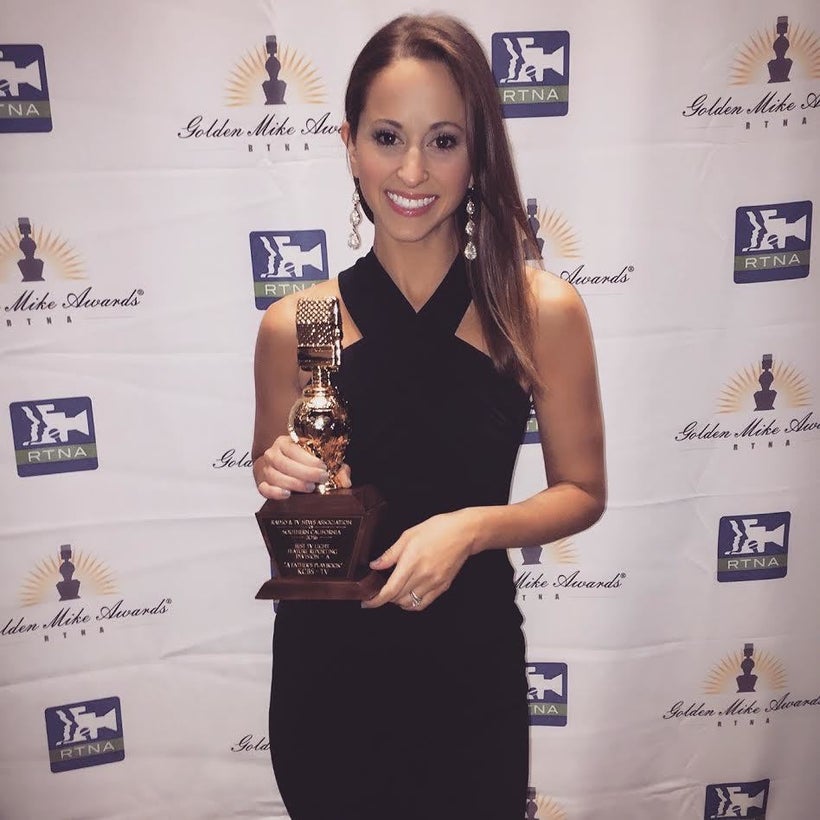 As a TV news reporter, can you describe a typical working day? What kind of hours do you put in?
My day really starts before I go into the office. I stay informed about that day's news and often make phone calls or send emails about potential stories I may want to pitch. When I head into the office, I don't know what I'll be covering that night.
My official workday begins at 3pm with an editorial meeting, where we pitch and assign stories. Once I know my mission, I hop in the news van with the videographer. While he/she drives toward the city or location of the story, I'm on the phone and computer setting up interviews for that night, doing research and preparing in whatever time I have left before we arrive. From there, we'll conduct interviews, get video and set up to go live on-air.
I research, interview, write and present the stories. The videographer shoots video, edits the story together and operates the live truck. We're a team and the news van is our office.
Our story may change once, sometimes two, three, maybe even four times before the night is over. The reason could simply be that a story didn't come together as expected, or, more often, we are sent to breaking news that is more urgent and important.
We're usually live on location for KCAL9 News at 10pm and CBS2 News at 11pm with the final reports. On average, I leave the news station about midnight, but it's always different depending on how far we've traveled for a story.
That's considered a "typical" day's structure, but then again, we are always ready for the unexpected! We may suddenly need to provide wall-to-wall live coverage, work double-shifts or travel around the country for a national story. I keep a "go bag" in my car for every scenario.
TV news reporting appears to be the kind of job where you can't really afford to call in sick. Have you discovered any tricks to quickly getting over a cold or masking its symptoms? Have you had to do an on-camera story when you've been very sick?
Thankfully, we do get sick days at work like any other job because no one wants to see me on TV when I have the flu! And like any other office, sickness spreads in newsrooms and news vans like wildfire, so it's best just to avoid that scenario.
The difference is that when I'm sick, one of my colleagues will be called upon to do extra work. I can't simply make up for it tomorrow or work from home, so I always try to avoid getting sick in the first place. I try to stay healthy with enough sleep, exercise and nutritious eating so it's a non-issue.
If I do get a cold, I can usually fake feeling well for the few minutes I'm on TV. If you can still hear a cold in my voice, viewers are usually pretty forgiving!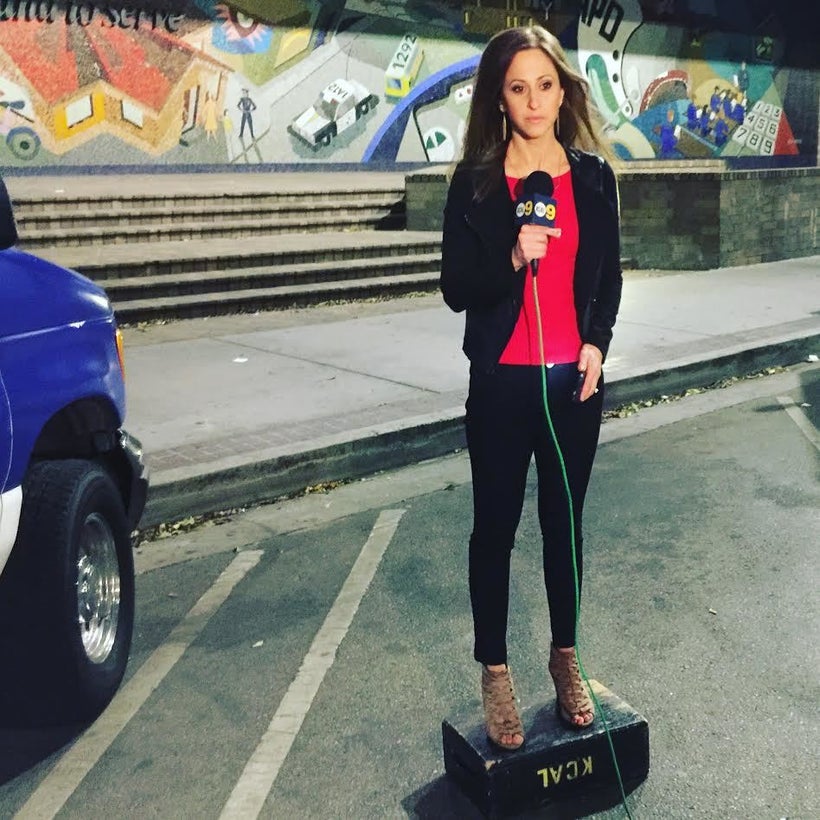 Of the stories you've reported, which has been your favorite, least favorite, most painful, most surprising, strangest?
I've done so many stories over the last 10 years that I'm not sure I can pick specific stories for these categories! Instead, I'll list the types of stories that come to mind…
Favorite? I love sharing stories about inspiring people! From children overcoming medical challenges to police officers going the extra mile when no one is looking, there are so many ordinary people doing extraordinary things each day. My passion is to tell the world about them.
As a granddaughter of Holocaust survivors, I'm also honored whenever I have the chance to share other survivors' stories.
Least favorite? While important to be there, covering violent protests is often a challenge. Protesters have yelled at me, flipped me off and even threatened me. When vandals start destroying property, we have to be extra vigilant about our own safety and property. We are provided security guards when possible, but protests are not always a planned event. Again, they are necessary and important to cover, they just aren't always as much fun.
Most painful? I'm not sure it ever gets easier to speak with a parent the day he/she has lost a child. Each time, and there have been many times, I simply try my best to show compassion. I focus on putting together a story to honor the child's memory and get across the message that the parent wants to share.
Most surprising? The things neighbors will do when they don't like each other!
Strangest? All of the stories with naked people. One that comes to mind is a guy running in the streets and dancing on a bus while naked.
How competitive is the broadcast journalism field? More so for women? How did you make yourself stand out?
It's competitive and becomes even more competitive as you move into larger cities. Most people must be willing to start small: in a small city for little pay and with a limited crew on staff. I can't say if it's more or less competitive as a woman, but I can say it's more appearance-focused than it is for men. We have to think more about our hair, makeup and clothes. That said, the "right" appearance is subjective and dependent upon many different factors at different TV stations. The key is to be the best version of you and understand that your look will work for some people and not others. Don't take it personally.
All I've ever done to stand out is simply work hard and never stop learning. If I can tell good stories, my less-than-perfect makeup won't matter as much. If I'm willing to work weekends and mornings for a new opportunity, I'll beat out the person who doesn't want that schedule. If I improve every year, my boss will notice my potential and effort.
Who are your role models in your field, and why?
Steve Hartman for his impeccable writing and storytelling.
Mika Brzezinski for her confidence and empowerment of other women.
Robin Roberts for her genuine kindness that comes across on-air.
Scott Pelley for his view on the importance of good journalism and ability to stay calm on-air.
Katie Couric because of her on-air energy and courage to be a trailblazer.
Barbara Walters for her interviewing skills.
Oprah for her ability to capture an audience, be genuine and find huge success in everything she does.
The list goes on and on….
Of course, there are many (less famous) people I've had the honor of working with who have shaped my career and helped me more than any well-known role model I could list. I try to pay it forward and help young journalists because of the example these many talented people have set.
What remains on your bucket list? What would be your ideal job?
My dream is to be a leader and trailblazer for how the next generation engages with news. There's no doubt in my mind the journalism industry and the platforms we use to keep our audiences interested will continue to evolve, so my bucket list has not been static either. I've shifted my mindset from wanting to take the traditional track to network news, and I'm instead excited about staying on the forefront of journalism, however that manifests in the years to come.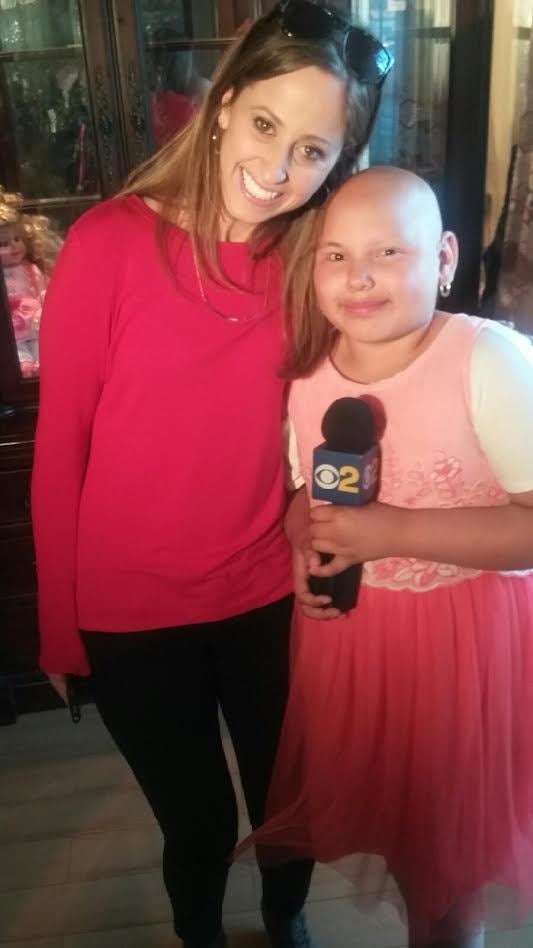 Your desert island choices for:
Book: I like a wide variety of books. In terms of taking charge of my own career, Knowing Your Value by Mika Brzezinski and Bossypants by Tina Fey have influenced me over the years. I just finished the fascinating story of Hyeonseo Lee in The Girl With Seven Names: A North Korean Defector's Story. I've also enjoyed the powerful book, The Kite Runner by Khaled Hosseini and the fun read Gone Girl by Gillian Flynn. Next up on my list: Richard Branson's Screw Business As Usual.
Movie: Good Will Hunting, Juno, Apollo 13, Love Actually, to name a few.
Food: Quinoa…. or "Graham Central Station" ice cream from Handel's (yum!)
Music: Depends on my mood! Alternative, acoustic and hip-hop are all on the list.
Podcast: The Tim Ferriss Show
Which news media do you regularly follow?
CBS News, New York Times, LA Times, CNN and NPR are the constants, but I try to look at different online news sources every day to get a variety of perspectives. Twitter also helps me stay on top of the current conversation and keep an eye on breaking news throughout the day.
What do you make of President Trump's characterization of the news media as "fake news"? Do you anticipate any changes in the news media and your job in particular, as a result of how Trump perceives the media?
I don't think there will be any changes in the journalist's job itself, but I do think we as an industry may become more open and deliberate about our processes.
The fact is that many people with strong beliefs don't like to hear the other side at all, even if the story is fair. Our online world that increasingly caters to an individual's own beliefs and preferences tends to add fuel to that fire.
That said, there really is more "fake news" online now, so I hope the attention on that concept makes all of us, journalists and news consumers alike, more vigilant, skeptical and aware.
Your Instagram page says "News tips welcome". How often do you get news tips from the public? Any stand out as having led to great stories?
I usually get at least one news tip per week. They come from a variety of sources, including people I've worked with in past stories, police, firefighters and other officials as well as strangers who contact me through social media and email. We also get viewers who call and email the news station.
Most stories that are investigative in nature come from a news tip, whether it's a product that catches fire or a shady city official. Once we have the tip, we can take the extra steps to verify and dig deeper. Those often turn into important stories holding people accountable.
I also follow-up on tips about people doing positive things, like the nine year old who started his own nonprofit or the surf camp for children who survived severe burns.
Any hobbies or interests outside of your job?
I'm slowly improving my beach volleyball game now that I live by the beach! It's a fun, social and active way to enjoy the sun and sand every week. I also love to hike, bike, dance, and take barre fitness classes.
Any culture shock moving from the Mid-West to L.A.?
Not really. When I first moved to LA, I was worried people would be too "fake" and "Hollywood" here, but instead, I found most people very nice and welcoming!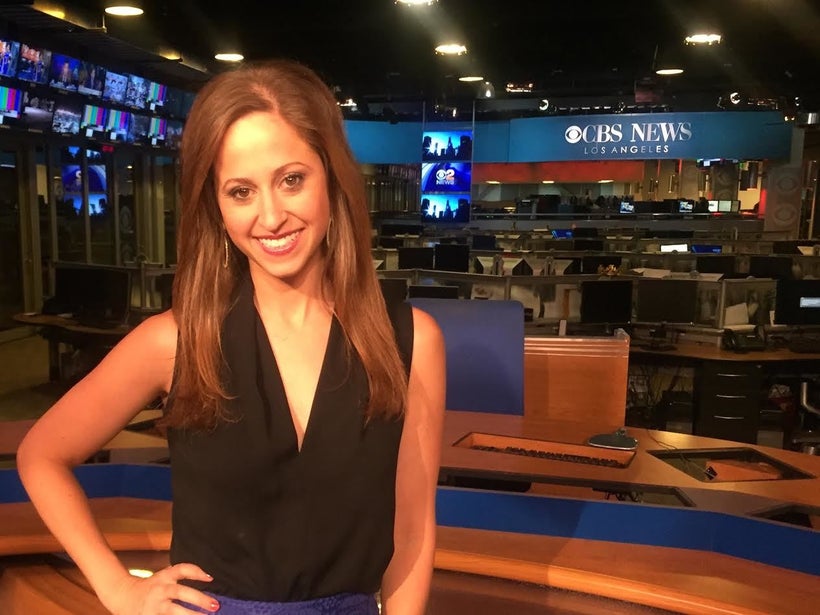 Advice to budding broadcast journalists?
In the ten years I've worked in broadcast journalism, I've seen quite a bit of change in the industry. Be ready for more. Be adaptable, flexible and positive.
Let go of perfectionism. Sometimes, you just have to meet your deadline and that's more important than making the story look perfect (as long as you're still accurate).
Have confidence in yourself. Most likely, you'll move around the country several times as you work your way up to larger cities. It can be a bit intimidating and takes time to adjust. Just know that if you got the job, it's because you can do it. Believing in yourself will help you get comfortable faster.
Support your colleagues. You don't have to bring down other people to find your own success.
Finally, pay it forward. No one in a top TV market got there alone. They got feedback, had mentors and got introductions. Do the same for the people younger or newer than you.
Life advice in general? (Words or philosophies that have guided/inspired/motivated you)
My dad always says, "Attitude is everything." I agree.
As mentioned before, I try to support and lift up those around me. Too often, people get jealous or think they have to take down other people to find success themselves. Success is not in limited supply, and jealousy is simply a sign of what you'd like to improve.
I also tend to trust that things will work out. I take calculated risks and believe that if something doesn't go according to plan, I'll be able to handle it. I rather have mistakes than regrets.
Connect with and reach out to Erica Mandy with news tips here:
This post was published on the now-closed HuffPost Contributor platform. Contributors control their own work and posted freely to our site. If you need to flag this entry as abusive,
send us an email
.