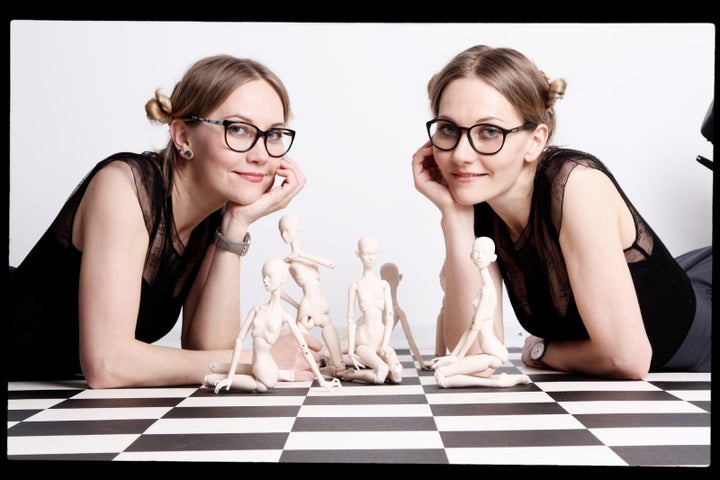 Twin sisters, professional artists and fashion designers Ekaterina and Elena Popovy, born and raised in Perm, Russia, started making dolls in 2004.
Their portrait dolls are inspired by personalities and every intricate, stunning, one of a kind Ball Joint Doll is handmade from start to finish. By combining their passion for fashion design and doll art, Ekaterina and Elena create small conceptual collections of 10 to 15 dolls a year.
An enormous amount of work is at the heart of each collection. First, an idea/emotion is born and the Popovys develop the project's concept. They then start preparative work: learning the history, searching for the images, developing the texture, choosing the technique and drawing sketches. Also requiring thought, planning and development is each doll's gesture, stylization, artistic delivery and costume design.
Called the "new wave of Russian art-doll designers," the Popovy sisters have received numerous awards, such as Best Doll Master at the International Doll Salon in Moscow, the Haute Couture prize of Doll Magazine for Hathor of Cult project and many more.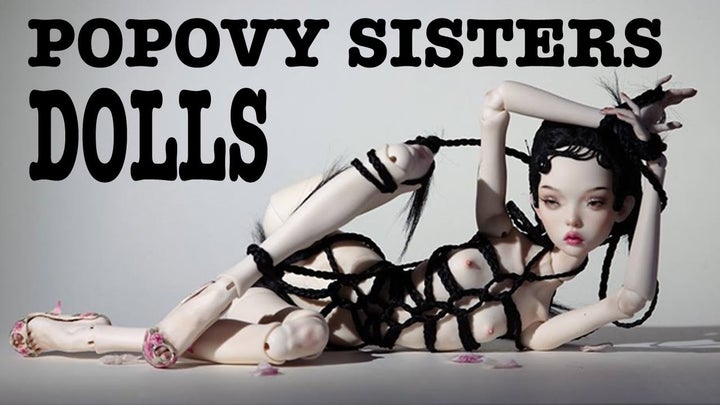 Where do you get your inspiration for your art?
Оur inspiration comes from everywhere; people, music, fashion history, cinema, nature - the list is endless. All that we see we miss through the prism of our thoughts, feelings, and emotions, we see in the forms, lines, colors, and music-the future collection, costumes, and fabrications. We are very observant and impressionable. In general, the concept of our style is built on the contrast of "white" and "black", beautiful and frightening. Imagine that you admire the rose, and approaching her, breathing in her wonderful aroma, notice that in the bud sits a huge beetle with jagged legs. It can be both beautiful and repulsive at the same time. We find this picture full and it fascinates us.
Some of your projects have involved working with famous people. Could you share some details about these projects?
Currently, we are working on two interesting projects: exclusive dolls for Die Antwoord and for Mr. Jean Paul Gaultier.
For our new doll, the prototype was a mega charismatic soloist from the band Die Antwoord Yo-Landi (Yo-Landi). We tried to make the image of a teenage girl risky and at the same time vulnerable. We contrasted her delicate body with the hair and nails. A small swell of a wig with a mohawk hints at the rebellious spirit of the little heroine. Predatory nails give the image a "prickle".
We collaborated with the graphic artist Tokato Yamomoto. He allowed us to use the motifs of his drawings for tattoos on the dolls.
In our experiments with photography, we used fragments with texture in the photographs of Nick Knight from a series of flora. Leaves and flowers decorated the body of the dolls like clothes and tattoos.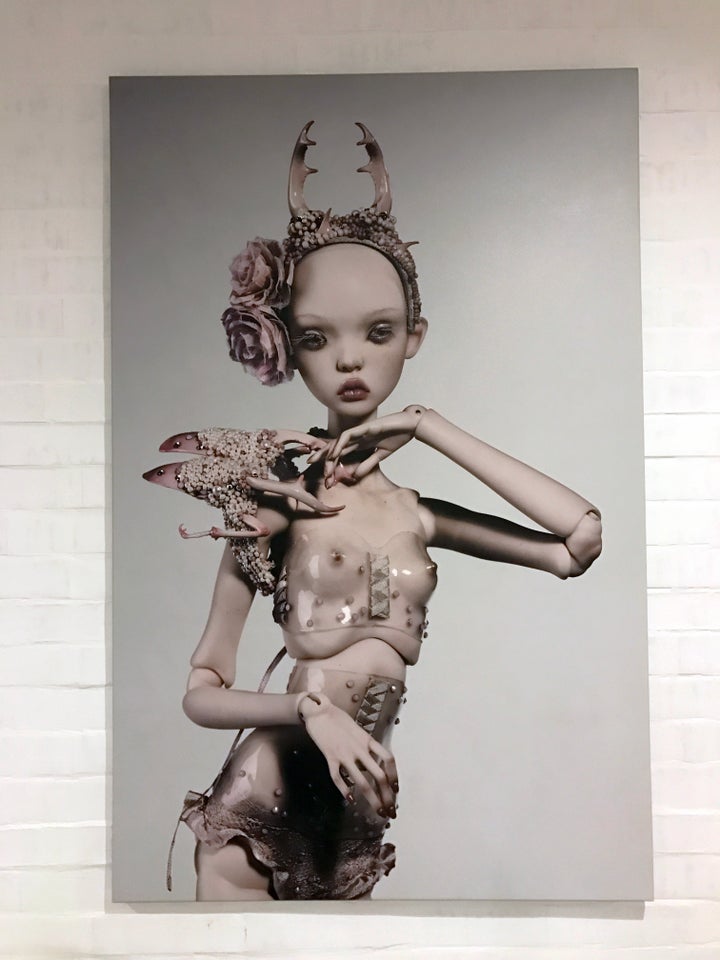 The above digital print on canvas, "Flora", is available here at BNO's Emerging Artists Auction on July 18th at 12:00 PM Pacific Time. Thereafter, it will be available here on BNO's website.
When did you first start thinking about pursuing fine art photography? And why?
Photography and our hobbies have always been inextricably linked. We started taking pictures early. Our dad was fond of photography. He photographed our family, nature, different subjects. We gladly participated in this. We constantly took pictures. Over time, we began taking pictures of our dolls during work, in different stages and environments. The photos became our second passion; the photos and dolls are inseparable in our creation. We perceived it as something more than just a photo of an object. Through the photo, the doll as a bud has revealed all its sides. We pay much attention to the posing of the doll. Sometimes it even seems that a doll is no longer an object, but a drawing. We have accumulated so many pictures that at one moment we thought about a separate direction in our art, about creating prints as a separate artwork.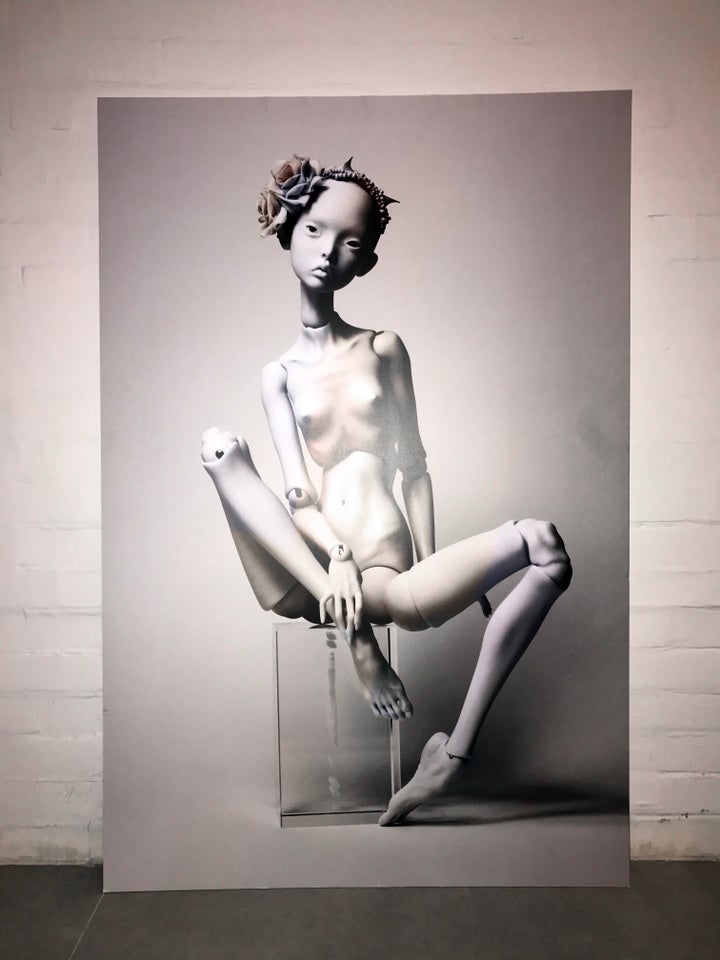 The above digital print on canvas, "Colored", is available here at BNO's Emerging Artists Auction on July 18th at 12:00 PM Pacific Time. Thereafter, it will be available here on BNO's website.
Some of your photos will be hand painted, one-of-a-kind works. What gave you the idea for that technique, and what kind of effects do you hope to create by doing so?
The idea arose accidentally. We wanted to add colors and saturation to the finished photo. We began to draw sketches of the costumes, which evolved into printed photos of the dolls. And we really liked how it happened. So the idea came to draw on ready-made prints, as on backgrounds.
You're starting to explore the U.S. market for your art. Can you reveal your plans and goals for this next step in your career?
We want to show the doll-something great from all sides. Extend the boundaries, highlight the details. To draw the attention of the public to the art of dolls and its spread to other types of art such as photography, the design of accessories, and costume design.
Can you share some of the ideas you have for your upcoming shows?
We're planning to place our dolls in a large space with photos showing them in detail magnified several times. We'll sit in the center of the hall as in the window, busy working on the dolls, sewing them, etc., so that the viewer can see us at work in the process of creating new dolls. We are close and we can see much of the details and at the same time are inaccessible; it is impossible for us to approach and touch.
What's it like working with a manager for the first time?
Intriguing, tense in the best possible way and fun. It's been wonderful working with Julia Mozheyko and having her represent us through her JM Art Gallery.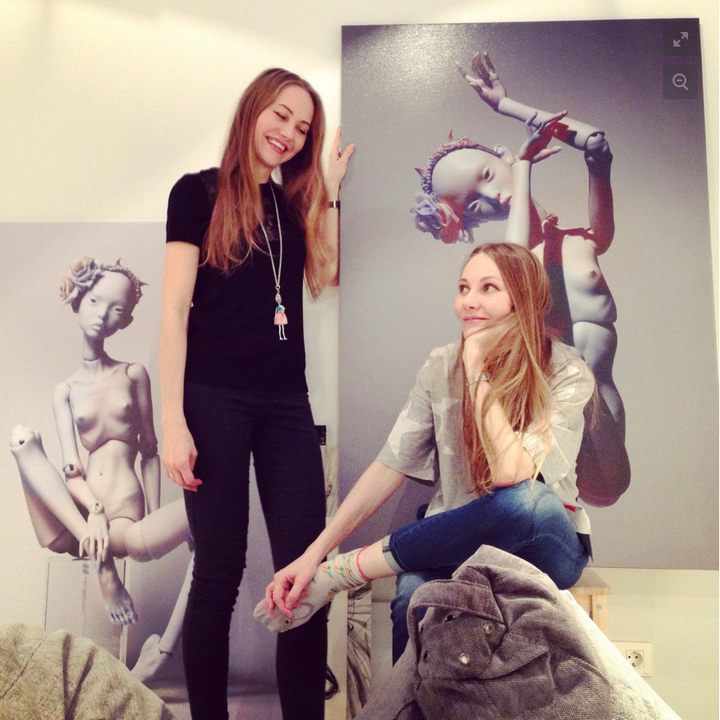 What inspired you to begin making dolls?
During the second year at the Ural Architectural Art Academy in the department of fashion design, we received the assignment of creating a doll with emotions, and on the advice of the teacher, we went for inspiration to the exhibition of art dolls that was held at the time. This event was for us a fateful one, as it opened a new world for us - the world of dolls. And we decided to try ourselves in this genre. At that time, we were seriously fascinated by the charismatic personalities of mainly musicians and actors. Johnny Depp, Marilyn Monroe, Dita Von Teese, Madonna and John Galliano became our first portrait dolls. The demonstrated interest from collectors in these works turned our passion into a profession. The doll's ability to be a dummy allowed us to realize our boldest ideas as fashion designers.
In our adult life, we realized our own vision of the right puppet body. It became articulated, well-articulated, with realistic smoothly-relief modeling. Mobility has transformed the doll into an unprecedented fashion model, giving us complete freedom for future creative experiments.
You've been referred to as "the new wave of art-doll designers." That seems like such a specific, unique niche. Do you have any competition?
Lately, we have been noticing many artists who have begun making such dolls. But we never took it as competition. Our corporate style and work are unique, and we are very much distinguished from others. There are many imitators and plagiarists; this is evident and it is not interesting. You either create a brand and everyone follows you, or you go from behind, and always remain number two. Original artists should not worry about competitors at all.
Where do you get your ideas for the dolls?
In our opinion, imperfection is much more beautiful and attractive. It helps brightly emphasize individuality. We do not have a certain ideal. Simply, it happens. Something clings in a concrete image, certain facial features reveal something wrong and that's interesting for us. It is difficult to give any logical explanation. But we know for sure that we do not try to please everyone; rather, we do something that makes us enjoy ourselves.
How long does it take to make a doll?
Creating a prototype doll takes about two months. To create a new collection, about two to four months. Each stage requires a certain time.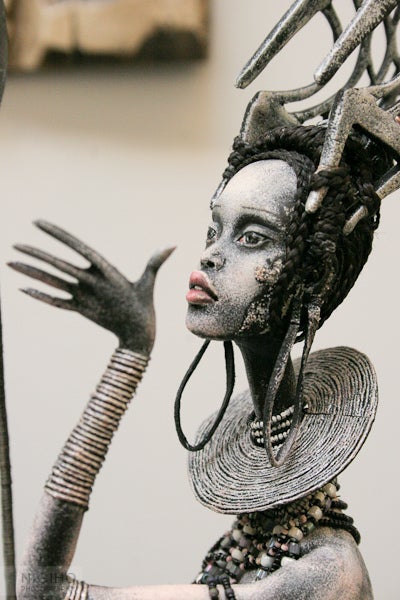 Could you take us through the steps you go through in creating a doll?
We make sketches of the envisioned doll, details, lines, divisions, body parts. We then create a prototype, the face and body, with hinges into the body. When the prototype is ready, we send it to the master for the removal of the forms.
Our dolls are molded from our high-quality polyurethane in Moscow.
When we received the molded version, we process them with polyurethane dust, paint, and tone, Izvoravlyaem suits, wigs, and all outfits. Often, we photograph them as well. We fill out the passport, we pack it and send it by courier.
Sometimes we take a break and work on a new prototype or collection. Then everything happens differently and is much more labor-intensive. A lot of time goes into our sketches, modeling, the invention of textures, and selection of materials. Something must sometimes be altered. We very strictly select all the suits. When everything is ready, usually it's 5-8 full-sized dolls. We arrange large photo shoots for new collections of dolls and we select outfits and photograph for the catalog. Usually, we show puppets at international exhibitions around the world, or we post on our site an online photo premiere.
We also made a video showing our doll-making process:
Could you explain the term used to describe your creations, "ball joint dolls"?
A doll with a hinged system of articulation in the joints, allowing for maximum mobility.
Why does every doll have a tiny hand painted butterfly on it?
We came up with that as our autograph under our doll painting. Many buy unopened dolls and paint them themselves, so the mole became a distinctive sign of our authorship.
What's been your greatest challenge in creating these dolls and how have you dealt with it?
One big curiosity occurred when we created two prototype faces for the CULT collection. This was a big and laborious work, and the final stage was heat treatment for solidification of the material. When baking them in the oven, an accident occurred. The temperature was exceeded due to a malfunction of the stove, and the head was deformed beyond recognition. It was a shock. We remember how difficult it was to start all over again. But we pulled ourselves together, and made new faces from scratch again.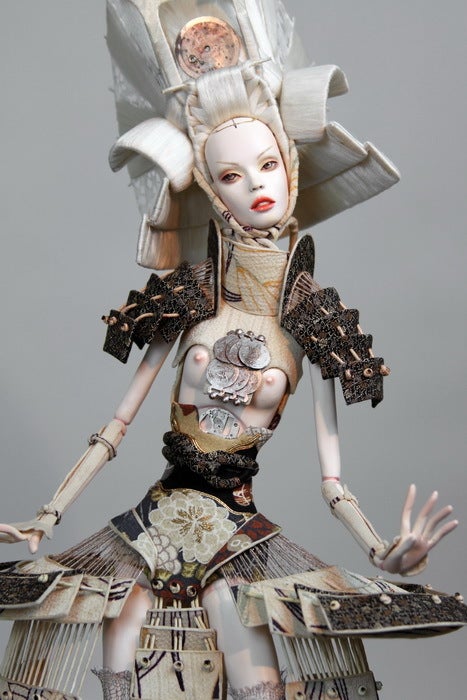 What can we expect from you in the future?
We want to organize solo exhibitions where puppets will be shown in a very large space in a compartment with photographic works, with the right lighting and musical accompaniment so that the viewer can fully immerse himself in the enchanting atmosphere of the puppet world.
Perhaps in the future, our dolls will become characters of some TV series. Dolls can also become small photo models for photographers working in the direction of digital art.
Right now, we are planning to release a richly illustrated book about our work. Its separate chapter entitled "Cabinet of Rarities" will cover the history of the creation and concept of each collection in detail. In addition to the text part, we work closely with Tatyana Sazonova, a collector, and the graduate of the Milan School of Fashion and Design Marangoni. Therefore, it will be two views of the doll: author and spectator.
Who are the artists that you admire?
David Lynch, photographer Nick Knight, artist Ray Caesar, Ninja and E-landy from the band Die Antwoord, Jack White, composer Angelo Badalamenti, designers Alexander McQueen, Jean Gaultier, John Galliano. Also, many not well-known interesting and attractive people.
Do the two of you ever have creative disagreements? How do you deal with them?
We rather complete each other and creative disputes only help to find a more interesting solution or idea. We are very emotional, usually, in the heat of work on new sketches. We can use foul language and snatch pencils from each other; it's all very funny. Sometimes, we even think about filming these moments to enjoy later.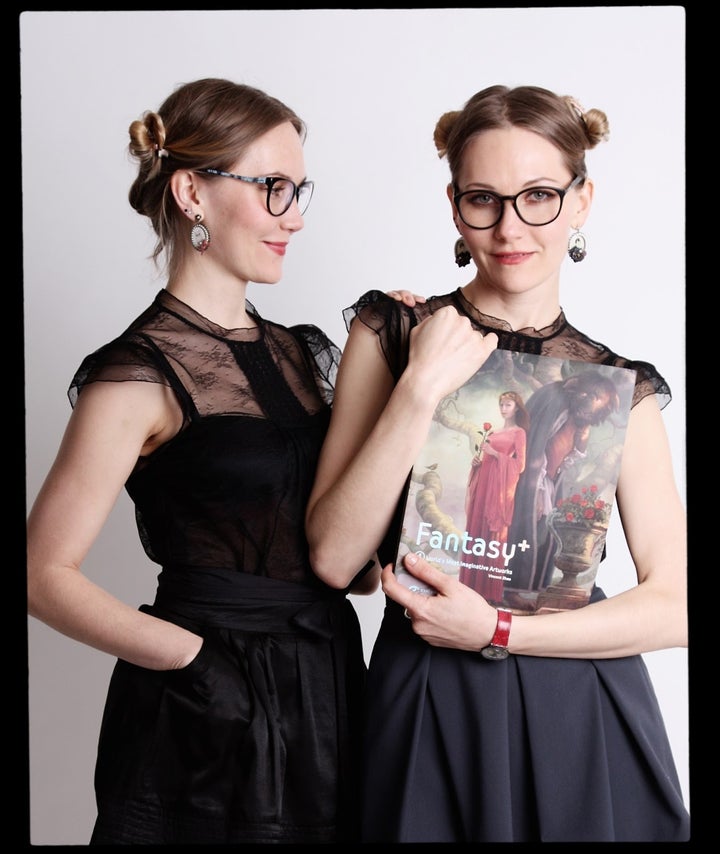 What do you like best about the process of creating these dolls?
That fleeting sense of satisfaction when you see the result and understand what happened; how it is possible to reach out and express an idea, often even better than intended. But this fleeting sense, it quickly disappears and the thirst for something new not yet incarnated begins.
What might people be surprised to learn about you?
At one time, we took a great interest in the equestrian sport, abandoning the art, and seriously planned to devote ourselves to this as an occupation. For several years we were engaged in horseback riding, but we were overcome by the desire to create art at one point, so riding is now our hobby.
And yet, as kids, we did not focus on the faces of people, so the dolls in our girls collection had very realistic bodies of people and the heads of foxes; and for the boys--the heads of dogs. Only when we studied at the Institute did we become very involved in charismatic personalities, and we began to draw a lot of portraits and sketches of people.
Any final words on your doll-making process?
All work on our dolls is performed exclusively by the two of us by hand without helpers and apprentices. This is a long and very complex process. We prototype dolls manually, using special tools and materials. For painting and tinting, we use an airbrush and hand painting with acrylic paints. Each doll has a tiny tattoo, a white machete—which is a sign of our original authorship.
We have our own secret development process in creating the costumes and wigs, which we have developed over the years starting with sketches. In the process of work on orders, we sketch and work on new ideas and collections, draw sketches and collages. Usually, we work on several orders at once. Materials for costumes we select and buy are rare and antique.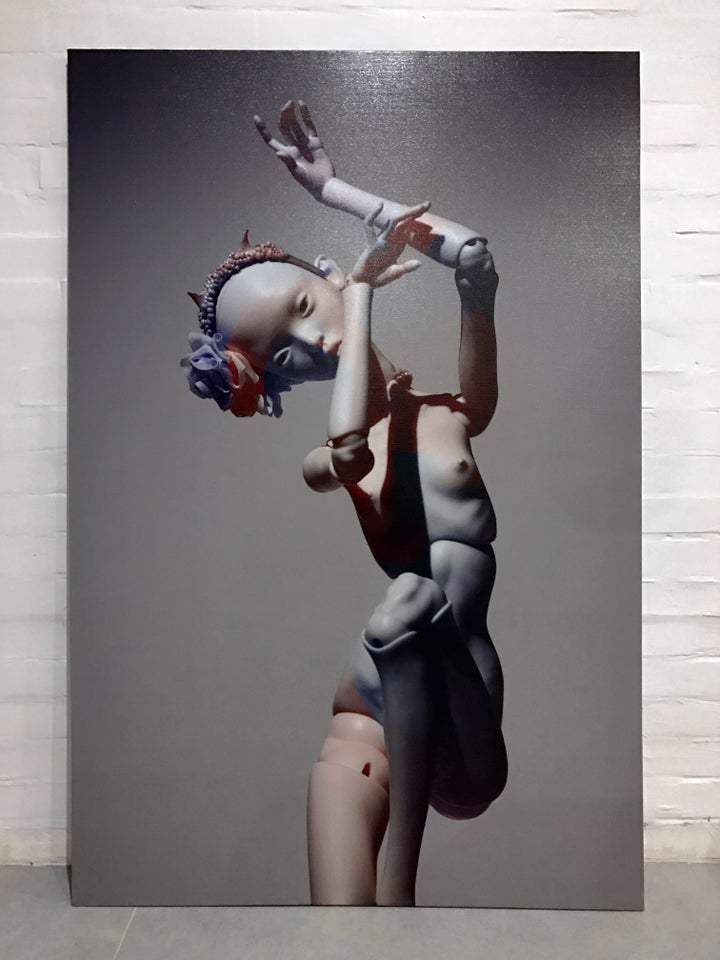 The above digital print on canvas, "Little Owl", is available here on BNO's website.
Place your bid, or browse & register for free at BNO's upcoming live-streaming auctions here. You'll find magnificent art and collectibles at all price ranges.
Ready to purchase or auction art?
Contact Bianca Sinishtaj, BNO's Auction Curator - Art & Collectibles

Popular in the Community