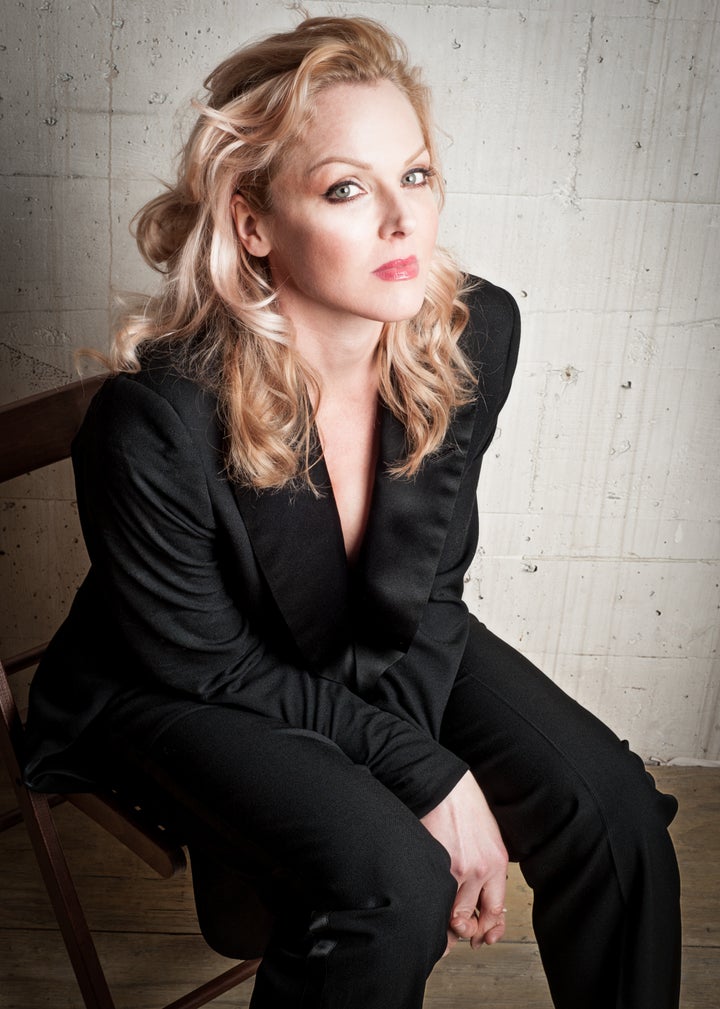 Storm Large shot to national prominence in 2006 as a finalist on the CBS show "Rock Star: Supernova", where she built a fan base that follows her around the world to this day. She spent the '90s singing in clubs throughout San Francisco. Tired of the club scene, she moved to Portland to pursue a new career as a chef, but a last minute cancellation in 2002 at the Portland club "Dante's" turned into a standing Wednesday night engagement for Storm and her new band, The Balls. It wasn't long before Storm had a cult-like following in Portland, and a renewed singing career that was about to be launched onto the international stage.
Storm made her debut as guest vocalist with the band Pink Martini in April 2011, singing four sold-out concerts with the National Symphony Orchestra at the Kennedy Center in Washington, DC. She continues to perform with the band, touring nationally and internationally, and she was featured on their CD, Get Happy. Storm has also sung with Grammy winner k.d. lang, pianist Kirill Gerstein, punk rocker John Doe, singer/songwriter Rufus Wainwright, and Rock and Roll Hall of Famer George Clinton.
She debuted with the Oregon Symphony in 2010, and has returned for sold out performances each year thereafter. Storm made her Carnegie Hall debut in May 2013, singing Weill's Seven Deadly Sins with the Detroit Symphony as part of the Spring for Music festival. The NY Times called her "sensational," and the classical music world instantly had a new star.
In 2007, she took a career departure and starred in Portland Center Stage's production of Cabaret with Wade McCollum. The show was a smash hit, earning Large glowing reviews. Her next endeavor, the autobiographical musical memoir, Crazy Enough, played to packed houses in 2009 during its unprecedented 21-week sold out run in Portland. Storm went on to perform a cabaret version of the show to critical acclaim at the Edinburgh Fringe Festival, Adelaide Festival in Australia, and Joe's Pub in New York. Her memoir, Crazy Enough, was released by Simon and Schuster in 2012, named Oprah's Book of the Week, and awarded the 2013 Oregon Book Award for Creative Nonfiction.
Storm is featured in Rid of Me, a film by Portlander James Westby, starring Katie O'Grady and Theresa Russell. In November and December of 2010, she starred at the Mark Taper Forum with Katey Sagal and Michael McKean in Jerry Zak's production of Harps and Angels, a musical featuring the work of Randy Newman.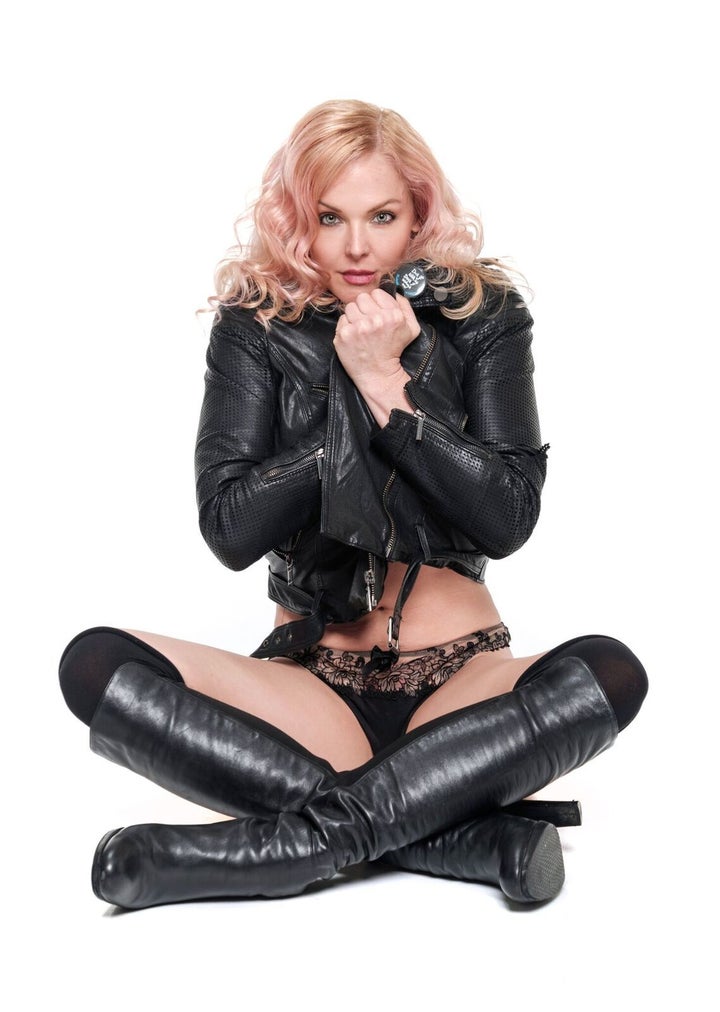 First things first—your name, Storm Large. Stage name? Real name? What's the deal?
Real name. Boring story. My Dad taught at a prep school and a mother of one of his favorite students was nicknamed "Stormy". He thought it was a cool name for a girl…not taking into consideration our last name and our genetic tendency to be big, loud people. But you know, society is super easy on girls who stand out and are huge. (Ahem) Worked out well in the end, I suppose. Had I been a boy, my name would have been "Edward".
Acting, singing, writing, cooking – are you a Renaissance woman?
I can't fix or build anything yet, so…not really. Mostly I just love attention and food.
How did the Pink Martini gig come along? What's the difference between singing with them and singing with your own band?
In 2011, China Forbes, the original singer, hurt her voice and needed vocal surgery. Thomas Lauderdale called me REPEATEDLY urging me to fill in. I must have said no a dozen times…though Thomas, China and I were friends and had performed together periodically over the years, I did not know a single Pink Martini song. PLUS, China has an incredibly pure, beautifully trained voice, and I'm kind of a beast, vocally. When Thomas (and then China) finally convinced me to step in, I had to learn 10 songs in 5 languages in 4 days to perform my first shows with them at The frikkin Kennedy Center. It was nerve wracking to say the least…but afterwards, it seemed an odd, but good fit for us all. Now I am co-lead singer and am so so grateful for their pressuring me to step out of my comfort zone... Pink Martini has been the music school I never thought I had the talent to attend…they have all, collectively and individually, made me a better musician.
Pink Martini and Le Bonheur (my solo band) share a few similarities…like say, The Westminster Dog show and a pack of wolves have some things in common. Both are beautiful…just in different ways.
At one point, you grew tired of singing and decided to become a chef. Why did that career track end and what brought you back to singing?
As with Pink Martini, it all started with doing a favor for a friend. After September 11, 2001, like so many other people, my priorities were shaken to pieces. I started to feel that being a performer was a shallow, vapid pursuit. I felt I should live more of a life in service to others. The music business in the late 90s…well, ANY time, really, was a soul crushing carnival of dipshits and douchelords, and I was sick to death of their narrow definitions of success, and their even narrower view of how to get there.
Not the musicians, I'm talking about the industry types who thought they knew it all… heaps of shiny, uninteresting idiots, out there looking to "discover" Nirvana …part seven.
Anyway, I moved to Portland January 2, 2002, originally, to take care of my friend's dog while she was on tour. I had always loved Portland. She was the dark and serious little lesbian sister to Seattle's big, manly plaid success story. She was a hole in the wall boutique full of crabby DIY artists and had the best fucking coffee in America. After about a week I decided to stay, get a job then enroll in the culinary institute. I didn't want to be a chef, really. I thought I could possibly be a nutritionist or create a healthy Meals On Wheels type thing for older or homebound people.
I started bartending at a place downtown called Dante's. The owner, Frank, was an old school fan of mine. He kept hinting at getting me back onstage. I told him no a bunch of times, until he needed me. Dante's was then, and still is a music venue slash burlesque club. Rock n roll, pizza and boobs….very Portland. Frank had live music, or some theme, for every night of the week. At the last minute, his Wednesday night money-making band up and quit. Frank asked me to put something, anything together to fill the vacancy, soon as possible. Furious that Frank, (whom I love to this day) was put in such a shitty position, I promised to help out. Made a few calls to some of my dirt bag musician and crew friends and put together "The Balls".
James Beaton, (whom I still play with), James had played keys in Everclear, Geoff Templeton and Brian Parnell from Motherlode…we did jazzed down versions of punk rock and metal (I called them 'sub-standards'). It was a wild cabaret kind of show. I played an over the hill cracked out former showgirl who had screwed or screwed over everybody I ever met, and every Wednesday I would have a new (totally fake) inexplicable injury. It was a blast. Soon after we started, The Balls were a local hit and every Wednesday was packed…for years. Those first few weeks at Dante's to now,15 years later, I have had more fun, raised more money for more charities and been more of service to people with my voice and terrible sense of humor than I could have ever been with food.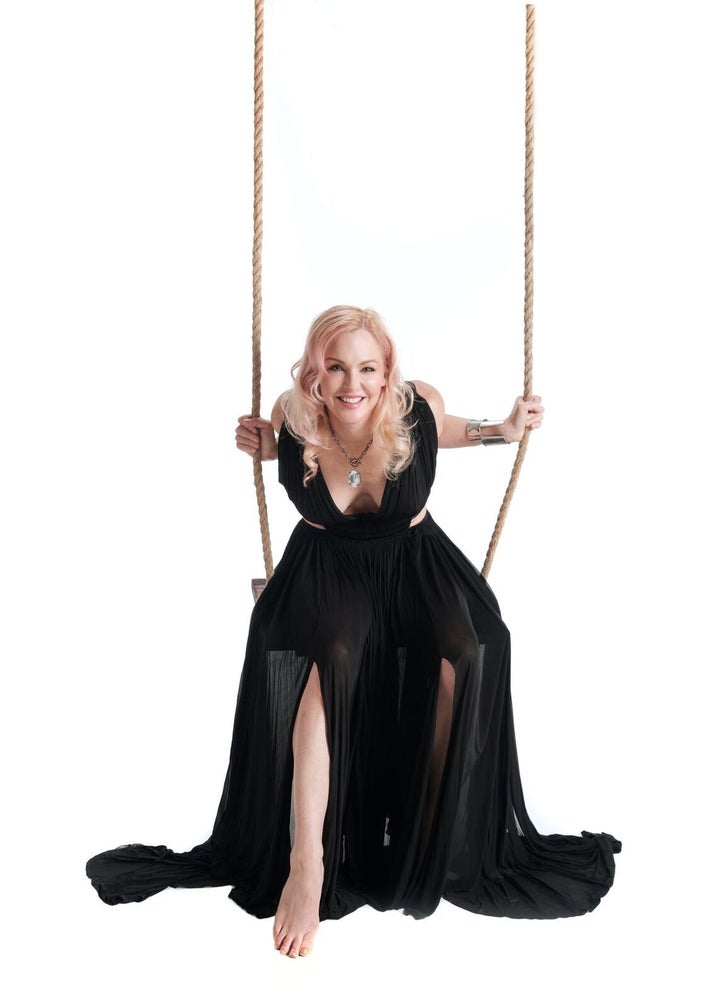 Do you make like a chef anyway for your friends and family? What are your specialty dishes?
Oh yeah…I still cook whenever I'm home or if I'm staying with friends. My specialty depends on the season….Winter I make bone broth and slow cooked stews, Summer I make fresh gazpachos and grain salads….anything in between. Just no baking….real baking takes a supernatural patience for math and, yeah….don't have that.
Who are the musical artists that have most influenced you and whom you most admire?
My first favorite record was Abbey Road, next was The Kinks, Give The People What They Want, The Clash, Combat Rock then a long list of punk rock, X, Ramones, Bad Brains, Suicidal Tendencies… None of whom I sound ANYTHING like. I tried to sing punk and hard rock but A. I had a big, annoyingly pretty voice, B. was chubby and uncool, and C. thought I was hilarious and couldn't shut up on stage. It all works out great, now, but I was an embarrassment of a punk rocker. I also cared a lot about stuff…also ruining my chances of ever being cool.
The people I most admire are unapologetically authentic. People like Lenny Bruce, Tom Waits, Iggy Pop, David Bowie, Don Rickles, Patton Oswalt, Dave Grohl, Charles Mingus, JK Rowling, Rita Moreno, Dan Savage, Tina Turner, Dave Chapelle… I know these aren't all musical influences, per se…but I have ADD and squirrel.
What kind of musical training did you have?
Jaeger-soaked throat crunches. In all seriousness, my training is all trial and error, gig after gig, tour after tour, with a few moments of seeking therapeutic help from some professionals, namely Razz Kennedy in SF. I maybe saw him four times, but he taught me how to stop making throatburgers out of my chords.
What's the good and the bad that you got from drugs?
The bad from drugs is that I really enjoyed them, so when I'm confronted with temptation, I'm truly tempted. The good is….I know where that road goes for me. I am incredibly grateful I did psychedelics when I was really young, I can't imagine doing them now…but there were sweet connections made and things revealed to me through mushrooms and acid that were later recognized in times of near death, or while at the bedside of the dying.….I realize this is a short answer to a longer and more complex set of experiences, but may I please also add…I, in NO WAY, assume any role of good influence. I will not brag about my use of drugs because it was in no way cool. My drug experiences were many stupid, STOOOOPID decisions. I'm glad for a scant handful. I am FAR MORE grateful that my stupid fucking kid self didn't die and become somebody's sad story about their friend/sister/daughter/cousin/ whatever, about how '…she was always pushing it until one day…dot dot dot.'
You spent most of your childhood visiting your mother in mental institutions and psych wards. How did that effect you? Did your father raise you? How was that relationship?
At first it was great because I got to go see my mom. Since she was gone so often, going to see her was a huge deal and pretty awesome. We'd get her cigarettes, chocolate covered cherries, clean clothes and drive to whatever hospital, sign in all official like. It was like going backstage at a gig, I guess. Then I realized she was more into being sick, the drama of it, than being home with us. Her identity seemed inextricably linked to her problems, and she lived for every sad or scary moment that she got to headline. Soon it became a miserable slog.
One of the most difficult things about dealing with a loved one with mental illness is that it seems that they could just DECIDE to be better, to stop trying to kill themselves, to just come home and be normal. It's a slow dance of guilt, rage, and sorrow across a sticky floor in heavy ass shoes. I gave up many times and just stayed away from her. There were many years of no contact at all with my mother. My Dad had no idea what to do with me so he just focused on what he did best, teaching and coaching boys. Meanwhile I was a hormonal, impatient, lonely asshole teenaged girl who grew into a drug addict asshole twenty something musician who couldn't be bothered with making time for some sick sad woman I might very well turn into.
A doctor told you your mother's psychosis was hereditary and you'd end up with it in your twenties. Did you believe him? How did that work out?
Oh yeah, I believed him …and in a lot of ways he was right. I was and am still a lot like my mom, I look like her, am extremely sensitive like her, I can also laugh so hard I nearly suffocate, she gave me that. We both just seemed to feel more than other people. Luckily, though I am like her by nature, my nurture was extremely different. She was adopted at nearly four years old and had been pretty traumatized by then. Her new family was not much help, either. Once my mom was really out of the picture, save for a few brief stints out of the hospital, I was pretty much on my own by 5 or 6. Everyone else was either preoccupied with mom stuff, or pretending it was all normal. Most of the guidance I got was out of anger or just not understanding who I was.
I did NOT fit in, and so I went from being ignored or receiving guidance like: SHUT UP. YOU ONLY WANT ATTENTION. GOOD GIRLS DON'T SAY THINGS LIKE THAT. UGLY FAT CHICKS SHOULDN'T MAKE SO MUCH NOISE. YOU LOOK LIKE A BAG LADY. ARTISTS ARE LOSERS. YOUR FRIENDS ARE LOSERS.YOU'RE A LOSER." You know, the yooj. All that rejection, though, is pretty good training for being an artist, when you think about it. It also drove me away from 'normal'. Since normal hated me, I hated it right back and ran towards weird hoping weird would take me in. Turns out weird fucking LOVES me, and we ran away together.
I don't mean to sound so cavalier about the sadness that drove me, (that drives a lot of us.) Though I am really proud of who I am today, I still have a lot of unresolved anger, a seemingly incurable loneliness plus a twinge of fear that I may still snap one day.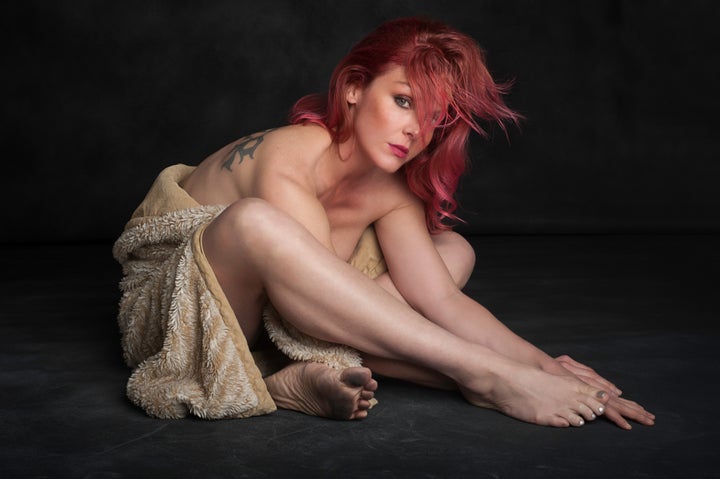 Has the adversity you endured growing up informed/enhanced your performing? How so?
Definitely. I believe that people who feel terribly unloved or unlovable either perpetuate that negativity and punish the world for it in one way or another, or they seek to inspire and stoke as much love as they can. I am solidly in the latter category: I fill up huge, dark rooms full of strangers, then try to make them remember and experience all the love they have ever known or ever dared to hope for themselves or the world…then hopefully they love me, too. I make people feel good so they'll want me around.
What were you like in high school?
A chubby, uncool super horny loudmouth with a bad suburban mohawk.
To what does the title of your memoir, "Crazy Enough", refer?
When I was writing the one woman show that later became the book, a lot of pain I had suppressed was coming back and gutting me. I went to see a therapist a few times to talk about these feelings, until I realized the feelings that I was experiencing, the intensity, the floor dropping away and the flailing, was just life as an artist. I said to my boyfriend at the time, "I don't think I need any more therapy right now. I'm just crazy enough to keep doing what I do, and I fucking love what I do."
Any fond memories of the punk rock period of your life?
Many. One that sticks out was Harvard University's 350th anniversary. My buddy Keith and had I climbed up into a statue in the Cambridge Common the night before to sleep. We woke up and found ourselves surrounded by maroon blazer-ed future senators filling the park for this huge party. We were too high up for anyone to really see us, so we just stayed up there, watched, got high and had sex while multiple generations of Lords and Ladies, milled about, toasting each other's privilege.
What remains on your bucket list?
Riding a bicycle across Europe. Having a farm. Fall in love again.
Is there a story connected to the large "LOVER" tattoo on your back?
When I lived in San Francisco, I used to work out in a boxing gym with big gnarly dudes who had cholo style gang tattoos. "PITBULL" "BUTCHER" "BLOOD" etc. My boyfriend at the time had just started doing tattoos and we were talking about one for me. I loved the idea of a huge, mean-looking tat, but one that said something sweet. It's perfect. Gotta give George (my ex who did the work) a shout out… War Horse Tattoo in SF. He's an incredible artist. He was too good for me.
How did your appearance on "Rock Star: Supernova" change you or change things for you?
Though I am grateful for that incredible experience, one of its greatest lessons was; fame is SCARY. I experienced TV fame for only a few months and it was terrifying. Because you (a made up, pretty version of you) exist in the privacy of people's homes, sparkling out of the glowing shrine of televisions in living rooms, bedrooms, work places and daily lives, an INTENSE one-sided, personal relationship begins to form for some people. It was creepy as fuck. People would burst into tears meeting me, push cellphones at me to say something to their dying relative, they'd crumple to the ground sharing some of the most intimate, private, sad and scary things with me….in PUBLIC, as if we were intimate friends.
This wouldn't just happen at gigs, it happened in airports, shopping malls, restaurants….there was some weird better than human shine hung on me by these folks, and really only because I had been on television. I had to be very careful with how I responded to some people and legit encourage MANY of them, gently, to seek professional help. It gave me that Kurtz-esque 'diamond bullet' clarity on how television has been king in dictating our culture and politics for the last half century. I didn't like it, but while it was my 15 or so minutes, I tried to be as kind and generous with people as possible. Really fucking evil people can and DO take that power to make multitudes believe or do almost anything, just because they are a strong TV personality. Ahem…moving on…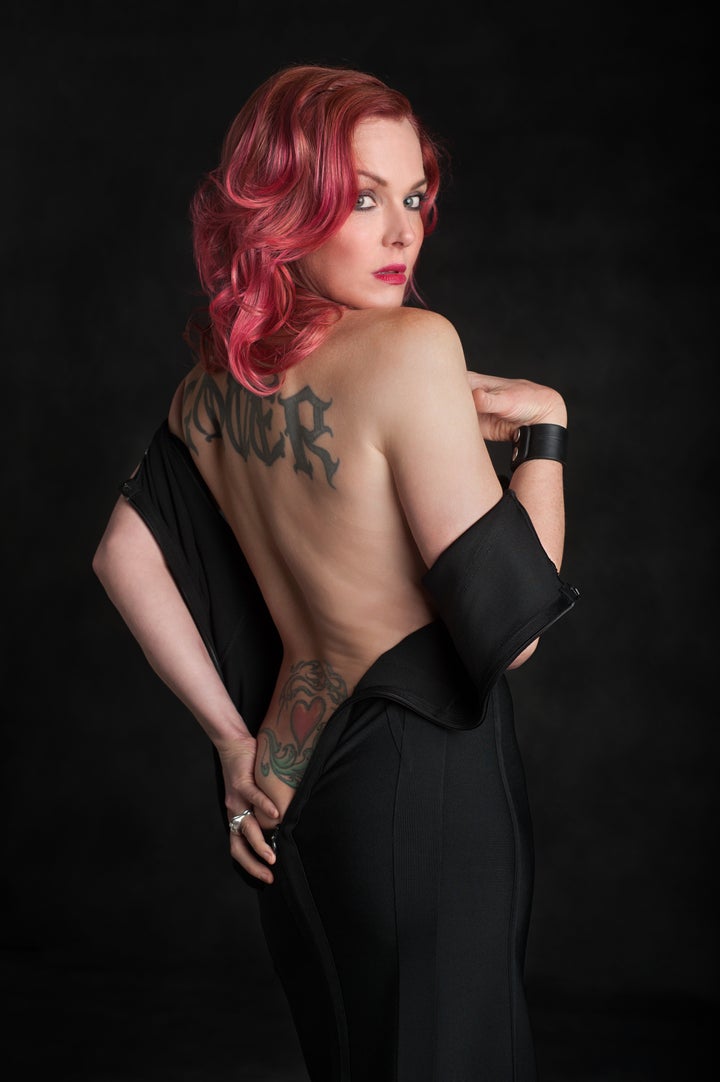 Your desert island choices:
Movie: FUCK YOU ONLY ONE? Ugh. OK. One VHS tape with Monty Python Holy Grail, followed by Blazing Saddles then The Exorcist then as much of the Shining as possible until it ran out of tape.
TV show: National Geographic (NERD)
Music: Every Beatles record but I would hide a bunch of Bowie, Stones, Public Enemy, X, Ramones, Stevie Wonder, Beyonce and the new Lorde album in my giant bulky parka that nobody on a tropical island would ever think was weird.
Theater: Jesus Christ Superstar
Magazine: Psychology Today (NERD)
Blog: Don't really read one regularly…
Anyone in history for conversation:
Jesus Of Nazareth and Ben Franklin. We would all play two truths and a lie. But if I can only have one: Jesus. Poor guy…I'd just want to listen to him instead of finishing all his sentences like everyone else seems to do.
Anyone in history for romance?
Anais Nin, Josephine Baker and Paul Newman. One at a time or all in a fevered heap together. Oooh, can Jimi Hendrix be there too? Too much?
Any special diet/exercise/lifestyle habits your follow to keep yourself in fighting shape for performing?
Drink as much water as I can, sleep as often and for as long as I can, eat as much fresh produce I can find on tour, try to not exceed three alcoholic beverages a night, avoid anything fake/crappy or low fat. For exercise, besides my job, which is basically doing jumping jacks in high heels while screaming for an hour a night…I do yoga, ride, walk a ton, and worry.
Any involvement in the more spiritual stuff--meditation, yoga, massage, etc.?
Massage is essential for me. My body gets beat up from all the travel. Yoga is really my jam, though. I love it. I try to meditate, and I find that yoga gets me into that zone better than just sitting.
What's one thing you'd most want to change about yourself?
I wish I had more patience, and less ADD…I'd learn piano and be a sick ass drummer.
What's one thing our readers might be surprised to learn about you?
I'd like to save the world, but I don't know what to do.
What are your hobbies/interests outside of performing?
Yoga, horseback riding, painting, sex.
Any advice for those considering careers in singing/performing?
Work harder and longer than anyone. Be cool with everyone and remember you are no better than anyone at the gig. Just because you're lit and amplified does not set you above the people doing lights and sound. Honor the crew and the staff at every venue. Without them, you're just a bunch of hot air in the dark. Though you might be really good, there is ALWAYS somebody better than you, prettier, smarter, younger, more talented, more hooked up, etc. But fuck it. You do this because it IS WHO YOU ARE. If you only want fame or money, don't ask me for advice. More than half the people reading this haven't a clue as to who the fuck I am.
What do you look for in a fulfilling romantic relationship?
If I could design it, it would be great sex, laughter, honesty, interesting conversations, fabulous food, exciting adventures and enough confidence so that each of them would be ok with being apart from me from time to time. Also sharing.
My favorite quote so far from your blog: "Don't get me wrong, I will bust your fucking head open on a table and kick your unconscious body around in front of your screaming girlfriend in a bar fight. But, in general, I'm a big softie. Ask anyone."
Where did that spirit come from?
Beats me, but both are true.
Related
Popular in the Community