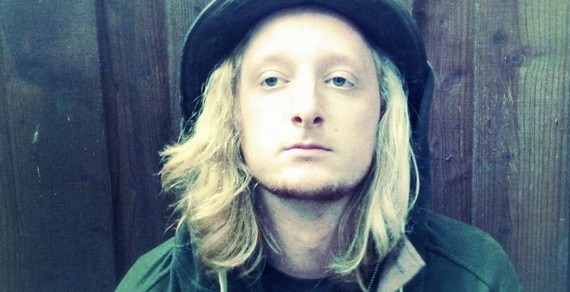 Jake Atlas, known as Thriftworks to the world, is traversing multiple musical dimensions boasting his unique sonic style. With new music pouring out of him like an unleashed dam, he has so much to share with eager eardrums. Recently releasing a three part album, Fade, Fader and Fadest, his live shows are full of sticky sounds and visceral vibrations. In this exlusive interview with Thriftworks, we discover the story behind the name, his inspirations, spirit animal and more!
Morena: Tell me about the name Thriftworks. How did it come to be?
Thriftworks: I moved out to Emeryville, CA to go to audio engineering school. I came out with very limited production gear, just a laptop, an acoustic/electric guitar, and a practice amp. I started slowly acquiring more and more studio gear from the refuse room in my apartment. I found discarded desks and furniture in the parking garage and I was assembling shelving out of scrap wood, cardboard and tape. Essentially thrifting my studio together was working out.
Morena: Your newest three part album Fade, Fader and Fadest offers a sonically diverse range of songs. Full albums, let alone three, is unique in the electronic music world. What is the story behind the journey of these albums?

Thriftworks: I had a whole grip of tracks I wanted to get out into the world. I wasn't sure exactly how so I assembled them into three different parts. In my opinion, Fade consists of slower, more syrupy and emotive songs. Fader is like a fat shmear of midtempo, bouncier cuts, and Fadest is more representative of some of my latest work. All in all the tracks span the course of 3 years. I just wanted to try a different approach to releasing and keep people stoked on a constant stream of new music over the course of a month.
Morena: Who have been some of your greatest influences, whether from music, art, literature, dead or alive, friend or family? Are there any current artists in your genre that you admire and would like to collaborate with?

Thriftworks: I started making beats when I was 16 or so, those were the days of myspace. Honestly my biggest early influence was a dude from Fresno, CA by the name of Hunchback Esquire. He made laid back instrumental hip-hop and turned me into a fiend. As of late it's people like Flying Lotus and the entire Brainfeeder crew, even just the LA beat scene in general. After moving to California though it was my friends B.Lewis and Insightful who really inspired me to push harder, I'm proud to call those schmucks my friends. As far as collaborations, I'll keep that to myself so as not to look like a fool.
Morena: If you had to choose an animal that represents the spirit of you and your music, what animal would it be (mythical creatures included)?

Thriftworks: Pterodactyl. Easy.
Morena: You hail from Pennsylvania but you have settled in Oakland, California. What brought you there?

Thriftworks: Trade school. I studied audio at Ex'pression School for Digital Arts. I was cool but more or less a goat rope.
Morena: Touring is an incredible, albeit taxing, experience for a musician. Many of the shows you attend are music festivals. What is the touring adventure like for you? What have been some of your favorite festivals and countries that you have played?

Thriftworks: I love the tour life. I love playing music for faces new and old. But mostly I love the travel aspect. Cruising down a new city or town strip with coffee in hand is my bread and butter. Meeting new people and making new connections is what it's all about. Festivals are always fun because it's usually a free-for-all in the woods with a butt-load of friends. I got the opportunity to play a small tour throughout Australia last year, it was absolute titties. Playing a private party up in the northern tropics of Cairns and eating fresh grilled fish from the Great Barrier Reef after my set is definitely and all time winner.
Morena: Do you have any goals, projects or hopes for this year? Where do you think 2015 will take you?

Thriftworks: Definitely. The general goal is always to keep making more and better music, expanding the fan base, and just growing upwards. Europe is on my mind in a big way, my team and I already have a few things in the works. Only time will tell but international is the certainly the next step.
Popular in the Community