Are you ready for your next best chapter?
Joy Mangano has changed America. Chances are, there's a product she has dreamt up sitting somewhere in your home right now.
Today, Joy is recognized as one of the country's most iconic inventors. From the Miracle Mop which transformed how people cleaned their homes in the 1990's, to the velvet Huggable Hangers that keep our favorite clothes from slipping (nearly one billion sold), the ideas that her creativity has spawned have had an indelible impact on the lives of millions of people around the world.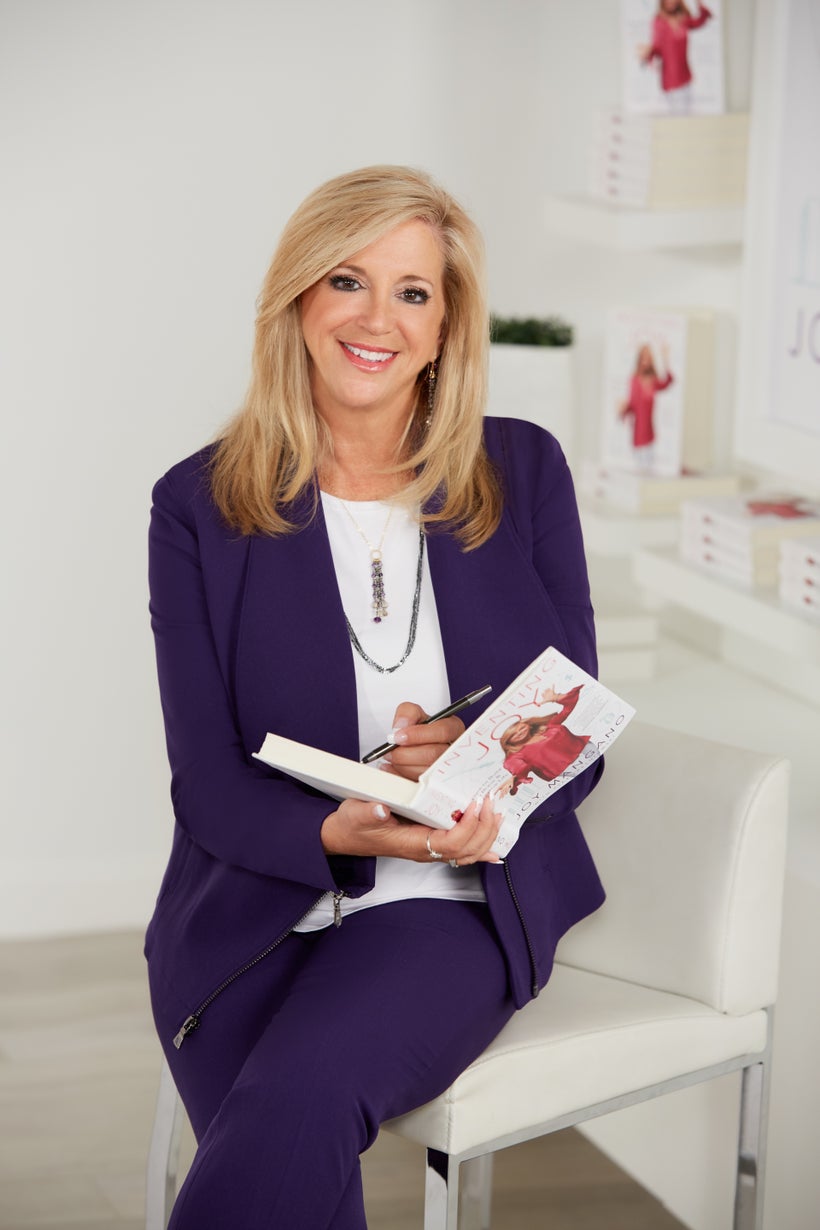 Along the way, Joy has invented dozens of other products, from luggage to accessories and other home merchandise, including kitchenware. Her business has grown to a staggering $3 billion, and in doing so, Joy has helped remake the home shopping industry, becoming a fixture on HSN. She now holds more than 100 patents and trademarks.
The legacy Joy has created — a legacy of hard work, tenacity, and entrepreneurship — hasn't been easily forged. Separated from her husband when her kids were toddlers, she was a single mother who not only raised a family, but she built an empire. She has employed hundreds of people, including the legion of women she hired years ago, whom she met through a local church — and who were the first members of the workforce she has championed and continued to support through this very day.
The astonishing story of Joy's personal strength has been an inspiration to many entrepreneurs, inventors, and ordinary people across the world. She went from an ordinary middle-class American, to a powerhouse in business — so it's no wonder her story of the classic American Dream was portrayed in the 2015 film JOY, in which she was played by Academy Award-winning actress Jennifer Lawrence.
"It was an honor to play Joy on the big screen — such a fearless woman, an incredible business force, and an inspiration to everyone she meets!" Lawrence wrote about Joy.
The latest chapter to emerge from Joy's world is her new, binge-worthy book, Inventing Joy, in which she delivers to readers her own personal blueprint on how to redefine the joy in your life. Inventing Joy is an empowering journey packed with lessons that readers will thrive on. The book goes on sale nationwide everywhere books are sold on November 7th, but you can tune in to catch the world premiere of Inventing Joy exclusively on HSN on November 4th.
In the meantime, don't wait — pre-order your copy here now. (If you choose to pre-order it, you'll even receive a signed edition autographed by Joy.)
Today, October 23rd, is the eve of Joy's official book launch party, to be held tomorrow at WeWork in Manhattan. On the brink of this exciting day, I am privileged to have been granted an exclusive interview with the legendary inventor, to learn about her life, her story, and what we can all learn from the example she has set. Here, Joy shares her message.
Follow Joy on social media:
REED: You're launching your new book INVENTING JOY on HSN on November 4th, and tomorrow is your book launch party in New York City. What qualities do you think helped you to "invent" yourself?
JOY: You have to understand deep down that your life is ultimately in your control, and that your instincts about how to make a better life for yourself and your family are meaningful and worthwhile. If you have that, and you are willing to shake off all of the "rules" that others put in place to stop you from getting started, the impact that you can have on your world is limitless.
After reading the book, I really picked up on your uplifting advice. As a reader, it honestly made me feel like I was a part of your family. Was that your intention, for readers to feel like kids or family members of yours, learning from you?
The book, like every product I have, started with an idea. In this case, it was my children, around the dinner table, talking about life and love and where people are in their lives and their place in the world. And they said "Mom, we are so much stronger because we were on your journey with you, and we got to watch what one woman can do to survive and thrive, both in failure and success, and we need to figure out a way to share that with the world." And that was the conversation that started this whole magical ride.
There's a concept in your book that I found particularly interesting, called the "Blueprint." Can you describe it in further detail for us?
At its most basic level, my blueprint is the set of principles that I use when I'm building my life at work, at home, and with my family. They are very specific, and they guide me in every decision I make. But they were no accident. These were the very principles I learned along the way through my journey, all while struggling and striving to be better and stronger and more fair-minded in everything that I do. I didn't just learn these principles -- I earned these principles. And I think they can apply to anyone who wants to live life with a little more joy.
In your book, we learn the important lesson that there are "no experts." You wrote: "It doesn't matter what you're talking about, work/life/family, there will be tons of 'experts' lining up to tell you that any new idea or approach is wrong, that it won't work, that it's never been done, it's not 'normal.' Well, those 'experts' might be experienced, they might be successful, or even famous, but that doesn't make them right. I've been there, I've had fancy experts tell me I'm wrong, I'm crazy. And they were so, so wrong. So don't let them stop you."
What other messages do you want other people to take from the book?
That's a big one. That's one that everyone seems to relate to. Another is "A No Is Not A No". Because we're all told no, all the time. Even me, I'm not shy about it, I'm still told no way more than I am told yes. But I've learned that a "no" is just the beginning of the conversation. It's the starting point, not an ending point. I know this because I've turned "no" into "yes" more times than I can fit in one book.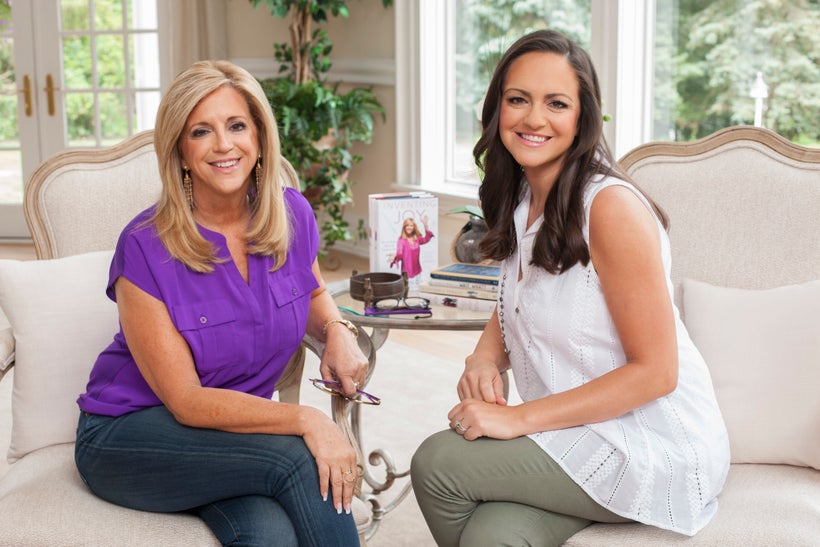 Your oldest daughter, Christie Miranne, is the Executive Vice President of Product Development and HSN strategy. For the past 13 years, she's been a core part of your team, aiding you in the effort to design new products that elevate your customers' lives. What skills does Christie bring to the table, and what advice do you have to other entrepreneurs about working with family?
Christie is my other half. We always say we share the same brain. And I think that's because we have been in the trenches together for so many years. But it goes back further than that. You have to remember, Christie was always my biggest support, even when she was a child. When I got divorced, little Christie was there, right there by my side, trying her best to help us get through it.
She's always had an instinct to help others, and that empathy is transformative and foundational when you apply it to a passion for creating product that makes people's lives better. She's harnessed that empathy and combined it with a force of will and confidence and strength that makes her a true powerhouse in the product world.
What are the challenges — and the"joys!" — of working with family? Both Christie and Bobby are deeply involved in your business. How do you remove business from the equation at the end of the day and not let it interfere with your family lives? Any lessons we can all draw from this?
Honestly, I don't remove business from family and life. I mesh it all together. Sure, it can be messy, but who better than to share your greatest ideas and dreams and trials and challenges with than the people that you love the most. No matter the challenge, and no matter the creative disagreements and diverging opinions along the way, in my opinion the mess is always worth it, because in the end it is a beautiful and colorful life that we all live, together.
You always reinvent products — and with INVENTING JOY, you're reinventing the idea of a book, too. Can you explain what, structurally and contextually, makes this book unique?
The idea of putting my entire story in the hands of someone else, and all of the deepest lessons and beliefs that I've formed through everything that I've experience, creates such an intimate connection between my life and yours. There was no way I would stop there. I wanted to share my favorite quotes, and I put them in squares that you can cut out and post everywhere in your life.
I also insisted on a page they could use to tear out and write directly to me, and I even put in a secret chapter (shh) that you can find and go back to whenever you need that little extra push in your day. I don't see this as a book that you read; it is a conversation between me and you, and I wanted it to grow and live on well after the book is finished.
Academy Award-winning actress Jennifer Lawrence famously depicted the start of your amazing entrepreneurial journey in the 2015 film JOY, inspired by your life's work. Now, you're joining forces with her once again on November 10th, for a special event at the Jennifer Lawrence Foundation in Louisville, Kentucky.
How has your relationship with Jennifer grown and evolved since the film, and do you plan to continue collaborating with her in the future?
I'll tell you, not only is Jennifer beautiful and amazing and talented and wise beyond her years, but also she comes from one of the most amazing and beautiful families that I've ever met. My family has had the pleasure and honor to get to know her family, and we have so much energy and creativity and excitement that you can't bottle it up! So lots more to come on that front – all I can say is stay tuned…
I know the next few weeks will be a busy time for you! You're heading out on the road on a national bus tour — very exciting! I know it was your dream to arrange bus transportation to crisscross the nation and meet your fans. Share with us a few cities where supporters can come meet you, and purchase a signed copy of Inventing Joy.
It IS my dream! I speak to millions of people on TV, and there is no one I love and respect more than the customer. So when I started this project, I told all the publishers that I met with that I want to get on a bus and drive round the country and meet as many people as I can.
I want to meet marching bands and cheerleading squads and dreamers everywhere. Because I was them. I am them. And I wouldn't want to do anything else.
Editor's note: A few of the cities Joy will visit on her national tour include New York, Chicago, Nashville, and Tampa, among others. See below for her full, official tour schedule.
What do you hope that your legacy will be for people in this country and around the world?
If you know me at all, you know that what matters to me is ideas, dreams and family. What I hope I leave behind is a little bit of proof—proof that, if skinny little Joy from Long Island can build for herself a life of love and success and creativity, and that you can too. And maybe that is enough to get someone, or maybe a lot of people, to take just that very first step. To change their life, help their family, impact their world. Because that is how every journey needs to begin, with that very first step.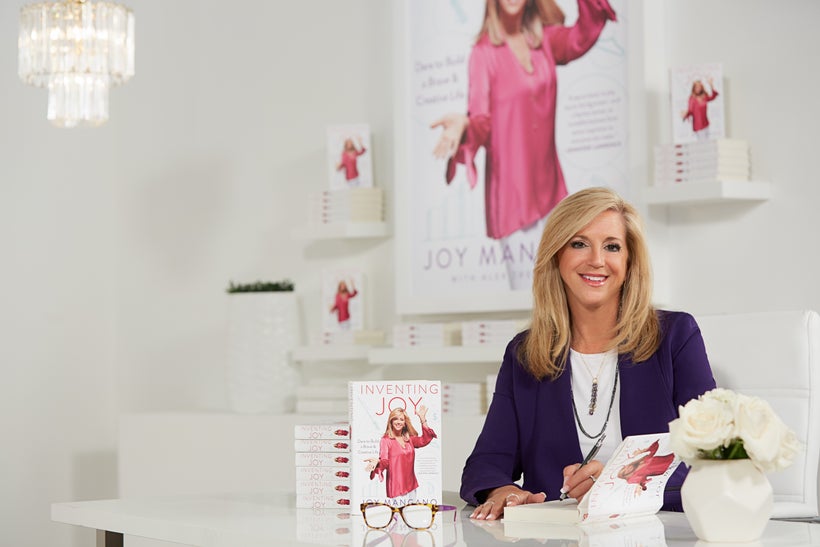 Joy Mangano's Official Book Tour Schedule:
New York, NY: Tuesday, Nov. 7th at 6:00 PM. Bed, Bath & Beyond — 850 3rd Avenue, Brooklyn, NY 11232
Chicago, IL: Thursday, Nov. 9th at 11:45 AM. The Standard Club — 320 Plymouth Court, Chicago, IL 60604
Cincinnati, OH: Thursday, Nov. 9th at 7:30 PM. Joseph-Beth Booksellers — 2785 Dixie Highway, Crestview Hills, KY 41017
Louisville, KY: Friday, Nov. 10th at 8:30 AM. Leadership Louisville at the Frazier Museum — 829 W Main Street, Louisville KY 40202
Louisville, KY: Friday, Nov. 10th at 6:00 PM. Gilda's Night with the Jennifer Lawrence Foundation — Private Event, Invitation Only
Memphis, TN: Saturday, Nov. 11th at 11:00 AM. NAWBO Memphis at the Novel Bookstore — 387 Perkins Ext, Memphis, TN 38117
Nashville, TN: Saturday, Nov. 11th at 7:00 PM. Barnes & Noble (Cool Springs) — 1701 Mallory Lane, Brentwood, TN 37027
Birmingham, AL: Sunday, Nov. 12th at 2:00 PM. Books-a-Million at Samford University's Wright Center — 800 Lakeshore Drive, Homewood, AL 35209
Charlotte, NC: Monday, Nov. 13th at 10:30 AM. Lowe's Corporate Headquarters — Private Event, Invitation Only
Atlanta, GA: Monday, Nov. 13th at 7:30 PM. Marcus JCC of Atlanta Book Festival
REAL LIFE. REAL NEWS. REAL VOICES.
Help us tell more of the stories that matter from voices that too often remain unheard.
This post was published on the now-closed HuffPost Contributor platform. Contributors control their own work and posted freely to our site. If you need to flag this entry as abusive,
send us an email
.