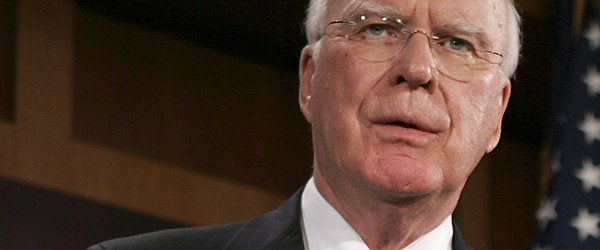 Senate Judiciary Chairman Patrick Leahy and White House Chief Counsel Greg Craig discussed on Tuesday the Senator's proposal to set up a truth and reconciliation commission to investigate potential crimes of the Bush administration.
"I went over some of the parameters of it and they were well aware at the White House of what I'm talking about," Leahy told the Huffington Post. "And we just agreed to talk further."
The dialogue between the Vermont Democrat and the president's office is a new phase in a delicate process concerning how best to handle potential crimes in the previous White House. Leahy proposed an investigatory commission on Monday, after which the president -- speaking at his first news conference -- said he did not currently have an opinion on the plan. Obama went on to say that he would rather look forward than backward, but he promised to prosecute any crime -- whether committed was a former White House official or everyday citizen.
Asked about the President's response, Leahy said that he believed the White House was right to maintain its focus on economic matters at this moment. "But I do intend to follow up and talk with him about this," he said. "I'm not wedded to any part of the plan so long as we get all the facts out. I would hate to see us take the attitude that that was then and this is now, let's not worry about any of the mistakes or the abuse of the law and give it a pass ... because it is my experience that you continue to make mistakes until somebody calls you on it."
Leahy did add an important ripple to the story in the interview with the Huffington Post: Congress will likely proceed with investigations regardless of whether Obama is on board.
"Oh yeah," Leahy said when asked if he would go forward without Obama's endorsement. "I think the Senate and the Congress as whole has an oversight responsibility that has to be carried out here anyway. Now it is much easier with the cooperation of the administration. A lot of things with the subpoenas I issued the past few years, we got a lot of information but a lot of it was held back."
This path could create a curious situation for the Obama team, in which the president has committed his administration to prosecuting illegality and the Congress provides the evidence of such.
"What I would much rather see is to see us working together," said Leahy. "We have a common interest, both the Congress and the administration to get this thing worked out ... In this instance, this is so important that our common interest is to get the truth out."