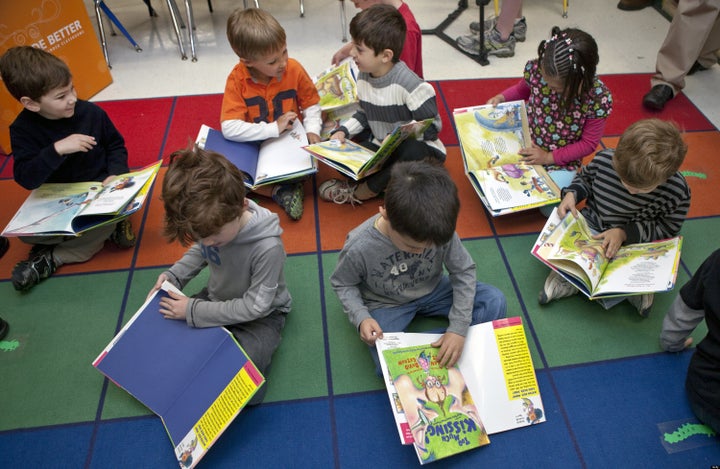 I had coffee the other day with a teacher friend of mine and we got to talking about a recent purchase of hers -- 25 books for her kindergarten classroom. The money came out of her own pocket. "We need the books," she explained, "but we don't have the budget."
Needless to say it broke my heart, which is why I was so thrilled to hear about LeapFrog's new initiative, launching today. The program, entitled: Tag. Give. Read. aims to help more U.S. children learn and love to read. LeapFrog laid the program groundwork with a 2009 donation of $1.5 million in Tag School Reading Systems and books to the classrooms of more than 10,000 U.S. Kindergarten students.
With Tag. Give. Read., LeapFrog is making it easy for anyone to "give the gift of reading" and put Tag materials into the hands of an additional 30,000 U.S. schoolchildren. LeapFrog will match, dollar-for-dollar, up to $100,000 via DonorsChoose.org, for donations made to teachers requesting Tag School Reading systems. And even those who do not have a dollar to give can still get involved by becoming a fan of LeapFrog on Facebook. For each new "like," LeapFrog will give a Tag book to a kindergarten teacher, up to 25,000 books.
From CEO Bill Chiasson: "LeapFrog is committed to helping more children learn to read and to become enthusiastic readers for life. Teachers have spoken -- our initial donation of $1.5 million in Tag School systems made a real difference for them and their students. We look forward to continuing our mission by bringing Tag technology to nearly 30,000 more students with our Tag. Give. Read. program."
Combating A Crisis in Literacy
According to the 2010 National Reading Report Card, nearly two-thirds of U.S. fourth graders read below grade level. Studies also show that children who get help early and who enjoy reading are more likely to be successful in school.
With early education funding cut in many states, LeapFrog wanted to give help where it meant the most -- in kindergarten, the year when children are taught to read. More than 96 percent of the teachers who used Tag School systems in their kindergarten classrooms said their students' attitudes about reading improved, and 95 percent said their students wanted to spend more time reading. And after several months, 97 percent of teachers said their students' reading skills had improved.
Anyone Can Help
By providing matching funds through DonorsChoose.org, LeapFrog is doubling the gifts of anyone who wants to "give the gift of reading" to teachers requesting Tag School systems. Those who wish to give can visit the Tag. Give. Read. page at LeapFrog.com. All DonorsChoose.org projects that are eligible for the LeapFrog match are searchable by teacher name or geographic area. Once a teacher's goal for Tag School systems is half met by donors, LeapFrog provides the rest.
In addition to giving funding through DonorsChoose.org, LeapFrog will put Tag School materials in the hands of 20,000 more children through a Facebook "Virtual Book Drive."
For More Information
To become part of the Tag. Give. Read. program, visit http://www.leapfrog.com/taggiveread for links to the LeapFrog page on DonorsChoose.org and the "Virtual Book Drive" page on Facebook.
Related