It's the kind of positive image and auto industry credibility which no new car company could possibly afford to buy, but only hope to develop over decades.
But we've learned exclusively that one of the nation's largest auto dealer groups has been signed by Fisker Automotive to carry their sedan and hardtop convertible Karma plug-in hybrid models, which will use an extended-range gasoline/electric hybrid system similar to that developed by General Motors for their Chevrolet Volt and Euro-market Opel Ampera.
And the young carmaker says achieving 100 mpg with Karma is not out of the question.
According to industry journal Automotive News, the influential Ron Tonkin Automotive Group owns some 15 dealerships in and around the Portland, OR area. AN says it is the #81 dealership group in the US with 2007 sales of almost 23,000 new, used and fleet cars and trucks for $466 million. Tonkin will be Fisker's exclusive Oregon state dealership.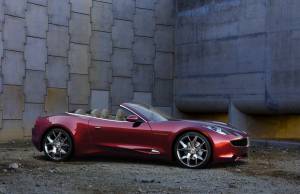 (Computer-enhanced styling study of Fisker's gas/electric hybrid Karma S hardtop convertible).
Unlike many of the megadealer groups which have been created through complicated finance deals by Wall Street firms in recent years, Tonkin started the company on his own with a single Chevrolet dealership in 1960 and still has control over the now-vast company. Tonkin, a former president of the National Automobile Dealers Association (NADA), has among his stores the nation's oldest Ferrari and Maserati factory-franchised dealerships.
Tonkin's MotoCorsa store sells Ducati, Aprilia and MV Augusta motorcycles. I know him; he's a sporty guy.
From Southern California through the "smile belt" through Phoenix, Dallas to Miami and north to Atlanta, Asian models have been king of the car world for some time. However, travel just 100 miles north of Los Angeles, on the coast to Santa Barbara and continuing through San Francisco, Portland and Seattle, and the automotive sporting and racing aesthetic is Euro-oriented, much more like that found in America's Northeast.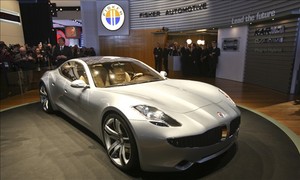 (Fisker Karma at least year's Detroit Auto Show).
That's one big reason there are no large paved oval race tracks from north of the Los Angeles basin to the Canadian border; only serious road racing courses. NASCAR has tried for years to build an oval track in Washington state, but has been refused by local governments every time.
Tonkin's been right before; he's hoping, nay, expecting to hit yet another home run with Fisker. Tonkin is that great eternal optimist like all successful car dealers (and salespeople of all kinds) who must by nature be positive and enthusiastic, never-say-die men and women; keep in mind he was president of the nation's major car dealer organization, NADA. He is a super-salesman, tempered with the mind to have known a sure thing or two when he was first to see it coming.
According to Tonkin, the Fisker factory has received orders for 931 Karmas.
Henrik Fisker, a former designer for BMW, Ford and Aston Martin says each Karma, both the four-door, four-seat sedan and two-door, four-seat hardtop convertible S model, will be built to each customers' specifications.
According to Fisker, "Karma uses Q-DRIVE plug-in hybrid technology, developed exclusively for Fisker Automotive by Quantum Technologies. A fully-charged Karma burns no fuel for the first 50 miles. Venture further and the small gasoline engine acts as a generator to keep the lithium ion battery pack charged.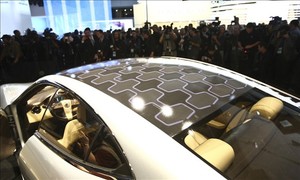 (Optional solar panels are planned for Karma's roof to aid in recharging the car's lithium ion battery pack; Toyota plans a similar system for the new-generation Prius, and those solar cells will also assist the Prius' electric-powered air conditioning system).
"Once the 50-mile electric range has been exceeded, the car operates as a normal hybrid vehicle. This balance of electric and gas range makes it entirely possible that Karma drivers who charge their car overnight and commute less than 50 miles a day will achieve an average fuel economy of 100 mpg per year."
The deposit for the sedan is $5,000, with deliveries expected to begin the second-half of 2010. Base price is $87,900. The company points out that the Karma may be eligible for a $7,500 tax credit.
The Karma S, the hybrid hardtop convertible, carries a deposit cost of $25,000, with deliveries planned to start at the end of 2011. Though no price has yet been set for the S model, the company says the drop-top will be priced "significantly higher" than the sedan.
The Karma's bodies will be built in Finland, by automotive R&D and small-production run specialist Valmet; Porsche uses Valmet to produce their Boxster and Cayman models.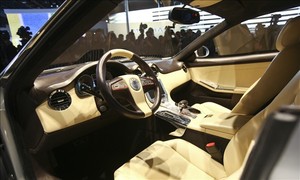 (Karma's front interior).
Fisker lists some impressive specs for the rear-wheel drive hybrids, claiming 0-60 mph in less than 6 seconds, a top speed of 125 mph and two driving modes: efficient economy and sport. As in other hybrids, regenerative brakes capture the heat produced by braking and uses that energy to help recharge the lithium ion battery pack. Fisker adds a low center of gravity provides an "optimal sport vehicle driving dynamic." Karmas are expected to have a range of over-300 miles.
Earlier this month, the company announced the opening of the Fisker Engineering and Development Center in Pontiac, MI. The company says the 34,000 square foot facility will house as many as 200 engineers and designers from Fisker and its suppliers.
Green Car Journal has selected the Karma as a finalist in its annual Green Car Vision Award competition.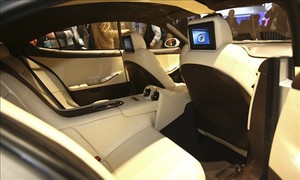 (Karma's reat seat; Tonkin tells us the car can hold the obligatory two golf bags ... and then some).
The company has also made a smart hire in Vic Doolan to run their dealership operations. Doolan is a former president of BMW North America and also ex-president, Volvo Cars North America; he knows as much as anyone in America about selling technologically-sophisticated and expensive European luxury cars.
Fisker's North America corporate headquarters is in Irvine, CA. The company has backing from Kleiner Perkins Caufield & Byers, Palo Alto Investors and QIA.
Some readers may remember that EV-maker Tesla Motors had sued Fisker Automotive, accusing the firm and its principals of stealing confidential information and delivering substandard designs. According to the Fisker website, in arbitration in December, 2008, a retired judge ruled in favor of Fisker on all counts and ordered Tesla to reimburse attorney fees and related expenses totaling more than $1.1 million.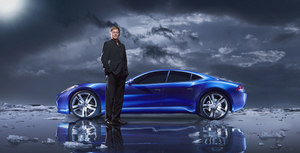 (Henrik Fisker and the company's "White Star" concept, code-name for the car which is to become the Karma).
Calling all HuffPost superfans!
Sign up for membership to become a founding member and help shape HuffPost's next chapter