But no one will accuse them of striking while the iron is hot. The bandmembers went back to their day jobs, built a recording studio in their hometown of Denton, Texas, immersed themselves in British folk-rock by the likes of Fairport Convention and Pentangle and have finally emerged almost four years after their last CD with The Courage Of Others, a quieter, moodier and genuinely beautiful album. Oh, and they're doing again something rock bands tend to do: performing live. And not a moment too soon.
"We didn't play a live show from October of 2007 until this tour," admits guitarist Eric Pulido, who joined Midlake right before they recorded their first EP. "It's kind of strange to say you're in a band but you haven't played a show in two years."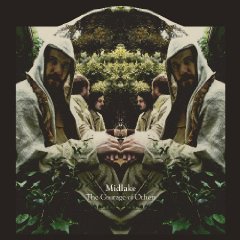 Tonight, they're in Los Angeles and the band is on the road through June, hitting their hometown on March 13, Austin (for SXSW, where they initially broke out) on March 18 and New York City April 7-8. Last time on tour they were almost surrounded on stage by keyboards to capture the Seventies AM radio vibe of Van Occupanther. Now they've added a few musicians, freeing up everyone to rock out, though ironically it's for an album that features dashes of flute and a pastoral sound.
"We feel very Lynyrd Skynyrd on stage with seven guys and four guitarists," says Pulido. "It's great not to be playing a keyboard with one hand and a tambourine with the other.
"We definitely want to get a little heavier live. We've been pretty soft. When we play a festival in Europe and the last act has been really heavy or dance and then we come out with a flute, well..." he laughs.
But that haunting sound has proven bewitching. From the scene-setting opener "Acts Of Man" to the uncertainty of "The Courage Of Others" to the promise of (some) redemption on "In The Ground," it grows richer with each listen. (Hear some tracks on MySpace right now.) As a result, fans have crafted loving mash-ups, like this mix of "Acts Of Man" with footage from the brilliant silent film classic Sunrise.
NPR highlighted the album and called it "a gentle masterwork." Spin says, "these new old-sounding songs gradually burrow into your consciousness." Overseas -- where Pentangle, Bert Jansch and the like are household names -- the praise has been broader. Mojo and Uncut and Q have all praised it, with Q saying the band had "taken another great step forward" with an album that is "quietly epic."
But Pulido rejects the idea that they "get it" in the UK more easily than in the US.
"I wouldn't say it's a geographical sort of thing," says Pulido. "The reviews have been all over the place everywhere."
After the instantaneous and almost overwhelming praise for Van Occupanther, it's got to be hard to see some not pay the attention to the band's new work that their previous raves should have guaranteed. All Midlake wants is for people to live with The Courage Of Others for a while.

"The album's a grower," says Pulido, who runs an organic coffee company in Denton but insists it's more of a hobby than a going concern. "You know people in the media have stacks of CDs and only so much time and they play the first track and think, 'OK, that's what they're doing.' And maybe they've had a bad day or they ate something. And you think, 'Really? Just one track? We just spent two years working on this.' We just want people to give it a listen."
That's happening in concert where they've been to Europe (hitting London's Shepherd's Bush venue among others) and now back in the US. Pre-show rituals include watching concert videos by Fairport Convention (of course) and Iron Maiden (!). And savoring what they've accomplished. They've engineered their lives so they can make the music they want and share it without any outsize expectations or debt to force them into creative or business decisions they would regret.
"We want to be in the moment and know, hey, we're with our friends and we made some music and here we are in Shepherd's Bush, this beautiful space, playing for 2000 people and we get to see the world," says Pulido. "We want to appreciate that."
They want to appreciate it and do it again. Soon.
"We definitely want to record the next album faster," says Pulido. "We want to have less down time. We want to record and be out there. I like touring! I like being in a band."
And maybe by the time the new album appears, people will have caught up with their last one.
Popular in the Community