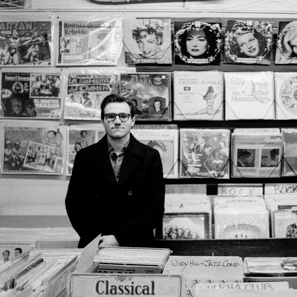 Griffin Robillard releases "Ghost" today. The single is from his forthcoming debut album Cracks In The Ceiling, slated to drop September 15. The songs on the album, written in Copenhagen, Denmark, relate a cusp of transition in Robillard's life. "I had a fresh start, getting to know myself again after a really rough two years. In hindsight it was probably a form of depression, but the fog lifted and I also met my now girlfriend there. It was pretty overwhelming. I was writing as fast as I could."
Stylistically, Robillard's sound blends indie rock and folk elements into elegant melodies featuring compelling lyrics, beguiling rhythms and engrossing harmonics.
"Ghost" begins with a resonant guitar and keening synth emerging on a new wave, Cure-like intro. Then the melody subsides a bit and assumes an indie rock essence flavored with just a hint of folk and a psychedelic tang. The melody emanates a thickly layered feel luminous with soaring guitars, a solid groove and radiant synth colors weaving in and out, all riding a brisk, cogent piano that provides the basic structure.
Robillard's voice is elusively familiar, commanding comparisons with Billy Joel, Mickey Newbury and Harry Chapin, along with a slew of others, probably because of his inflection and articulation. It's a strong, rich voice full of subtle intonations that attract listeners like a magnet attracts steel. His delightful phrasing and cogent projection come across as effortless, making his voice a vivacious instrument of expression.
The lyrics of "Ghost" relate the unrelenting and secretive apparitions that appear to us all. We envision past events and people who have vanished from our lives with explicit clarity, giving breath to scurrilous conjectures and futile speculations. Yet the ghosts of yesterday aren't real, except to act as incubators for our neuroses.
"It's in the place where you cannot go / The only room in the house that is full / You'll never find it again / Things won't go back to how they've always been / Don't let the nothingness end / Close the door and it will vanish from within / Maybe you'll find it in you / If you turn the light on before you go."
Griffin Robillard has it going on! "Ghost" delivers indie flavored folk rock with new wave sensibilities and a dash of psychedelic extract that's infectious. And Robillard's evocative tenor, distinctive phrasing and declarative projection coruscate with brilliant allusions and turns of phrase. I can't wait for the album to drop. You definitely want to listen to this one.
Find out more about Griffin Robillard here.
Calling all HuffPost superfans!
Sign up for membership to become a founding member and help shape HuffPost's next chapter
This post was published on the now-closed HuffPost Contributor platform. Contributors control their own work and posted freely to our site. If you need to flag this entry as abusive,
send us an email
.