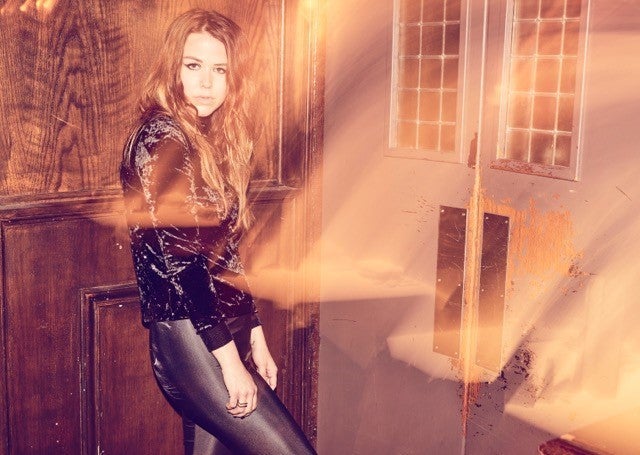 Los Angeles' indie pop duo Moxi releases a new single tomorrow, but Huff Post has it today. It's called "Paclew." And it's ooh la la good! Moxi, composed of Anna Toy and Andy Toy, will drop their new EP, Figures Bathed In Light, on August 18. The EP is produced by Bobby Hartry and mixed by Bryan Cook. According to Anna, "Our inspiration comes from a myriad of sources and ideas, but the underlying themes come from our emotional response to art and life experience."
Stylistically, Moxi is billed as indie pop. However, their sound contains a variety of influences, ranging from electronic Goth synth pop to 80's new wave elements. Their sound is thick with opaque electronic textures, dream pop melodies and atmospheric permutations that crackle with the edginess of a complex of titanic ruins. Commenting on Moxi's sound, Andy says, "Behind all the drifting soundscapes, I always build a violence and tension into the music, even if it's not overtly present at first."
Moxi's sophisticated, wistful sound has garnered critical and popular acclaim, receiving more than one million hits on Spotify, and appearances on Keeping Up With the Kardashians, The Young and the Restless, I Am Cait, Total Divas and Made In Chelsea.
"Paclew" starts off with a heavy, electronic industrial feel and a solid rhythm. The melody reflects dark, pensive resolves dense with mysterious symbolism and piercing vitality, like a glutinous impermeable membrane of sonic pressure. The percussive thread pounds with a sense of imminence and vague bellicosity. When Anna's vocals enter, the music really assumes impact, coruscating with chic, dreamy fugitive tendencies that take on an aura of piquant beauty. Arranged with preciseness, the harmonic accents deployed by the synth project a welter of lustrous emotions that complement the ravenous guitars.
The potent melodic elements in combination with Anna's alluring, femme fatale vocals, rising over the melody like the mythological Sirens of Homer's Odyssey, are irresistible, providing a sense of wahnsinnige Sehnsucht, a tremulous longing and desire. Anna's voice displays a certain diaphanous quality, but at the same time is powerful and imperturbable. In other words it's a voice that dissolves your body and makes you feel immortal as you immerse yourself in musical ecstasy.
Put simply, Anna's voice is a vivacious instrument of expression, torrential like a slo-mo hurricane, emanating a tantalizing, elusive sensuality that's simultaneously chilling and electrifying.
Moxi has it going on, as does "Paclew," a song that without a doubt is one of the best songs of 2017. The melody projects a pulsating cryptic flavor, complemented by the instrumental harmonics, which are only excelled by Anna's superb vocals. And just think, in two weeks the EP is slated to drop. I can't wait!
Find out more about Moxi here.
Related
Popular in the Community