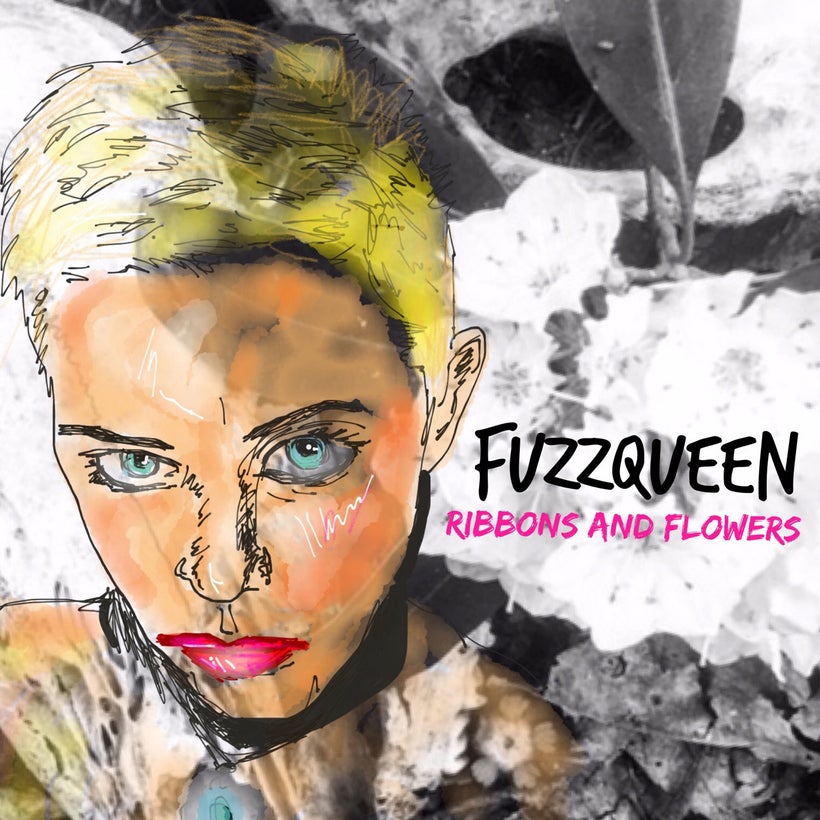 "Ribbons and Flowers," the new single by FuzzQueen, drops today. And it's lit! Hailing from Washington, D.C., FuzzQueen is made up of Erin Frisby on vocals; Chris Stelloh on guitar; Ben Tufts sits in the pocket; and Clinton Cole plays bass.
Stylistically, FuzzQueen is best described as rock or indie rock, with elements of punk, R&B and soul infused into their sound, a sound that emanates a gorgeous nastily tight storm of ragged, raw energy. Initially, the band was attracted to the Americana genre, but then went off in another more primitive direction, producing music that's expensively savage, like rotting metal. In fact, FuzzQueen's sound is an entirely new sonic paradigm. And it's excellent, full of intuition, guts and an instinctual feel.
"Ribbons and Flowers" starts off with a chunking guitar riff and a slightly funky, staccato groove that really gets the song going from the first note. The melody exudes an exotic, almost atavistic edge that growls and whines, riding on the potent guitar. I really like Tufts' drumming style: extended snare, heavy sizzling cymbals, along with contrasting cowbell and smooth fills. Piercing guitar accents, like logarithmic spirals, add harmonic depth with a quasi-psychedelic feel. It's very effective. The overall impact of the tune is slightly dark and thick with a pharmacological essence, like oozing mycotoxins or secretions, gut-wrenching and intense.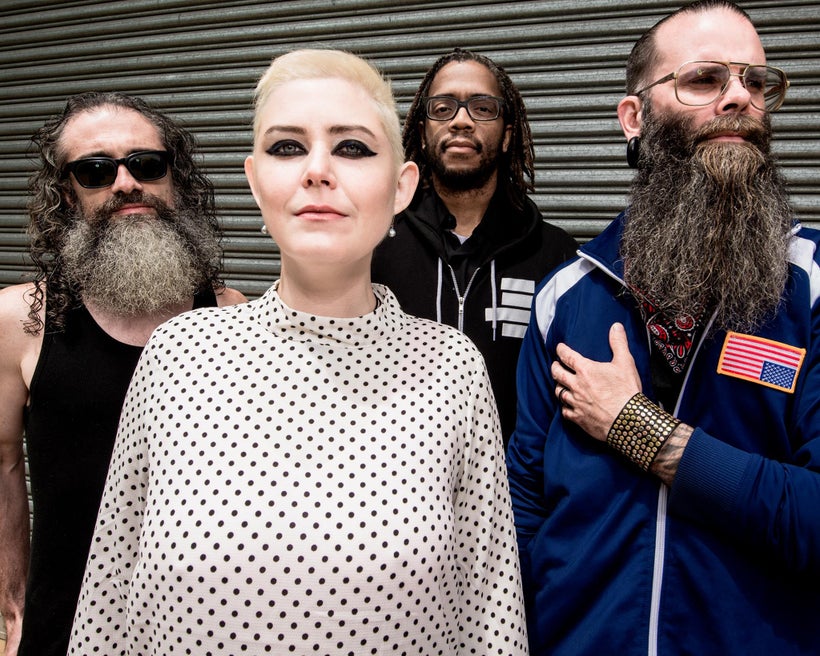 Frisby's vocals exude tension akin to embedded sonic hypertext lozenges. Her voice is surreally wonderful, savage and raw, yet deeply feminine, suggesting a universal element, like the phlogiston of the ancients, something spread evenly at creation throughout the universe, but prone to accrete. And it coalesced in Frisby's voice as something at once noun and verb: clear and powerful, yet rough and tough, and ready.
In combination with the dark, primeval melody and Frisby's inimitable voice, the lyrics evoke an indefinable element of ferocious prehistoric power, like the psalm of some ancient religion.
"I'm made of ribbons and flowers / Makeup all those wasted hours / Long lashes ruby red lips / Sweet perfume to convince you / I'm made of muscles and tendons / Arranged in the shape of a woman / Golden statue ready to topple / Choke and revive your idol / I am an ancient tree / You turned your back on me / My roots run deep deeper than my body / My sisters are calling me / I'm made of what you call sin / Bound in satin, bound in skin / Can't hardly hold this blood in / I'm made of smoke and illusion / I am an ancient sea / You turned your back on me / Let them drill deep deep deep into my body / My sisters are calling to me / They sing...Come."
FuzzQueen has it going on! "Ribbons and Flowers" is a powerful, mesmerizing song with magnetic attraction. The melody pulsates with contagious force, while Frisby's resonant voice lures you into a sonic world of actinic color and filtered guitars. If you're looking for something new, unique and powerful to listen to, "Ribbons and Flowers" is precisely what you're looking for.
Find out more about FuzzQueen here.
Calling all HuffPost superfans!
Sign up for membership to become a founding member and help shape HuffPost's next chapter
This post was published on the now-closed HuffPost Contributor platform. Contributors control their own work and posted freely to our site. If you need to flag this entry as abusive,
send us an email
.