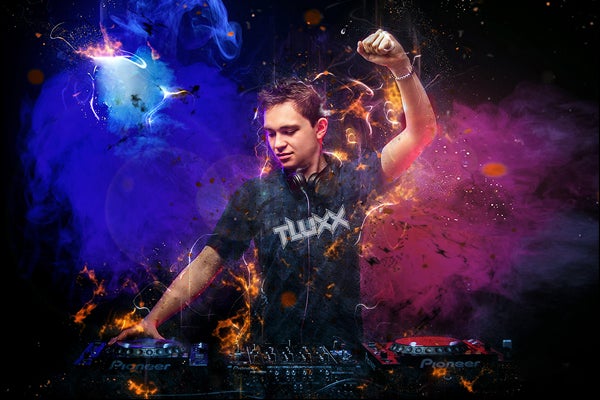 TLUXX premieres a new music video today, entitled "7th Angel." The title of the song comes from the biblical Book of Revelation, where the blowing of a horn by the 7th angel indicates the fulfillment of God's plan. The song commemorates the lives of TLUXX's friends lost to suicide.
Presently based in Los Angeles, Brian Johnson grew up near Albuquerque, New Mexico, where he dreamed of becoming a professional baseball player. A health problem appeared out of the blue, necessitating major surgery. The surgery was successful, but left him at the mercy of PTSD, panic attacks and anxiety. His life turned upside down. Then he discovered the therapeutic power of electronic music. And like the mythological Phoenix, TLUXX rose from the ashes of his former self.
Now the twenty-year-old artist, producer and DJ known as TLUXX performs with big name artists like Zomboy, Headhunterz, Candyland, Mako and Party Favor.
"7th Angel" begins with requiem-like synths segueing to the heralding aura of a bright trumpet riding above the quavering synths. Then the intensity and beat of the music escalates to a terrific electronic dance melody shimmering with the pigmented sonic hues of stuttering synths. A solid bassline and thumping kick drum propel the muscular rhythm. A gorgeously unforgettable interlude infuses the music with a wistful mist as the trumpet discharges a signal of realization above the smoldering keyboards. The trumpet fades and the intoxicating pulse of the rhythm kicks back into overdrive.
Because of the contagious groove and innovative orchestral fluidity of the melody, the overall feel of the tune produces dynamic energy that's inescapably compelling. The inexorable vibratory surges demand you get up and move to the groove.
The stylish video, filmed in Los Angeles, crackles with energy, a bright palette of colors and glitzy tech-wizardry. Dominated by rapid cuts, the video shows a beautiful young woman performing free form dance movements as she intuitively interprets the music. Appearing in a variety of costumes, from a black dress silhouetted by sparks of light to torn jeans, she dances with powerful grace. During the music's interlude, the rapid cuts diminish, and she dances before a painted backdrop of angel's wings. The effect is both poignant and majestic.
"7th Angel" is definitely yazum. The melody exudes smooth pizzazz and the infectious groove pulsates with textured energy. TLUXX has an innate feel for producing electronic dance music that acts as a capacitor for rhythmic and harmonic forces. The result is potent and very danceable.
Popular in the Community