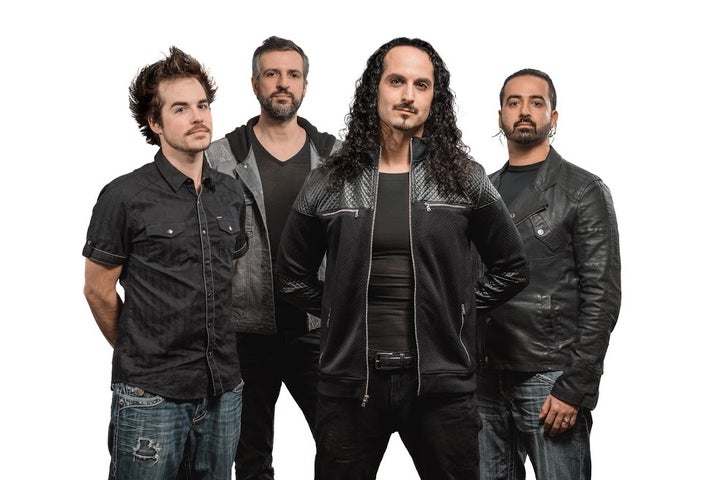 Blue Helix releases a new music video today, entitled "Anti-Social Butterfly," the title track from the band's new EP. The song is an unrepentant, powerful denunciation of bullying and has, along with the rest of the EP, received heavy airplay on Sao Paulo, Brazil's primary Rock Radio station 89.1 FM.
Hailing from Puyallup, Washington and Sao Paulo, Brazil, Blue Helix is made up of Sami Chohfi on vocals; Arman Birang on guitar; Brandon Wolf Gebhardt on bass; and Marco Bicca sits in the pocket. The band's sound combines elements of hard rock, alternative rock, melodic rock, acoustic rock and grunge into music characterized by potent guitar riffs, stellar vocals and hammering drums.
"Anti-Social Butterfly" opens with a crushing drum shuffle leading into muscular guitars emanating heavy waves of sonic energy. The rhythm pulses and throbs with crucial urgency and dark tenacity fused together. Chohfi's voice unleashes magnified awesomely immediate textures and visible tones that stab the atmosphere like lightning bolts. It's a supercharged voice radiating eddies of actinic spangles of light. It's definitely one of the best male rock voices around. The tiger growl he emanates is wickedly hazardous, and his scream is outrageously vehement.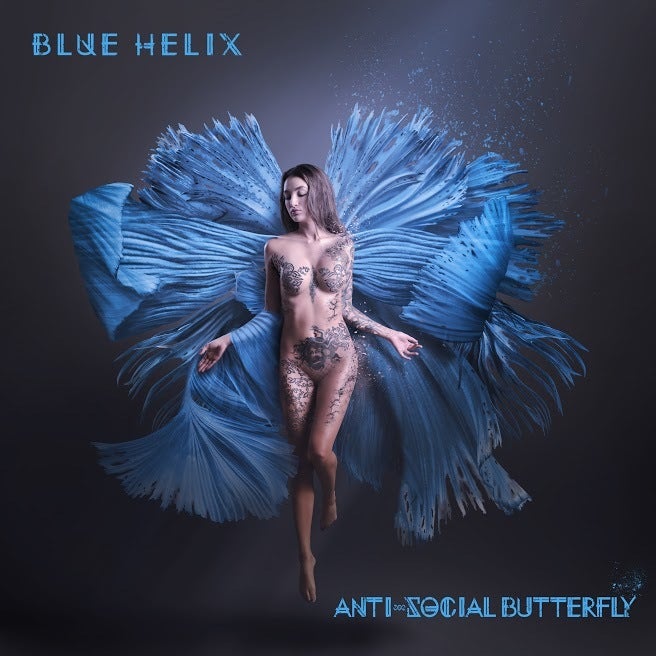 The lyrics to "Anti-Social Butterfly" display a curious composite of envious disapproval, grudging admiration and loyalty to self.
"The Devil came to me today / Asked me if I'd sell myself to play / He said "No one gives a damn / About your dreams or your master plan" / I carry weight as heavy as scars / I wear my pain like it's art / If it's time to let it all go / Maybe I can take a piece to hold / And I would sell my soul / There's nothing left to save at all / They've taken everything / And If I could I'd wish it all away / I'd disassociate, drive them all insane / This has become my own type of hell / You don't like the man I am / Like I ruined all your plans / He said "Son, it's just a tiny phase / Or maybe time to revelate" / Anti-social Butterfly / Spread your wings and learn to lie / You take me for a broken man / But baby I'm your biggest fan."
The video makes a formidable statement about the emotional and psychological abuse associated with bullying. The video tells the tale of a young boy who is bullied and persecuted in and out of school. A gold necklace is taken from him by his tormentors. Passive and skinny, he re-invents himself physically and mentally, metamorphosing into a muscular proactive young man. In the end, he steps into the boxing ring with the bully and not only regains his gold necklace, but his dignity and self-esteem.
"Anti-Social Butterfly" is awesome. The melody is compelling and contagious, while the rhythm vibrates with implacable force. And Chohfi's vocals engineer a mood full of passion and emotional cataclysm. This is a great rock song and Blue Helix knows how to deliver the goods.
Related
Popular in the Community