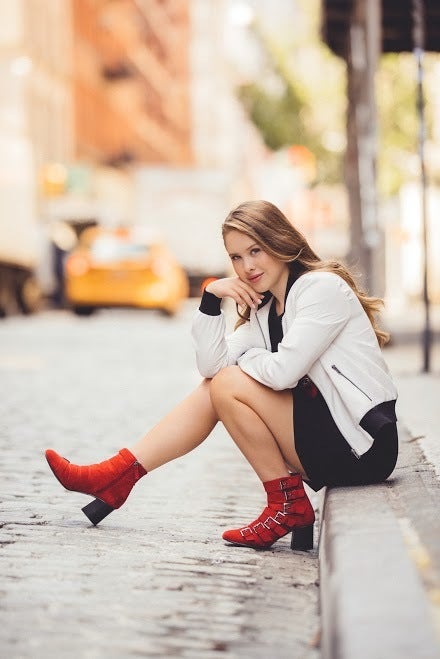 "End Of The Tunnel" is the title of the new music video from Madison McWilliams. And it's a doozy! Its release is today! Huff Post has it first! McWilliams, who is fifteen years old, hails from Austin, Texas. She's already a pop sensation. Her 2015 cover of Nina Simone's "Feeling Good" garnered over one million hits almost overnight, sending McWilliams skyrocketing to stardom.
Stylistically, McWilliams blends elements of pop, pop rock, jazz, R&B and blues into an inimitable sound that features cogent melodies, wonderful harmonies and McWilliams' pyrotechnic vocals. Her melodies flow with superb rhythmic elements, gracious style and pop's traditional structure, including contagious, memorable lyrical hooks and choruses complementing the melody, rhythm and harmonics of the verses. Put simply, she possesses an innate musical awareness that reveals itself in sublime, buoyant music.
"End Of The Tunnel" begins with a simple resounding piano, followed by Madison's dulcet crooning. The melody exhibits an R&B flavor, along with a hint of blues, set in laid-back pop matrix. The flowing melody rides on the scintillating piano, while the solid groove establishes a tantalizing beat. Glimmering background harmonies integrate Madison's vocals with the lovely melody, adding a veil of depth to the tune's sonic nuances. It's a simple song, traveling upon a gloriously simple melody that leeches into your heart and soul.
Madison's voice is nonpareil, strong, dynamic and full of delightful sparks of vibrancy. There's an easy intimacy running through her voice, allowing listeners the luxury of emotional commitment. It's a voice that sparkles with luminosity, a rich voice under exquisite lilting control, bursting with passion. In short, Madison's vocal prowess is astonishing and ignores and supersedes every precedent. I liken it to Adele's voice, but more decorative, exhibiting nodes of perfumed verve lacking in Adele's. Her ability to inflect and articulate tones and timbres is phenomenal.
Lyrically, the song emanates an energetic anticipation, expectation and optimism. Disregard the fear consuming you as you journey through the tunnel of life. Ignore the dire circumstances, for there is a light at the end of the tunnel.
"Find a back door / Climb on out a window / There's a light, there's a light / At the end of the tunnel."
Madison McWilliams more than has it going on! Her talent is so buff it hurts. "End Of The Tunnel is a spectacular tune, chock full of expressive lyrics, a melody that is cool and minimal but oh, so unforgettable, and Madison's superlative vocals, vocals that approach the ineffable sonority of angelic beings standing in the Empyrean, singing the Trisagion to the divine.
Find out more about Madison McWilliams here.
Download Madison McWilliams' music here.
Related
Popular in the Community